"He can't play in a two in midfield against any team of quality." That was Gary Neville's scathing assessment of Yaya Toure after Manchester City's 4-2 defeat at Manchester United on Sunday.
Fellow Sky Sports pundits Graeme Souness and Niall Quinn were also critical of the midfielder, particularly pointing out his defensive shortcomings.
However, do the stats back-up the pundits' views? Toure was a key figure as City won the title last season – has he suffered a severe drop-off this term?
We look at the stats and find that in goal-scoring, goal-making, passing and defensive duties, Toure's standards have slipped – although criticisms of his fitness may be misplaced…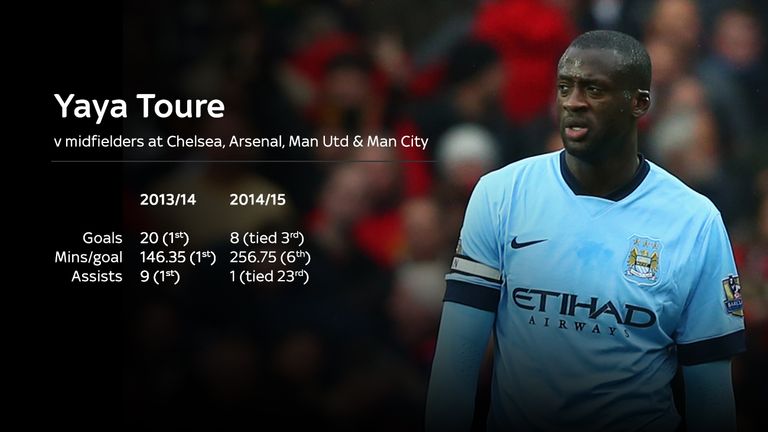 Goals
When it comes to goal-scoring, there has been a noticeable drop-off from last season. In 2013/14 Yaya Toure scored 20 times in the Premier League to help fire Manchester City to the title. This term, with six games to play, he has just eight.
Toure's 20-goal haul in the previous campaign made him the top scorer among midfielders at Chelsea, Arsenal, Manchester United and Manchester City – the current top four. This season Eden Hazard (12) and David Silva (11) have bettered his tally.
Similarly, Toure's minutes-per-goal rate has increased. He scored every 146.35 minutes last season, which made him the most prolific among Chelsea, Arsenal, United and City midfielders. This season he finds the net every 256.75 minutes – a rate bettered by Frank Lampard, Andre Schurrle, Silva, Hazard and Juan Mata.
Wayward shooting has no doubt contributed to these numbers. Toure is averaging 2.3 shots per game this season, compared to 1.4 in 2013/14 but his shooting accuracy has dropped from 54 per cent to 41 per cent. In contrast Silva (62.16 per cent) and Hazard (59.57) are far better in this department.
And when it comes to goal creation, Toure's stats suffer significantly. Nine assists last season made him the most frequent goal-maker among midfielders at those four clubs. This term he's assisted just one goal in the Premier League – 22 players from those four clubs have more.
Passing
Toure has made 2139 passes this season, a total only bettered by Cesc Fabregas (2364) among Chelsea, Arsenal, United and City midfielders. Toure made 2502 last season, meaning he is making more passes per game (89.1) this year than last (71.5).
However, his passing accuracy has fallen from 90.13 per cent last season to 88.5 this term, with passing accuracy in his own half (94.3 per cent to 92.89) and the opposition half (87.59 to 86.48) both worse-off.
There has been little change in his passing accuracy in the final third (80.74 per cent to 80.73) but team-mate Samir Nasri (86.75), Mesut Ozil (84.85) and Hazard (84.75) are among the players with a better completion rate at the business end of the field.
Defending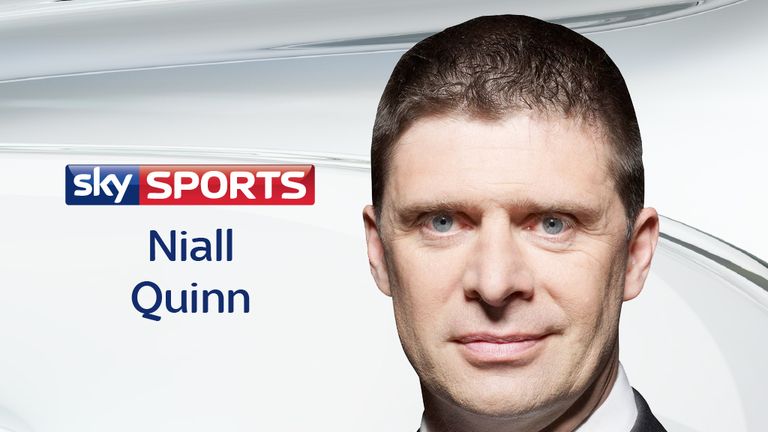 I would suggest Man City lost out [to Man Utd] tactically because Yaya was all at sea in his defensive duties.
Toure has received plenty of criticism this season for his defensive work – Neville described his failure to properly mark Marouane Fellaini at Old Trafford as a "dereliction of duty" – and while that is harder to gauge in terms of stats there has been a trend in the number of tackles the Ivorian has made.
Last season Toure made 54 tackles, the eighth most among midfielders at Chelsea, Arsenal, United and City. This season that figure falls to 27, the 19th most among midfielders in the current top four.
Running
Toure turns 32 in May – and hopefully City's officials have remembered to get him a cake this year – but there seems to be little drop-off in terms of his fitness according to the numbers.
The midfielder has, on average, covered more ground this season per game (10.1km) than he did in 13/14 (9.9km).
However, his number of sprints per game has fallen from 25.9 last season to 23.4 per game in this campaign.
Watch Manchester City v West Ham live on Sky Sports 1 HD from 12.30pm on Sunday