Tony Pulis at Middlesbrough: Assessing the job that he has done
Last Updated: 26/04/18 2:19pm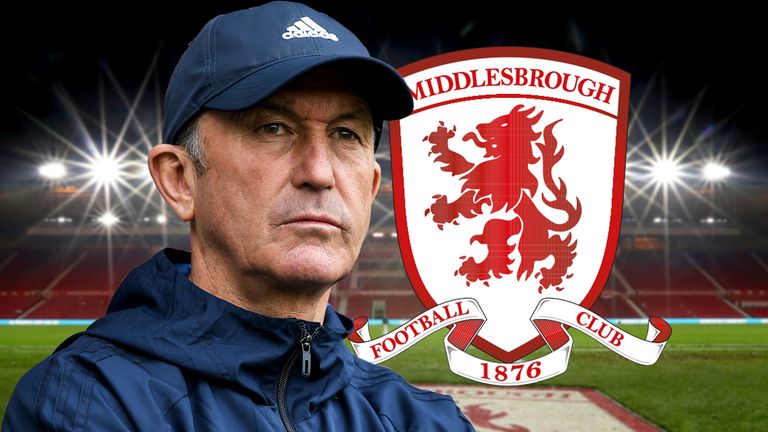 With Middlesbrough on the brink of securing a play-off place under Tony Pulis, Adam Bate speaks to those who know the club and the man to assess the job that he has done since taking over in December.
After a combined total of 18 seasons in the Premier League, West Brom and Stoke look set to return to the Championship, but the manager who presided over half of those campaigns might not be there waiting for them. Tony Pulis can confirm Middlesbrough's place in the Championship play-offs with a win over Millwall at the Riverside Stadium on Saturday.
It has been an awkward season for Boro following their own relegation from the Premier League. They may have started the season as favourites for a swift promotion back to the top flight but it did not take too long for it to become clear that this would not prove quite so straightforward. A five-game winless streak in October even left them in the bottom half.
Garry Monk paid with his job just before Christmas with Pulis pitching up by Boxing Day. While the Welshman's reputation for pragmatism precedes him, and it is worth noting that he was not the first choice for many Middlesbrough supporters, his no-nonsense approach has nevertheless found a receptive audience on Teesside.
Talk of the similarities between this working-class area and his own South Wales upbringing struck a chord. While he was inheriting a team not attuned to his way of playing, fans craved a more traditional leadership style than the management-speak of Monk or indeed the negativity of Aitor Karanka, as Steve Rock, chairman of the official supporters' club, explains.
"I am a bit of an old-fashioned guy and Aitor's football was based on the idea that we would score the one chance that we get, end of story," Rock tells Sky Sports. "No matter how many chances the other team created it would always come down to saying that if we hadn't missed our chance in the last minute we'd have got a point.
"It just wasn't cutthroat enough. That is the mentality of the players Tony has inherited and he did say when he came in at Christmas that he could not understand why we go backwards and sideways so much. I really wanted Garry Monk to do well but I think we were playing the European game to a British audience and it doesn't suit us."
The defeat to Wolves on the opening weekend of the season was a perfect example of this. Daniel Ayala's spotted something that was not there and played a sideways pass across the edge of his own box that was cut out by Leo Bonatini. The Wolves striker settled a game that could have gone either way, while Monk was left to bemoan "too many mistakes" by his side.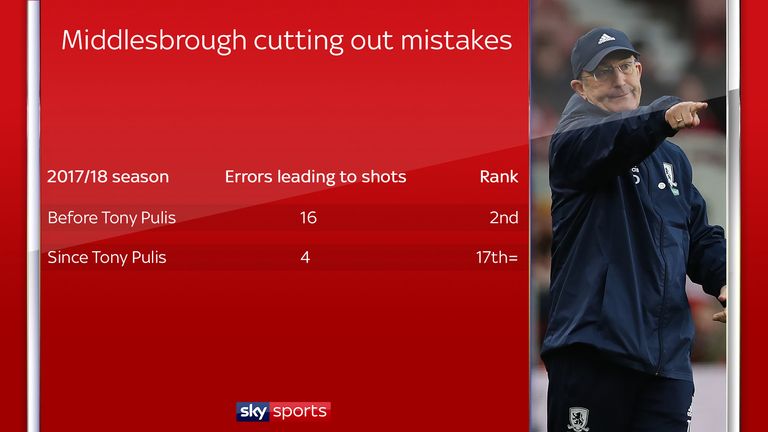 According to Opta, Ayala's error was the first of 16 by Middlesbrough leading directly to shots prior to Pulis's arrival. Only Sunderland made more. Six of those mistakes had led directly to goals. Again, only Sunderland could top that tally. Predictably, Pulis has turned those numbers around. Only QPR have made fewer such errors since he took over.
Old favourite Ryan Shotton has come into the team and Ayala is back to something like his best. By removing some of the unnecessary risks from Middlesbrough's game, Pulis hopes to reap the rewards. It is nothing new. "In terms of coaching, he is very good on the grass," Ben Garner, an assistant to Pulis at both Crystal Palace and West Brom, tells Sky Sports.
"He is very detailed. His defensive organisation and setup is always very good and provides the foundation for his teams. Tony is always clear on how he wants the team to play. His teams will always be physically strong, hard working, and competitive as those are the traits of the manager. Those are the foundations he builds his teams on."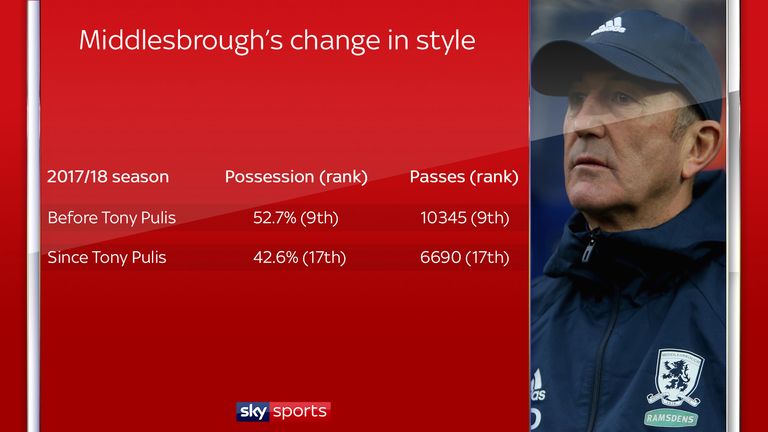 Of course, risk-free football comes at a price. After being among the top 10 teams for passes and possession prior to his arrival, only three teams in the Championship have made fewer passes or enjoyed less possession during his time at Middlesbrough. But that does not preclude excitement as the reintegration of Adama Traore shows.
The flying winger barely featured under Monk, never starting more than two games in a row. But he has played in all 22 of Middlesbrough's matches in all competitions under Pulis and while Rock is not totally convinced - "the only thing that is missing is the spinning plates and the unicycle" - nobody can deny he is a player who gets supporters off their seats.
A mercurial misfit might not look like the identikit Pulis player but he deserves credit for getting a tune from someone others would have given up on. "Tony's man-management is very good," adds Garner. "His control and authority of the training ground is excellent. Everybody knows where they stand and everybody respects him, staff as well as players.
"What Tony probably doesn't get recognition for is that he encourages forward thinking and wants progression within a club. In terms of, for example, sports science, he will take it on board and use it if possible. It's a sign of a great manager. Sir Alex Ferguson was renowned for it. He would delegate authority and empower people to help them to improve the club."
Off the field, Pulis inherited problems. This is a club that has had five goalkeeper coaches in a year. One that has lost iconic academy figures such as Dave Parnaby and Ron Bone. The domineering presence and subsequent departure of head of recruitment Victor Orta had also created a vacuum. Middlesbrough were in dire need of some stability.
The fact that Pulis has kept Middlesbrough-born Jonathan Woodgate involved, someone he knows well from his time at Stoke, suggests that he appreciates this point. So too does his unwillingness to cause further upheaval in January by embarking upon major squad surgery, arguing instead that chairman Steve Gibson had spent enough money already.
"He was not my first choice for the job but I am glad that he stepped down a league in order to give himself a project," says Rock. "I think right from the start his attitude was that if we made the play-offs we made the play-offs but he was going to consolidate and see what was worth keeping before giving it a good go next year.
"We have got expectations here. We don't think we are anything special but we know we have the capability on and off the pitch to be challenging for at least a play-off position. However, two or three months ago most of us had us finishing eighth, ninth, tenth or even eleventh. So I think we are pleasantly surprised to see us in fifth place now."
Middlesbrough will not be the favourites to be celebrating at Wembley next month even if they do secure a play-off spot. But things have improved at both the Riverside Stadium and the club's Rockliffe Park training ground. The prospect of promotion is there again. West Brom and Stoke may be heading down. But Tony Pulis might just be on the way back up.
Don't miss the Sky Bet Championship clash between Middlesbrough and Millwall on Saturday, live on Sky Sports Football and Main Event from 5.15pm