After the last three seasons Marcus Bettinelli has endured, you could forgive him for being bitter.
Thrust into first team action by Felix Magath in the summer of 2014, the Fulham goalkeeper had the world at his feet after emerging as one of the shining lights in a torrid first season outside of the Premier League for the Whites.
But a week prior to the first anniversary of his debut, just as he was establishing himself once more, all the early promise was shattered.
An inadvertent clash with former team-mate Matt Smith away at Hull left the pair nursing knee ligament injuries and while the frontman has since moved on, Bettinelli remained at Craven Cottage and is now revelling in regaining the No 1 shirt, having jostled with team-mate David Button over the past few seasons.
Speak to the 25-year-old himself, however, and you'll discover he is anything but bitter about the predicament he found himself in.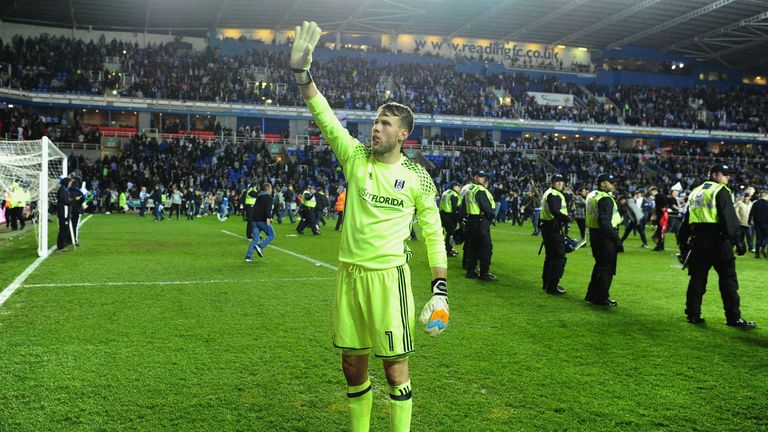 "It's been weird," he tells Sky Sports.
"In the second season under Kit [Symons] I had an absolute freak injury that came completely out of the blue. Thankfully I managed to come back and play 10 games or so and the season after that, I wasn't really expecting to be Fulham's No 1 and at the end of that season they brought David in.
"It was one of those things that I had to reassess and I had to come down to earth and face the reality that I might have to fight for my place here and it's going to be a struggle because David is a very good goalkeeper. I sat on the bench for pretty much the whole season and it was really frustrating.
"Obviously I wanted to be playing, but because of the year I had before that, I wanted to be playing even more because I missed out on such a big chunk of games, so it was a case of really trying not to get too frustrated with myself and out in training."
Bettinelli re-established himself as Slavisa Jokanovic's man between the sticks last April as the Whites suffered a 2-1 aggregate defeat to Reading in the Championship play-offs and looked to have cemented a return to the lineup on a permanent basis as the current campaign dawned.
Fulham's next five Championship fixtures
| | |
| --- | --- |
| Wolves (H) | 24 February |
| Derby (A) | 3 March |
| Sheffield United (A) | 6 March |
| Preston (A) | 10 March |
| QPR (A) | 17 March |
The footballing gods failed to receive the memo, however, and half an hour into the final pre-season friendly against Bundesliga outfit Wolfsburg, he was forced off through injury.
"I was back to square one," he continues. "David got his chance - and fair play to him, he did really well - and the gaffer's stuck with him for 20-odd games. I can't complain - as a goalkeeper when you lose your place because someone is playing really well, you have got to sit there and take it and that's part and parcel of being a goalkeeper.
"Thankfully, since I've been given a chance to get back in, I think I've done really well. The last two-and-a-half years have been frustrating but I think there is going to be times in my career when I'm even more frustrated. It's never been easy, but the most important thing was I stayed focused and waited for my chance and when it came last year I was ready, and the same this year as well."
The club rewarded his patience with a contract extension last summer, keeping him on the banks of the Thames until 2020 with a club option of a further year's extension, though after his first league start of the season - a 1-0 win over struggling Birmingham on December 9 - the stopper made it clear he had reached a point where he needed to be playing week-in, week-out. Sitting on the bench was simply no longer an option.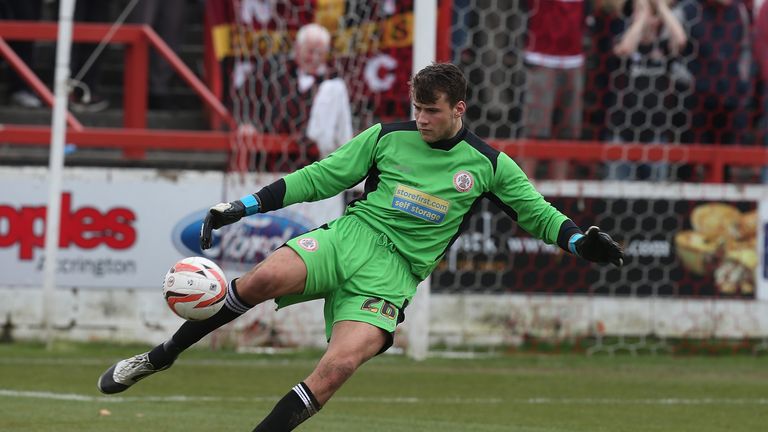 South-west London neighbours Chelsea are long-term admirers of their Championship counterparts' goalkeeping talent and have expressed interest in a move for Bettinelli on several occasions since 2015. It was an attractive prospect, but not the solution he craved.
"They needed a goalkeeper as a No 2 and in that sense, I didn't really want to go because I'd missed such a big part of games and I love playing. I knew I wasn't going to play games in front of Thibaut Courtois of course and I didn't even know if I was going to be No 2, so it didn't really jump out at me as one where I thought, 'I've got to go, I've got to move'.
"The season before, after coming off the back of having a good season, it was a case of 'will this boat ever come again?' Jose Mourinho was the manager at the time and to sit there and say I don't want to play under him would be a complete lie because he's one of the best managers to ever manage in the Premier League.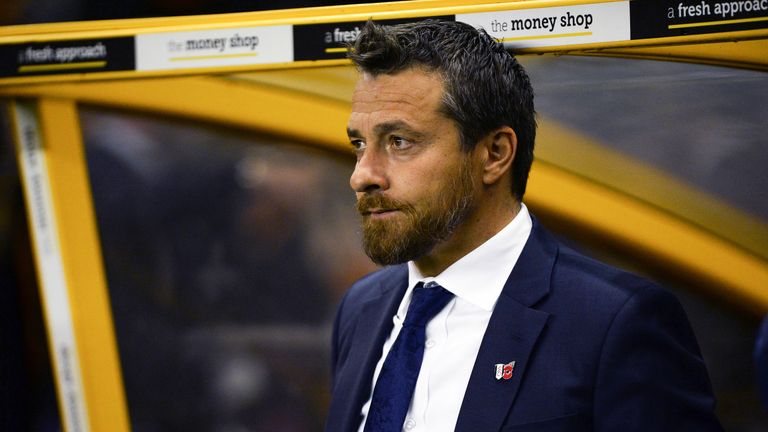 "At the same time games were the most important thing to me and in my head I was telling myself to get another season under your belt and play another 40-odd games. It didn't work out like that and I got injured but at the same time, I don't ever regret not going."
While drawing the interest of the Blues during that 2014/15 campaign, it was also one where Bettinelli was given the chance to display his ability on the international stage. Initially called up by then England U21 boss Gareth Southgate in November, he made his U21 national team bow against the Czech Republic the following March.
The untimely pause in his progress prevented any further caps, but as he makes up for lost time, does he harbour hopes of a return to the international fold?
"Of course, I can't ever say never now because when I look back to being at Accrington I would never have said I'd have played for the 21s and now that I'm at Fulham I can't ever say I won't play for England.
"That moment was incredible for me, by far the best moment of my career, really. I know it sounds so silly because all it was was a friendly against the Czech Republic and the game meant nothing, but to me it was something that I had only dreamed about as a kid.
"To do that again there's obviously a lot of good young goalkeepers that I need to get past: Joe [Hart] is obviously still involved with the squad, but I'm sure Jack [Butland] will take over that rein soon I'm pretty sure and obviously Jordan [Pickford] is playing really well.
"It's one of those things I'd love to happen; I'm not going to sit and home and cry that it's not happened, but at the same time it is one of those ones where you've just got to keep working and keep progressing and hopefully one day soon."
For now, however, his focus remains on his club side. The Cottagers are fifth in the Championship standings after 33 games and have lost just once since his introduction to the team at the tail end of 2017 - a run of 13 games where Bettinelli has kept five clean sheets.
Saturday evening's encounter with champions-elect Wolves marks the beginning of a challenging two weeks for Jokanovic's men in which they face Derby, Sheffield United and Preston, though. And despite his optimism, Bettinelli knows the run-in will be anything but plain-sailing.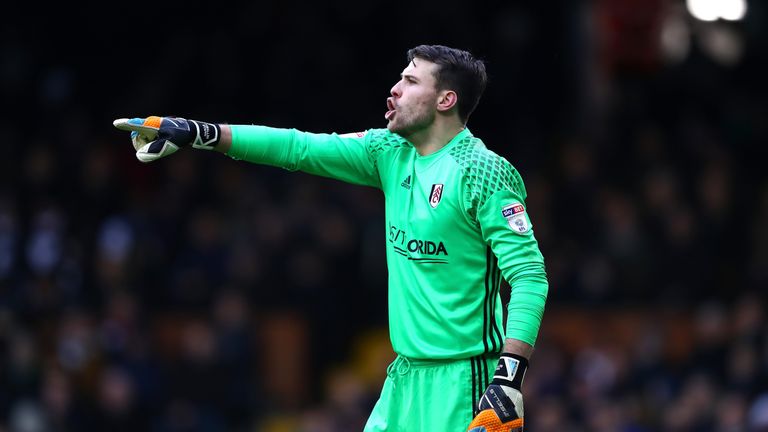 "I think if you were to say would we have a chance a month ago, I would've said no, " he admits.
"But we've given ourselves an incredible starting block and a chance to get promoted this season. Obviously Wolves are a great side and I can't see anyone catching them, but Derby and Villa are well within our sights and everyone in that dressing room is fully prepared and fully ready to push on now and get that second spot.
"Since December we've worked together as a team and I think we've become more streetwise, a little more nasty and to get promoted from this league I think you have to have that side of you where there is the never-say-die attitude.
"Our aim two months ago was playoffs and just to get into those playoffs we would've been buzzing with. But now we are here, we know we are just kicking on at the right time, invested in January and brought in two or three really good players.
"We have to be aiming for second place and that has to be our main focus, but if we fall short of that and get playoffs then we'll deal with that but at the same time, we want second place and we are going to keep fighting for it. It is going to be tough, it's never going to be easy but we'll give it our best shot."
Don't miss the Sky Bet Championship clash between Fulham and Wolves on Saturday, live on Sky Sports Football and Main Event from 5.15pm.