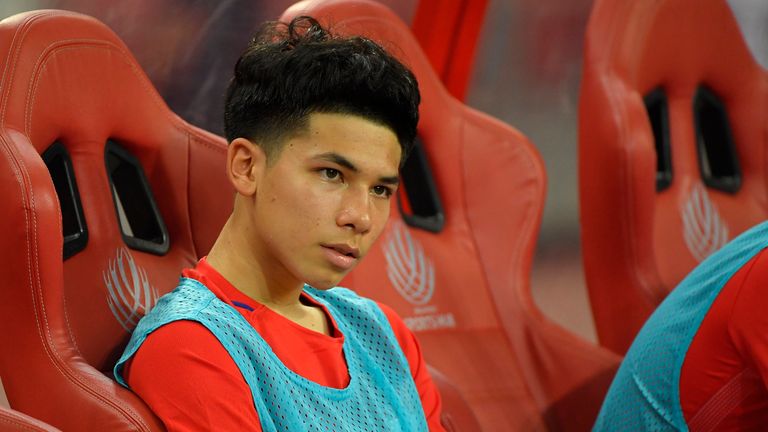 Fulham's Benjamin Davis may appeal his Singapore military service or choose a career in football over his Singaporean citizenship, according to his father.
Davis has signed a two-year professional contract with Fulham and is the first player from Singapore to join an English top-flight club.
However, he will have to put his career on hold to serve in the military, the Asian country's government has said, prompting him to appeal against the decision.
The 17-year-old's application to defer his compulsory military service was rejected by Singapore's Ministry of Defence.
The midfielder holds British, Singapore and Thai passports, and if he is forced to make a decision between citizenship and football, he is likely to choose the latter his father claims.
"It's not something we would want to consider, but at the end of the day, if it's something that is put on the table and forced to consider if he's not deferred, we have to make the decision to the best interest of our child," Harvey Davis told Reuters.
Singapore's decision not to defer Davis's military service prompted public criticism and an online petition that started on Sunday calling for Davis' deferment had 3,643 signatures as of Monday afternoon.
The Singapore Defence Ministry said on Sunday deferments from the national service (NS), are granted only to those who represent Singapore in international competitions like the Olympic Games and are potential medal winners for Singapore.
"Benjamin James Davis' application for deferment was not approved as he does not meet the criteria for long-term deferment from full-time NS," it said.
In the past 15 years, only three people have met the criteria, including swimmer Joseph Schooling, who won Singapore's first Olympic gold medal, in the 100 metres butterfly, at the 2016 Rio de Janeiro Games.
It is compulsory for all male Singaporean citizens and second-generation permanent residents to serve two years in the military. Those who refuse to join the army face up to three years in jail and a fine of around £5,500 under the country's Enlistment Act.