Chris Wilder feeling the passion in Sheffield ahead of Steel City derby
By Simeon Gholam
Last Updated: 25/09/17 11:06am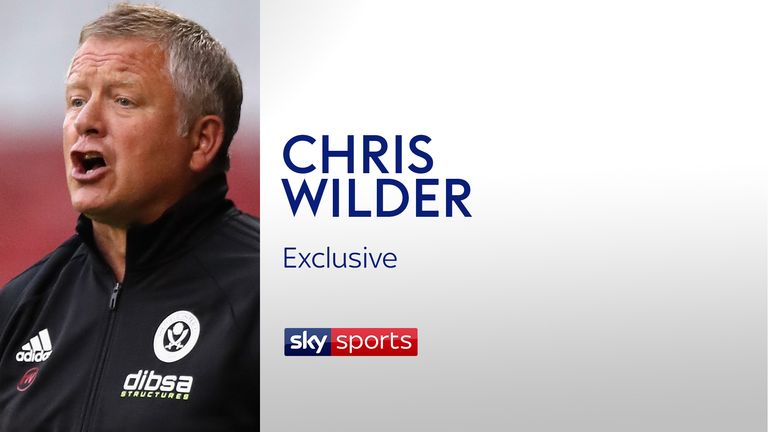 Lifelong Sheffield United fan Chris Wilder cannot wait to lead his side out for the first Steel City derby in more than five years.
The Blades will travel to Hillsborough for their first meeting since February 2012 on Sunday - live on Sky Sports Football and Sky Sports Main Event - and Wilder says that everyone in the city has been eagerly anticipating the fixture since its announcement in the summer.
"There's no getting away from the fact that everybody in the city was looking for when we would be playing our old rivals when the fixture list came out in June," Wilder - who turned 50 on the eve of the showdown - told Sky Sports.
"I've been trying to go underground and keep my head down, but it'll be flying about at work, in pubs and in homes. Everybody talks about Liverpool, Manchester, London and Newcastle, but football is definitely the number one sport in this city and everybody is fiercely passionate about their club.
"For me to lead this club in any fixture, whether it's a pre-season game or a Sheffield derby, is an immensely proud moment. I stand down [on the touchline] and the song [Blades anthem 'Greasy Chip Butty'] comes up and it gets to you. But we've got a job to do and everybody gets that."
The two clubs last met in League One in February 2012, when a Wednesday victory at Hillsborough helped them on their way to eventually beating United to promotion. The Blades then floundered in the third tier for five more years, before Wilder finally took them back up in emphatic fashion last season.
Now he gets the chance to take his side into battle against Wednesday. But the Sheffield boy is fully aware that he'll have friends and family cheering on the Owls, such is the nature of the city.
"About two-and-a-half miles up East Bank Road is where my family is originally from," he said. "I followed them as a kid even though I do have friends who are Sheffield Wednesday and even some people in my family as well!
"My cousin was a Wednesday fan and I think that's what it's like for a majority of households. There are people in every family who support United or Wednesday.
"We all know how much this means to everybody and it's important it's played in the right way. It's also important it's attended in the right way because there'll be a lot of emotion that will run through the city this week and on matchday."
United have made a great start to the season and are ahead of Wednesday in the table after eight games. Wilder insists his side will be playing to win at Hillsborough, but is under no illusions about the size of the task of facing a side that have made the Championship play-offs for the last two seasons.
"Wednesday have got some outstanding individuals and their aim is to get out of the division after a couple of decent years," he said. "Ours is a different scenario as we've got just got back to this division for the first time in six years.
"But that doesn't take away the determination of our players. We're definitely a front-foot team and we go for wins. We're not a counter-attacking side who sit back and soak it up, we're going for the win.
"I've got no qualms about how we're going to approach it and I think everybody recognises that all derbies are going to have a competitive edge to them. We've got to play with a bit of fire and also a bit of ice in our veins, and if we manage to get the balance right we're a dangerous team to play against.
"We're delighted with the start we've had and disappointed we didn't get a win last Saturday [against Norwich]. But it shows how far we've come, that we're disappointed not to be top of the Championship after eight games.
"These are two different clubs in different parts of where they're at. We're trying to consolidate in the division after being out of it for six years. That doesn't stop us being ambitious but in the other part of the city they'll be looking to get into the Premier League after the money that's been put into the club. And they'll be a strong contender to do that.
"We always look at our clubs and don't want the opposition to win, I think that comes naturally. One of the biggest shouts on a Saturday afternoon is when Wednesday are getting beat and I wouldn't expect it to be any other way at Hillsborough.
"It's going to be ecstasy or agony for both sets of supporters, not just me, but hopefully we have a decent weekend and get the correct result for this proud football club."
Don't miss the Steel City derby live on Sky Sports Football from 12.30pm on Sunday