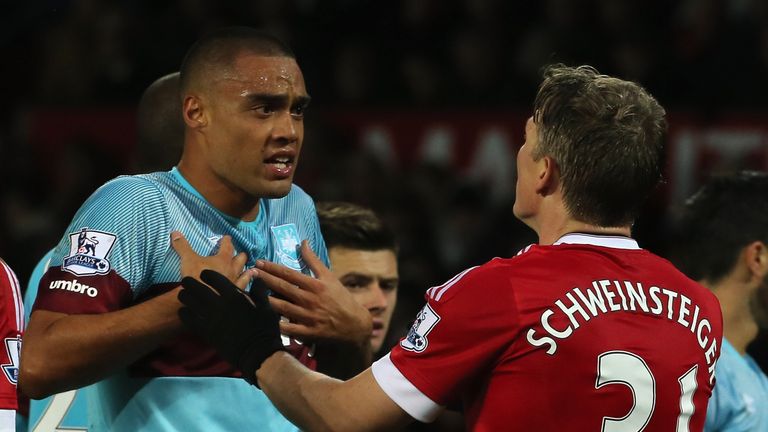 Winston Reid and Slaven Bilic were adamant Manchester United's Bastian Schweinsteiger should have got his marching orders for a flying elbow.
Schweinsteiger and Reid clashed in the 0-0 draw at Old Trafford on Saturday as West Ham avoided defeat at another of the Premier League heavyweights following wins at Arsenal, Manchester City and Liverpool.
As the pair were jostling in the penalty box in the first half, the German World Cup winner swung an elbow which caught Reid in the throat.
Referee Mark Clattenberg called both players over but no cards were brandished to the bemusement of West Ham manager Bilic, who had words with the official as the teams went in at half-time and labelled the incident a "big time red card".
Reid agreed with his manager, claiming it was a calculated act on Schweinsteiger's part.
Reid said: "It was a red card. He knows what he's done - he's elbowed me in the face. The referee couldn't see it, so we move on."
Bilic agreed with his centre-back but was sympathetic towards Clattenberg.
"It is a red card, but I can agree that he didn't see it," the Croatian said. "No matter how many referees you have, sometimes they can't see.
"I'm sure if he did see it, it would have been a straight red. Of course we are disappointed but it happens. He just didn't see it.
"I saw it on the replays at half-time. It was a red, a big-time red. I understand the decision but it was a crucial moment. I can't blame the referee."