West Ham face dilemma on Andre Ayew injury, says Slaven Bilic
By James Dale
Last Updated: 19/08/16 2:34pm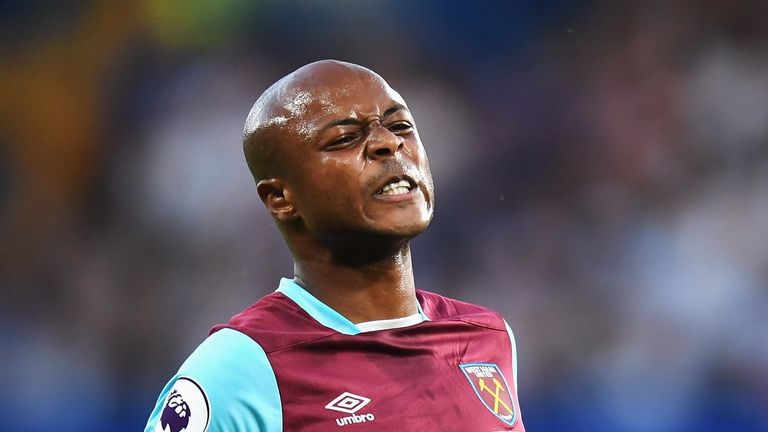 Andre Ayew could be facing between two to four months out depending on whether he has surgery, says West Ham boss Slaven Bilic.
West Ham bought Ayew for a club-record fee, which chairman David Gold confirmed to be £20.5m, but the 26-year-old was forced off with an injury in the first half of his debut in the 2-1 defeat to Chelsea, live on Monday Night Football. 
Gold had confirmed the forward will face four months on the sidelines with the thigh problem, but Bilic now says the recovery time could be cut significantly depending on whether they opt for surgery or not. 
"For Andre Ayew, there are two solutions, one with surgery and one without," Bilic said at his pre-match press conference. "We are going to decide which one soon.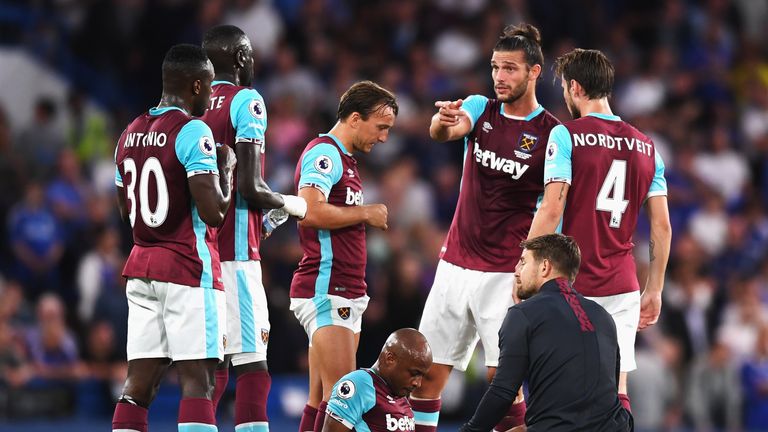 "He could be out for two and a half months or up to four. It shouldn't be more. He could be back this year, and we just have to hope. It would be easier to bring one or two more players in if we are in Europe because they will get more minutes.
"One player might be the difference if we are or aren't in Europe in terms of bringing people in. We've already played two games at the new Stadium, but what we need to settle is to win. Hopefully that will come on Sunday.
"I spoke to Andre five minutes ago, and he's good. He's very optimistic and up for everything and is professional."
West Ham drew 1-1 with Romanian side Astra Giurgiu in their Europa League qualifying play-off first-leg tie on Thursday night, and immediately returned home to London in order to prepare for Sunday's visit of Bournemouth - the first Premier League game to be held at the Hammers' new London Stadium - live on Sky Sports 1.
"We got home at 5am last night but we have a big game in two days so the focus is on that," said Bilic. "It's tough but we knew the situation.
"We want to be in a position to qualify and we are. Hopefully we are going to make it next Thursday. We were disappointed to lose in the last minute against Chelsea. To be that close against a top side makes it doubly disappointing. Yesterday was a bit different. We had a great chance to make it 2-0 and then they scored.
"We didn't finish the job. At the end of the day, it was still a good result, but not the greatest one. We now have the chance at home to get to the groups."
West Ham suffered a 4-3 home defeat to Bournemouth back in August 2015, and despite the quick turnaround Bilic's squad face, the Croatian boss warned it will be a tighter affair this time around. 
Bilic said: "Don't expect as many goals this season against Bournemouth as last! We analysed that game and we were disappointed to concede some.  
"Credit to them though, because they pressed very high. But from our point of view, those goals were cheap to concede.
"I think Bournemouth have done clever deals in the transfer window. They buy young players. They are good as a unit and have pace. They did great last season and they have had a year of great experience as a team, club, manager and fans. I expect them to be better. Our stadium is not intimidating until we make it with the quality of our game."
Callum Wilson scored a hat-trick in Bournemouth's win when the sides met at the Boleyn Ground a year ago, and Bilic responded to reports West Ham are interested in making a move for the striker.
"There was never a bid for Callum Wilson from us," said Bilic. "Every player is linked with West Ham! But he is a good player and he showed that. He was injured but he's back now and he showed he's a big threat last year. Not only with his hat-trick against us but with his quality."