Slaven Bilic admits he smelled complacency at West Ham in pre-season
By Geoff Shreeves and Stephen Mills
Last Updated: 30/10/16 12:50pm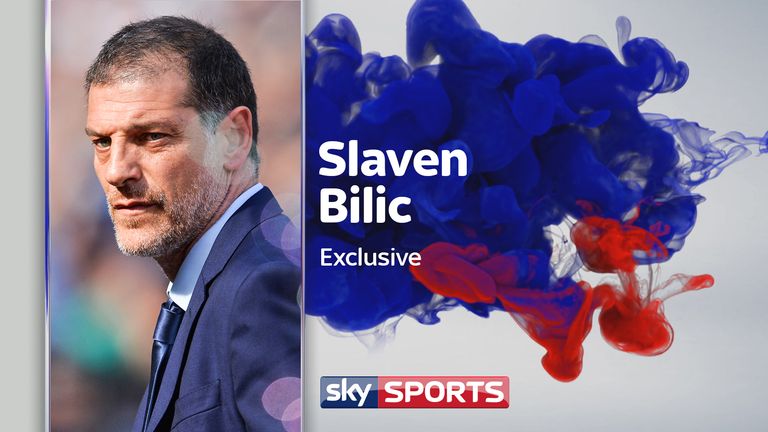 Slaven Bilic has admitted that he "smelled complacency" at West Ham ahead of the club's disappointing start to the new campaign.
The Croatian's first season in charge was a successful one with the club qualifying for Europe after a seventh-place finish in the Premier League.
But following the move from Upton Park to the London Stadium last summer, results suffered as West Ham lost five of their first six league matches.
The slide has been arrested as they have gone unbeaten in October and reached the quarter-finals of the EFL Cup, but Bilic said expectations were too high at the start of this season and focus slightly slipped as a result.
"We got a bit of that complacency," he told Sky Sports' Geoff Shreeves.
"I smelled it. I didn't know and at the end of the day I am the first to say that it is my responsibility, always, because I am the manager here.
"I smelled it during the pre-season when I spoke to the press. You have press conferences even in pre-season and before our qualification games for Europa League and 70 per cent of the questions were about Champions League.
"'What are you talking about?' was in my head. On one hand you don't want to be pessimistic, but on the other hand - and I was talking about it to my staff - if they are asking me those kind of questions they are asking the players the same kind of questions.
"What is the reason? We are not afraid of anyone, but why are we talking about Champions League?
"We played at home against Watford and in a pre-match interview I was asked 'are you thinking of an easy 3-0 win?' and I was like 'What are you talking about?'
"This is the Premier League and we are West Ham. Nobody can talk about an easy 3-0 win. We are hoping and sometimes you are expecting if everything goes well, but those kind of things got us in a state of a little bit of complacency.
"You don't do it deliberately. You don't even notice, but it comes. Just five per cent is enough here, with a little bit of bad luck… to get you in serious problems.
"Thank god we reacted well and on time."
West Ham travel to Everton on Super Sunday on the back of Premier League victories over Crystal Palace and Sunderland and a midweek EFL Cup win over Chelsea.
Bilic is hoping for three points to see them continue their rise up the table and agreed with the suggestion that they exceeded expectations last year.
"On one hand I agree with you," he added.
"We are the victims of our own success, but what should we have done?
"Lose a few games once we are safe? Then it wouldn't be a great season, it would be ok, and we would be on our toes? No.
"We are not the first and we are not the last team to be a victim of its own success.
"We are a club that is moving places. We have a new stadium. The board and the whole West Ham family is trying to move this club to another level."
For more from Geoff Shreeves' interview with Slaven Bilic, tune in to Nissan Super Sunday: Everton v West Ham from 12.30pm on Sky Sports 1.