Slaven Bilic insists there is "no way" West Ham gave permission for an agent to sell Andy Carroll to China.
Reports in the national press on Wednesday claimed the Hammers wrote to an agent giving him permission to negotiate a deal to sell Carroll to one of three Super League clubs before Tuesday's Chinese transfer deadline.
Ahead of West Ham's clash with Chelsea on Monday Night Football, Bilic admitted he did know about interest in Carroll from the clubs in the Far East nation.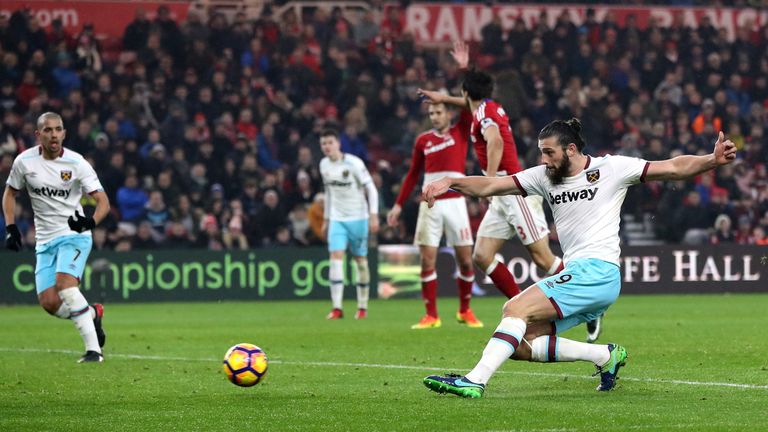 But asked if the newspaper reports were true, Bilic replied: "No way, no way. You know how much I rate him. He is one of our best players and we want to keep him.
"As far as I know, the Chinese clubs sent representatives to watch the game. Apparently they were watching other players but they fell in love with Andy. But it was not the club that asked an agent to sell the player.
"Definitely Andy heard it (the interest). I suppose that he was flattered. It is nice to have options and have a good opinion about you at other clubs. But we didn't talk about it at all.
"We haven't been bombed with offers from China so it didn't affect us. It wasn't like we had three or four or five offers from China for players.
Live Monday Night Football


"(Interest) it happened with Andy, I heard it, and I saw it in the papers. But it didn't affect our training. There is not a lot to talk about."
Carroll, who has six goals in 16 appearances this season including four in his last four Premier League games, returned to full training this week after a groin problem.
And Bilic says he is "optimistic" Carroll can return against the league leaders at the London Stadium after nearly a month on the sidelines.
"He trained individually over the last few days, then he joined us yesterday. Still we have four days and he is training today with us," he said.
"It looks good and, especially with him, altogether it will be a week of good training, and enough for him to be fit for the game. I am very optimistic."