West Ham boss David Moyes may appeal Manuel Lanzini's charge for deceiving a match official
Last Updated: 18/12/17 2:57pm
West Ham boss David Moyes says he is "surprised" Manuel Lanzini has been charged for deceiving a match official in the 3-0 win at Stoke, and is considering an appeal.
The Hammers midfielder was charged by an Football Association independent panel after going to ground and winning a penalty following a challenge by Stoke defender Erik Pieters on Saturday.
West Ham and Lanzini have until 6pm on Tuesday to decide whether to accept a two-match ban or to contest the charge, and Moyes claims he is surprised that the Argentine was charged.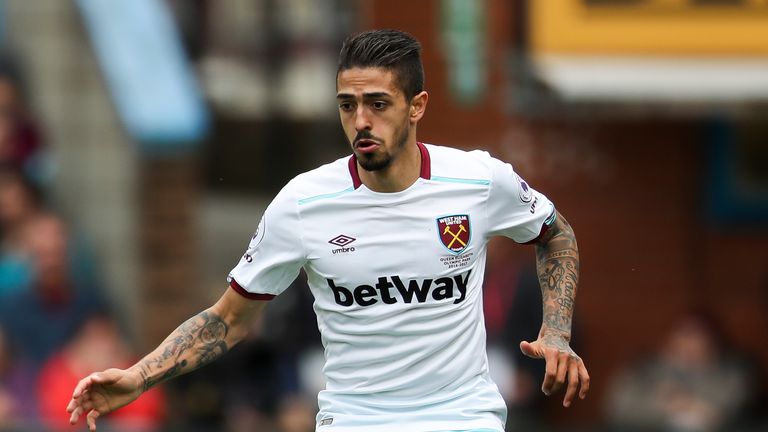 He said: "I'm going to think about it. I'm a bit surprised. The referee was 10 yards from the ball, nothing was blocking his vision, the defender made a challenge for the ball and didn't get it. So, I think they're going against the referee.

"The Goals on Sunday panel all said it was a definite penalty.

"We're going to think about whether we appeal or not. I think it's strange that three people on Sunday thought it was a penalty and three people today think it probably wasn't."
"He had a brilliant performance on Saturday, he made two assists, so I only said to him after the game about how well he played.

"Let me be clear. I'm the first one who wants to get rid of diving. That's why I'm surprised by this one because nobody can be sure."
West Ham face Arsenal in the Carabao Cup on Tuesday and Moyes has confirmed that Joe Hart will start in goal at The Emirates, while Andy Carroll could make a return from injury.
"Joe Hart will definitely start tomorrow night," he said. "He's been very good around the place and he's ready to play.
"We've got the same sort of squad but with a couple of injuries and a couple of young players around.
"Andy Carroll could return. He's had a bad back but he trained today and we will make a call on him tomorrow.
"Ideally we would have changed one or two players, but we're a bit short and our priority is the Premier League, but nothing would give me more pleasure than reaching a cup final."