David Moyes called for more from Marko Arnautovic after he scored on his return from injury in West Ham's win against Watford on Saturday.
Arnautovic had scored four goals in six games before he suffered a hamstring injury on January 20.
He made his return to the starting XI against Watford at the London Stadium and capped a fine individual display by scoring the second goal in a 2-0 win.
But Moyes said: "He's getting no praise. He'll be told to keep at it, he'll keep getting pushed all the way. We are not letting him off the hook, he's got a bit to go.
"He only trained for three days but you can see the impact he's had, and playing as a centre-forward has freed him up a bit. "He has power, pace, he's good on the ball. Hes doing a really good job for us.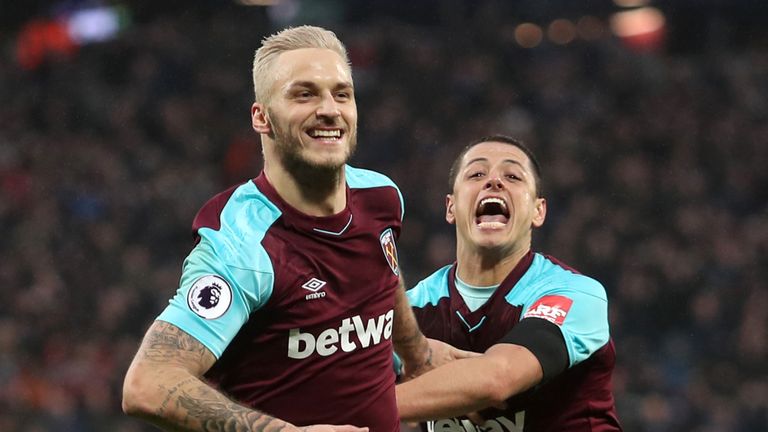 "I am pleased with his goal. He missed a couple and could have scored more. He had a good shout for a penalty and was a bit unlucky not to get that, but overall he is really important for us and we have missed him when he has been out.
"We are missing [Manuel] Lanzini as well but getting Marko back was a really big boost for us."
Javier Hernandez scored the opener for the Hammers after 38 minutes as they moved five points clear of the relegation zone with victory.
"That's what Chicharito does if we can get him some deliveries in the box," said Moyes. "It was a terrific cross from Micky [Michail] Antonio and a great run as well. We need to give him service. Marko can score in different ways, hopefully we can keep scoring and I am glad they both got goals today. "
Asked whether West Ham can now look up the table rather than down, Moyes added: "We are good enough, but we need to keep upping our performance and improving every week, if we can do that hopefully we can.
"The big thing was to get a result today, getting to 30 points and now the next target is getting to 40 and the sooner we do that the better."
Moyes also said his players will be working hard over the next week even though they don't have a game until February 24.
"We are not letting up, we are not dropping anything because we have done nothing yet. Hopefully by the end of the week they might earn a day or two off but they are going to have to earn it."