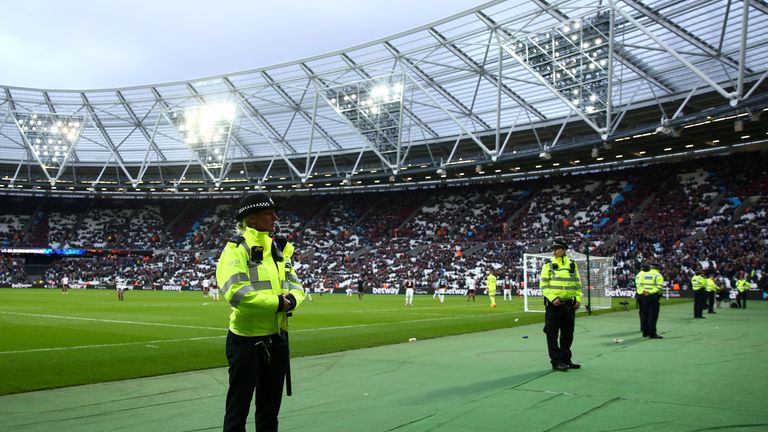 The FA are to consider charging West Ham following Saturday's scenes of supporter unrest at the London Stadium, Sky Sports News understands.
The FA are currently awaiting West Ham's observations regarding the pitch invasions which occurred during Saturday's 3-0 loss to Burnley.
A three-person commission will then consider if the club is guilty and, if so, what sanction or sanctions should be handed out, with a variety of sanctions to be considered.
Supporters invaded the pitch on several occasions during Saturday's game, while a large group of other fans congregated beneath the directors' box to protest against the club's board.
And an emergency summit is being held involving West Ham and London Stadium stakeholders in order to discuss ways to prevent such incidents occurring again.
Saturday's referee Lee Mason has sent his match report to the FA, detailing his version of events.
Mason spoke to both managers about the possibility of abandoning the match in the second half and the Premier League will ask West Ham for assurances that their forthcoming fixtures will not be jeopardised in a similar way.
Newham Council have issued a statement to "utterly condemn the actions of the small minority of troublemakers responsible".
The council remains the certifying authority for the London Stadium and, along with the Sports Ground Safety Authority, is now "urgently reviewing the safety management plans and procedures and staffing of the stadium."
A statement from the council added: "The evidence gathered and the revised safety management plans will be discussed at an emergency Stadium Safety Advisory Group (SAG) which includes the Metropolitan police, E20 and West Ham United FC.
"The discussion at the SAG will assist the council before any decision is made regarding future sporting and other events."