Sparks were flying in the Sunday Supplement studio as journalists Henry Winter, Shaun Custis and Oliver Holt discussed the current situation at West Ham.
The Hammers are close to agreeing a deal with Manuel Pellegrini to become their new manager, according to Sky sources, which triggered a debate about the current hierarchy, which includes Karren Brady, David Sullivan and David Gold.
West Ham vice-chairman Brady writes a column for Custis' newspaper, The Sun, but while he defended her right to "say it how it is," Winter claimed all football owners should be "seen and not heard".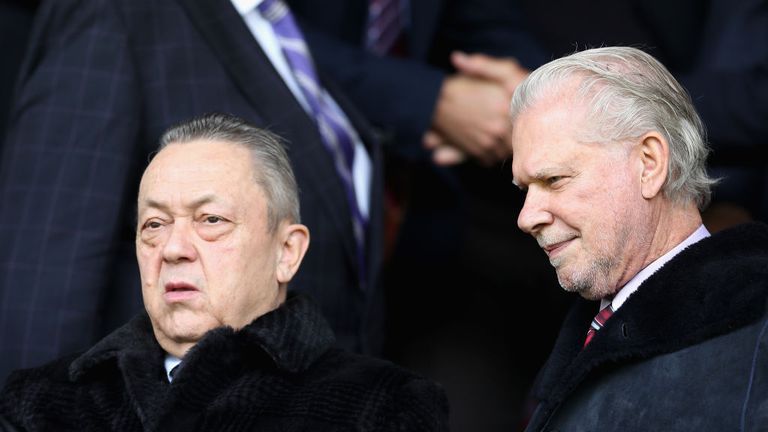 Watch a classic Sunday Supplement exchange in the video at the top of the page and read the transcript below.....
Sunday Supplement's fiery West Ham debate
Winter: There are two problems with West Ham - they have got a charmless, dreadful board - one of them thinks he can pick the squad. And, they've got a completely soulless stadium. Those supporters are fantastic if they feel they are being served up decent football - there aren't many plusses. They should not be playing in that ground - it is the complete antithesis of Upton Park. They should have knocked it down and started again. Daniel Levy was right - they should have knocked it down, but the Olympic board got involved.
Shaun, what about your columnist? Karren Brady. Is she part of the problem or part of the solution?
Custis: What do you mean, part of the problem?
Winter: She's on the board - she's driving this through.
Custis: She more than occasionally says it how it is. I've seen journalists say, 'how dare Karren Brady write this in a newspaper - she should have done it on the official website'. Why? What is wrong?
Winter: Does it help the club? Do the fans like it?
Custis: She engages with football people about what is happening in football. Surely that's an interesting aspect?
Winter: So, it's nothing to do with self-promotion?
Custis: You have a big problem with it? Ollie, you're advocating people at football clubs shouldn't be doing things in a newspaper.
Holt: Don't start having a go at me!
Custis: It's alright for Jordan Henderson to sit down with you and talk however he wants to talk, but it's not alright for the vice-chairman at West Ham?
Holt: My problem with Karren Brady has got nothing to do with her column in your paper. My problem with Karren Brady is regarding what Henry said about the board. My problem with her is that she thought she got the deal of the century by moving to a stadium that has robbed West Ham of its character and destroyed the fan-base. She thought she was getting a deal on the cheap and she's ended up selling the club down the river.
Custis: But she is allowed to have her point of view - she thinks she didn't sell the club down the river. It wasn't solely her decision either. She had Gold and Sullivan on board with it.
Holt: Are you her mouthpiece, Shaun? You're her mouthpiece, Shaun.
Winter: Board members should be seen and not heard.
Custis: You were happy to see Joe Hart and Jack Wilshere talk on social media - but you're not happy to see Karren Brady say what she wants to say. She's entitled to say what she wants to say.
Winter: I don't think it helps the club when you have three main individuals at the club talking all the time. One in a set-piece situation and Sullivan with his various interviews. I think that is not good for the manager - whoever that is.