West Ham agree deal to sell Boleyn Ground to London developer Galliard Group
West Ham have agreed a deal to sell their current ground at Upton Park to London developer Galliard Group.
Last Updated: 10/02/14 6:00pm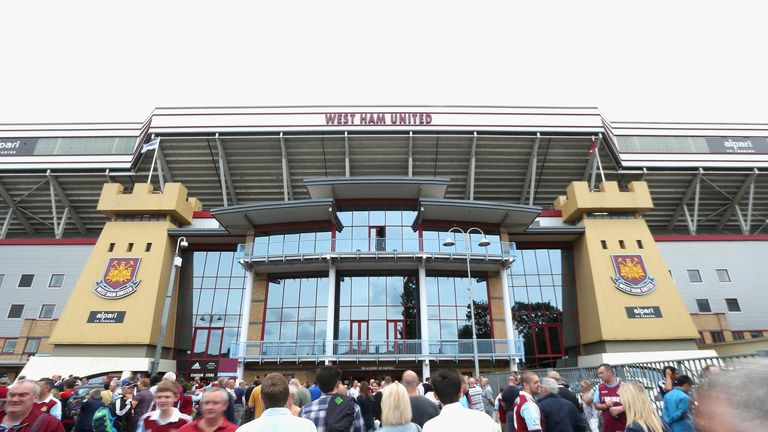 Galliard Group were selected as the purchaser for the site ahead of a number of other national and international companies.
They impressed the club with their links to the local community and their commitment to honouring the history of the Hammers at the Boleyn Ground - their home since 1904 - as part of the proposed development.
Galliard's proposals aim to provide new homes and retail and leisure facilities, complete with underground parking.
They also plan to undertake discussions with the family of Bobby Moore regarding the proposed development of a central landscaped garden, which would be named the Bobby Moore Memorial Garden.
Fans and local residents are also set to be invited to enter a poll to name each building after a legendary player or an historic event at the club.
West Ham vice-chairman Karren Brady told the club's official website: "We opted to reach an agreement with Galliard because they are a local London developer and employer with origins in east London.
"We know they are committed to working closely with the local community and Newham Council on proposals to transform the site into a residential and retail village, which will benefit the local community and east London's regional economy.
"The deal demonstrates that we have been true to our word by securing the regeneration of two areas of east London through our move to the Olympic Stadium in 2016.
"In addition, and most importantly for us, we can see that Galliard are passionate about working with West Ham United to engage supporters to help deliver a fitting legacy that will honour the tradition of the famous ground.
"We are confident that West Ham United fans will be excited about their vision and the way they plan to respect more than 100 years of West Ham history at Upton Park."
There are also plans for a statue of Moore and further artwork to commemorate the history of West Ham.
Moore's daughter Roberta Moore said: "I have always believed that there should be some form of permanent West Ham United presence at the Boleyn Ground site after the team leave and I'm really pleased that the centre point of the development is planned to be named in honour of my father.
"Hopefully the new sculptures and buildings being proposed will also help ensure that a lasting legacy to the Club, my father and his team-mates is left at Upton Park."