Marco Silva sacked by Watford: This gifted coach is his own worst enemy
Last Updated: 22/01/18 1:06pm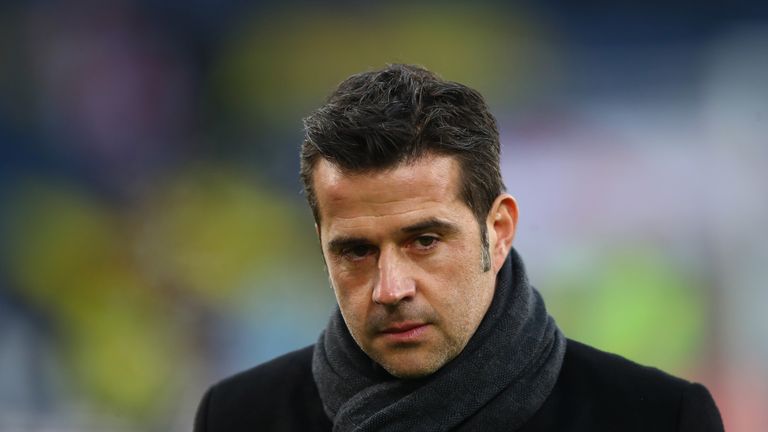 Marco Silva is a talented young coach but he was undermined by his own ambition at Watford. Adam Bate speaks to those who have worked with Silva before to understand the key to his past successes and why he became his own worst enemy at Vicarage Road…
Mention the name of Marco Silva to those who have played under him and the admiration is apparent. Managers are inevitably judged on what they do at a weekend, but for players, the reputation of a coach is forged on the training ground. It was there that Silva showed internationals from England and Panama, Switzerland and Canada, things they had not seen before.
Panama's Tony Taylor was a team-mate of his at Estoril and recalls how Silva "switched the whole thing around" upon being promoted to manage the club. From second division strugglers, Silva even took Estoril into Europe. "His training was just so good," Taylor tells Sky Sports. "He was tactically sound and very attentive to the details."
Estoril's captain Steven Vitoria could hardly have been clearer about who was the catalyst for the club's rise. "Even now, if you asked anyone involved in the recent history at Estoril to point to the one person who was responsible for all of this, whether it was players, staff or fans, they would all come up with the same name," he tells Sky Sports. "It was Marco Silva."
At Olympiakos, Silva won the title and impressed his players once again with his work on the training ground. "It was amazing," Pajtim Kasami tells Sky Sports. "We won 17 times in a row. You could see right there that he was a manager with a big future. He is very intelligent tactically. He devotes a lot of time to the details.
"He is like a genius."
This obsession with detail was also a key factor at Hull, where he took over a team that had gone 10 games without a win and led them to eight victories and a draw in his first nine home matches in charge. "You could tell from his sessions how hard he was working behind the scenes," Hull midfielder Ryan Mason tells Sky Sports. "He was a workaholic.
"He studied the other teams. The day before the game he would have the team set out and you would walk through certain situations. Even opposition throw-ins. It was very thorough and a big difference from before. It was a level of detail we were not used to. Those minor details can make such a difference at the highest level in the Premier League."
And yet, the marginal gains from those minor details did not amount to much once Silva made his one major mistake at Watford. The club had been in the Champions League places when Everton sacked Ronald Koeman. But Silva made his desire to replace him just eight games into his Watford career all too apparent and it proved the catalyst for a collapse.
On the face of it, Silva's sacking could still be seen as controversial. After all, Watford remain in the top half of the Premier League table - a position that, if maintained, would represent the club's best league finish in over 30 years and the third best in their entire history. But Watford's woeful form means any hope of maintaining that position is fast diminishing.
One win in 11 games tells a tale. This is a team that is bottom of the form guide and with only a five-point gap between them and the relegation zone, it does not seem nearly enough. Not with confidence shot. Not when Watford have somehow contrived to lose four different matches that they had led midway through the second half.
There are caveats, of course. Some will point to a lengthy injury list that has robbed Silva of 10 first-team players. But it is difficult to escape the conclusion that this was a club not only heading in the wrong direction but that he was the one who had set the satnav. Understanding the reasons for that requires an appreciation of Silva's other great trait as a coach.
The bonds that he is able to forge with his players in such quick time has always been central to his success. Mason recalls Silva having "this aura around him" and while he only played under the Portuguese briefly before suffering a serious head injury that has put his own career on hold, it is telling that they remain close. "He was great," explains Mason.
"He came and visited me a couple of times. He would always phone me. We are still in contact and we exchange messages even though I only played for him for three weeks. He is someone with whom I built up a very good friendship. He was a good man manager and you need that. You need to get the respect of your players and build up little relationships."
That tallies with Kasami's recollections of Silva from their time together in Greece. "He spends time getting to know his players," says the Switzerland international. "He is very straightforward with you. That is what I like about him." Vitoria agrees as well. "As a man and a coach, he is amazing," he says. It ensures that players want to play for him.
"The first thing about Marco Silva is that he is a good person," adds Taylor. "He is very fair. Everyone wants to fight for him because he respects each guy on the team. The second thing is that he has also got a strong character. I think that is very important if you want to be a good manager because players need to respect you."
Perhaps this is the ingredient that went missing in Silva's recipe for success. Once clear that Everton's advances were not unwelcome, it became harder to buy what he was selling. This is the era of the big idea, where every coach needs a philosophy and every team must be on a journey. When it was obvious Silva wanted to get off the bus, that idea was lost.
Watford have conceded more goals in the final 15 minutes than any other Premier League team this season. Asked to delve deep for their manager, as they had in salvaging a point in stoppage time on the opening weekend against Liverpool, Watford's players could no longer summon the fight. The 'little relationships' of which his former players speak were broken.
Perhaps the change of manager will refocus this Watford team and they can bond again, united by the common goal of keeping the club in the Premier League. But what is even more interesting is where all of this leaves Silva. Everton are unlikely to be back in for him anytime soon and his stock has fallen in line with Watford's slide down the table.
There will be another job, of course. But since leaving Estoril in 2014, Silva has now spent a year at Sporting and a year at Olympiakos before mustering half a season apiece at Hull and now Watford. The days when coaches constructed dynasties at clubs may be gone but even the more trigger-happy owners like to believe that a two-year deal might be seen out.
Silva's ability on the training ground has not disappeared and at the age of 40 there is still plenty of time for him to fulfil his potential as a coach. But the aura has evaporated a little and he may well find that it is that bit harder to convince the players at his next club of his vision. In that sense, the fear now is that this talented coach has become his own worst enemy.