Watford's Troy Deeney wonders if he needs to be more theatrical when fouled
Striker was fouled by Timothy Fosu-Mensah during 1-1 draw at Fulham
Last Updated: 23/09/18 9:39am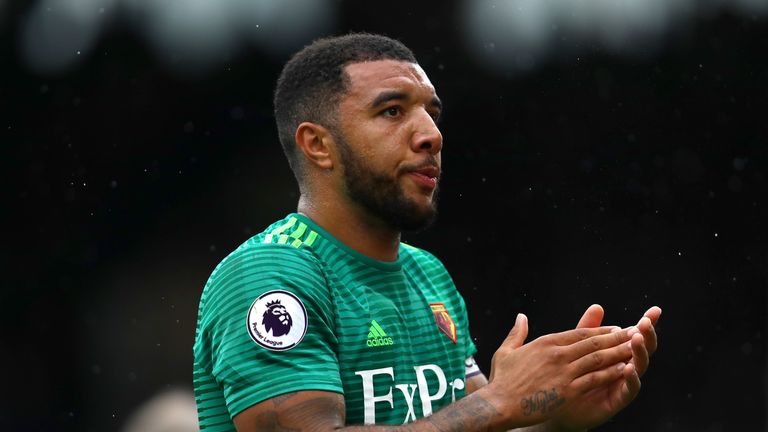 Watford's Troy Deeney thinks he may have to be more theatrical when badly fouled in order to get players carded, although he admits that is not his game.
Deeney's comments came after Watford's 1-1 draw at Fulham, during which referee Martin Atkinson deemed Timothy Fosu-Mensah's studs-up tackle on the striker worthy of only a yellow card.
He referenced an incident late on in the game at Craven Cottage when Andre-Frank Zambo Anguissa went down following a challenge with Deeney. The Fulham man reacted very theatrically, but when Atkinson decided the challenge was not a foul, Anguissa jumped up and carried on playing.
"I'm not one to lie on the ground and roll around," Deeney told Sky Sports.
"You saw their lad [Anguissa] at the end, he got a stud on the ankle and did 15 somersaults, then jumped back up to scream at the ref. Maybe I'll have to start lying on the floor and start screaming to get cards, but it's not really my game. I've got a few bumps and bruises but I'll be alright tomorrow.
"It's a tough game, referees come under enough scrutiny from pundits in the studio and from their assessors. Martin Atkinson is a very good referee but on that occasion [Fosu-Mensah's tackle] it could have possibly been a red card."