Sky Bet Goal of the Month: Joe Williams, Marcus Maddison and Jordan Shipley win October awards
Last Updated: 17/11/17 6:10am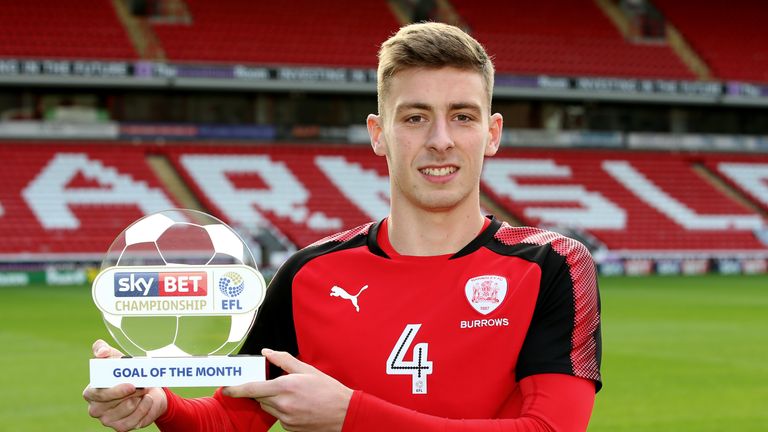 Barnsley midfielder Joe Williams is the Sky Bet Championship Goal of the Month winner for October, receiving 48 per cent of the public vote.
It was pure dynamism from Williams, firstly to anticipate a bouncing ball, next to chest it forwards into space and finally to time the sweetest of left-foot volleys to perfection.
Williams, on loan from Everton, said: "It's very pleasing for me and something I probably didn't expect when I came here. As soon as I hit the ball, someone came through me and clattered me and left me on the floor, so I didn't actually see the ball go in. As soon as I got in the changing room, I checked my phone and saw it and was proud of it."
Lead Sky Bet EFL Goal of the Month judge and Sky Sports pundit Don Goodman said: "The way in which Joe keeps control of a most difficult bouncing ball is impressive in itself but the strike and control on the volley whilst under pressure from a defender closing him down is quite frankly incredible. At just 20 years of age he's scored a better goal than most players will manage in their entire career!"
Williams beat off competition from Sheffield United's Paul Coutts and Bolton Wanderers' Sammy Ameobi.
Sky Bet League One: Marcus Maddison, Peterborough
Peterborough United winger Marcus Maddison is the Sky Bet League One Goal of the Month winner for October, receiving 44 per cent of the public vote. Vision and audacity combined beautifully in a goal for the ages as Maddison spotted the chance to drive a 40-yard volley over the head of stranded visiting Shrewsbury goalkeeper Dean Henderson.
Maddison said: "It's nice to eventually win it. I've scored a few nice goals in my time but there wasn't a trophy before. I'd noticed the keeper off of his line a few times, he did play quite a high line and the ball just dropped so nicely it had to be hit, and fortunately it went in. To score from that distance is quite an achievement."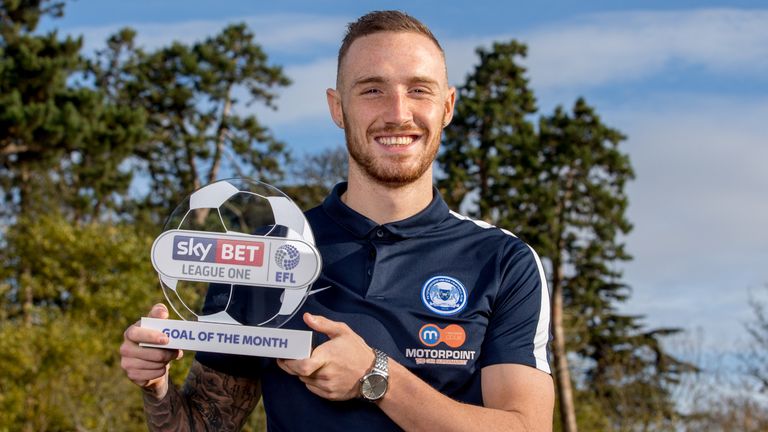 Goodman said: "It was going to take something special to bring Shrewsbury's unbeaten run to an end this season and Maddison's wonder-goal certainly fits the bill. The defenders around him must have been thinking, 'go on then, shoot if you dare' but how they must regret that now!
"The vision, awareness and strike were all exceptional but the key to catching the goalkeeper Henderson out was hitting the ball so early. In Henderson's defence, the power and accuracy of the strike would have been enough to beat any keeper."
Maddison beat off competition from Plymouth Argyle's Graham Carey and Doncaster Rovers' Ben Whiteman.
Sky Bet League Two: Jordan Shipley, Coventry
Coventry City midfielder Jordan Shipley is the Sky Bet League Two Goal of the Month winner for October, receiving 47 per cent of the public vote. Shipley's first goal as a professional will stay with him forever. His pinpoint free-kick was struck with pace and unerring accuracy around the edge of the Luton wall.
Shipley said: "It's lovely to get this award and great to be voted by the fans. I didn't really think too much of it, just stepped up to it and hit it fairly well and it's gone in the top corner. It's definitely the best goal I've ever scored, the way it came about, against Luton, away from home, I couldn't have imagined it any better. I've got to keep working hard, get in amongst it and take my chances when they come."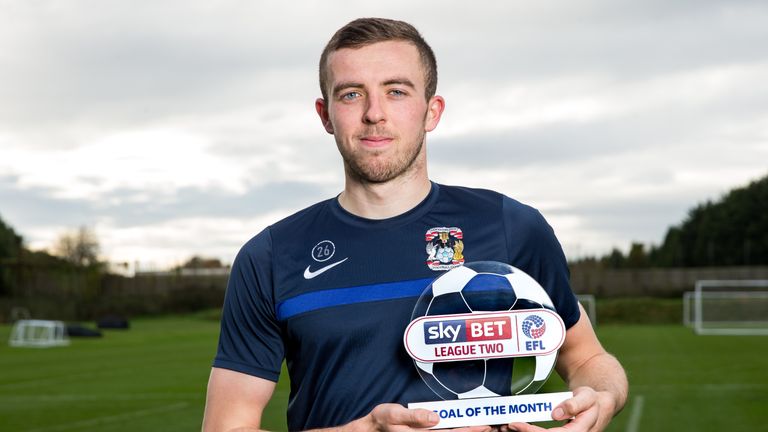 Goodman said: "Academy graduate Jordan has made just five league appearances and already has a goal of the month award to his name. The goal itself was a superbly struck free-kick which nestled in the top corner and secured a fantastic win for the Sky Blues.
"It shows an enormous amount of self-confidence for a youngster to want to step up and take a free kick in that position and an enormous amount of faith from his manager and team-mates to let him! All were rewarded for a great decision and he will be at the front of the queue when it comes to taking the next one!"
Shipley beat off competition from Port Vale's Ben Whitfield and Wycombe Wanderers' Ebere Eze.