Ollie Watkins has been one of the stars of the Championship season so far. With the help of the player's former coaches and team-mates, Adam Bate finds out why the Brentford forward could be the next big thing...
Three games into the Championship season and Brentford's Ollie Watkins is one of only two players to score in each of his team's matches. The 22-year-old forward was a Crystal Palace target in the summer but is now aiming to get the Bees to the Premier League. Those who have followed his rise up the divisions are backing him to make it one way or another.
There is the youth coach at Exeter who thought he was a natural and the manager who gave him his first taste of senior football in the sixth tier with Weston-super-Mare. There is the veteran striker who was there celebrating alongside Watkins when he scored his first ever league goal - a last-minute equaliser against Portsmouth at St James Park.
With their help, Sky Sports charts a journey that began at the bottom but one that many are convinced will take Watkins all the way to the top - perhaps even to the England national team. It is a tale of talent and technique but also one that reveals the importance of attitude and opportunity in a young player's path to a career in the professional game.
THE YOUTH TEAM
Exeter are proud of their youth system. The chance to reach the first team was always there under long-serving boss Paul Tisdale. Talent identification is essential but it is the culture that drives the success. Kevin Nicholson coached Watkins when he was a first-year scholar in the youth team and witnessed up close how Exeter's youngsters benefited from that.
"Ollie was at a club that was willing to give players the opportunity to be involved in and around the first-team environment," Nicholson tells Sky Sports. "At 17, he had the chance to move to the pitch next door where the first team were training and get involved with them. Even if it was part-way through a session, that helped him grow and develop even more.
"Matt Grimes, who is now at Swansea, was the first to be given the chance by Paul Tisdale, both training and playing. As soon as Ollie and the boys saw him get that opportunity and do well, it inspired them. Sometimes it only takes one to make the breakthrough. You don't need to do too much then as a coach because it drives them on naturally as individuals."
Watkins' ability was recognised early. He was only 18 when he scored his first Exeter goal, a consolation strike in a 3-1 defeat away to Coventry in the Football League Trophy. Nicholson was among those aware of his vast potential well before that. "He was a natural in terms of how he moved and how he moved the ball," he recalls.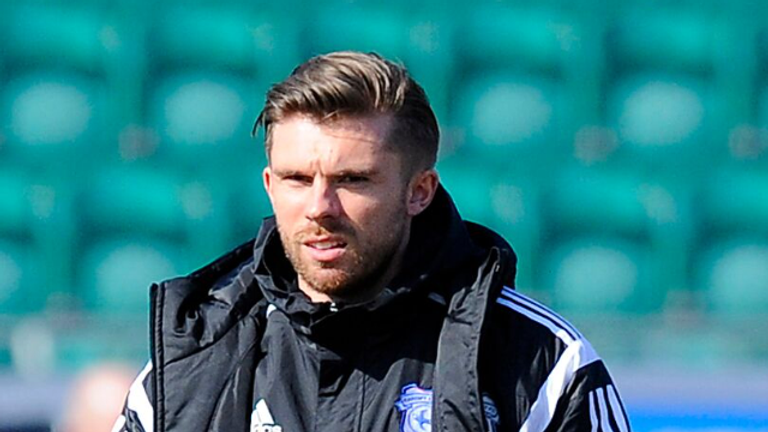 He was a natural in terms of how he moved and how he moved the ball.
"There was no doubt at the time that he was very good technically and his physical attributes stood out. You could see that he had the potential to play at least at Championship level. But more than that, he was a pleasure to work with, he really was. What was good about him was that he always had a positive attitude and wanted to learn."
But as with many young players, there was plenty to work on. "Down the leagues it is more about what you do without the ball than with it," adds Nicholson. "Young players need to know that. For 88 minutes of the game, you don't have the ball. So what are you doing? How are you helping your team-mates? What are you offering without the ball?
"Ollie was one who had to learn to work harder out of possession, to track runners and to press the ball with more aggression. That was vital. But given the ability that he had with the ball at his feet, once he added this to his game he was always going to progress. Ollie did it by going out on loan. In football terms, it was there that he went from a boy to a man."
THE LOAN MOVE
Tisdale knew just where to send Watkins to gain experience. Prior to becoming Exeter manager he had spent five years in charge of Team Bath. As their player-manager, Tisdale even took them to the first round of the FA Cup in 2002 - becoming the first university side to achieve that feat in over a century. Ryan Northmore was the team's goalkeeper that day.
So when Northmore took over at Weston-super-Mare in 2014, Tisdale had the ideal place to find out what his talented youngsters could do when up against much older players. "That was my connection with Exeter," Northmore tells Sky Sports. "I would give loan experience to their players to help them make the jump from academy football to senior football.
"Personality and character goes hand in hand with the talent to determine who can handle that jump, and non-league clubs can play a really important part in that development. The mentality of the football is very different and sometimes there are young players who just don't know how to handle it."


Watkins was not one of them. He settled quickly, scoring 10 goals during his time at Weston-super-Mare in what was then the Conference South. "He was playing in the front three of a 3-4-3 and he thrived," says Northmore. "You could see his technical skills were good and he was great at facing up defenders and running at them.
"He did extremely well, but it was not just in terms of the goals and the way that he played, it was the way that he bought into it all. The environment was right for him. He fitted in with the lads and his attitude was great. He handled that modest success really well. He didn't get too big for his boots by any stretch of the imagination."
Just as Nicholson had noted in the player's youth-team days, Watkins wanted to learn. "The more I worked with him and focused on what he did in the game, the hungrier he got to do well," adds Northmore. "That was one of the key reasons why I felt he would go on to do well in the game and I think it will stand him in good stead throughout his career."
THE BIG CHANCE
Even upon his return from that successful loan spell, the opportunity at Exeter did not come quickly. One year on from his goal at Coventry, he had not made another senior appearance for the club. But conscious that Watkins was still a teenager at that point, Tisdale was determined not to rush the player's development if it was not in his best interests.
The former Republic of Ireland international Clinton Morrison was at Exeter at the time for what would prove to be the final season of his career. "People were saying that Paul Tisdale needed to get him into the team," Morrison tells Sky Sports. "But he did ever so well in the way he handled Ollie. He insisted that he would only play when he was ready."
One reserve game, in particular, stands out for Morrison. A number of Exeter's forwards were involved and Watkins was asked to play at left-back. "I remember to this day him having a moan about it," he says. "I just told him not to worry about it. You are in the team so go and impress. He did a lot of damage in that game going up and down from left-back."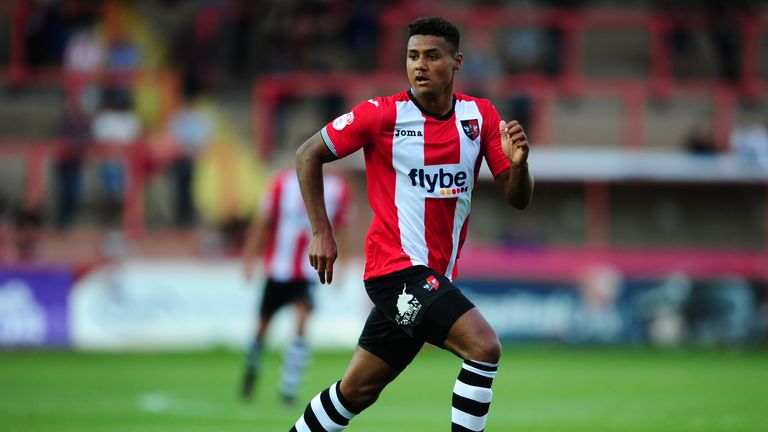 It was not long after that the breakthrough came. In March 2016, on a Tuesday night at St James Park, Watkins scored the first league goal of his professional career in dramatic circumstances. With Exeter trailing Portsmouth, he equalised in the last minute after playing a one-two with Morrison. "He never looked back," says the man who provided the assist.
"The boy could always finish, that was a natural thing that he had. Nine times out of 10 he would hit the target. He never played up front, he played as a No 10 or as a winger cutting in from the left, but he has always had the ability. He has a great physique. He is powerful, quick and direct. He is a threat and he is a handful and defenders hate playing against him."
A chip off the old block? "He is a quiet lad so he is nothing like me," laughs Morrison. "But he is a good character, a positive guy who knew what he wanted. He worked hard for it. He wants to be the best." The goal against Pompey was the first of eight in 10 games - and after another 16 in the following season, a £1.8m move to Brentford followed.
BRENTFORD STAR
Watkins' penultimate game for Exeter was against Carlisle in which he scored two goals to take the team to Wembley. Although that League Two play-off final ended in disappointment, those last two games for his boyhood club underline the breadth of experiences that he'd had before pitching up as a 21-year-old hopeful at Griffin Park.
"He had already played over 100 games," says Nicholson. "There are plenty of examples of young players getting experience in the lower leagues and that preparing you to play at a higher level." Not just any club either. "Paul Tisdale did things differently at Exeter," adds Northmore. "Ollie is fortunate to be at a club like Brentford who do things differently too."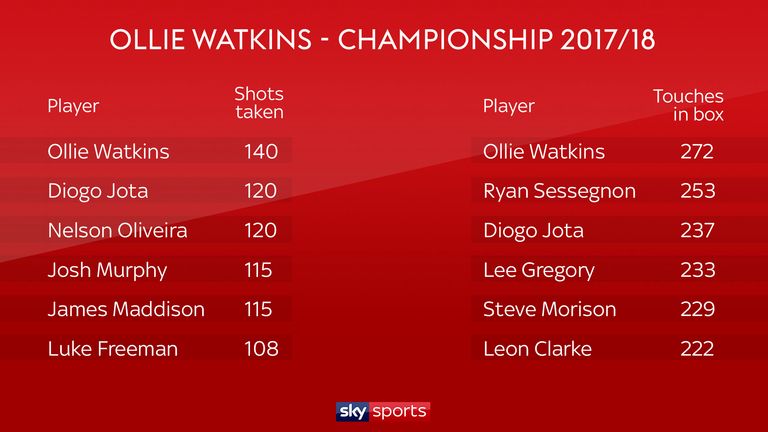 With the Bees favouring an expansive game, it has proved the perfect environment for Watkins to not only cope with the step up in quality but truly thrive. "Brentford are a good passing team and that is down to their manager Dean Smith," explains Morrison. "It is the way that Brentford are playing that is getting the best out of him."
Watkins scored 10 goals in his first season in the Championship but the underlying numbers were even more encouraging. He ranked among the top three players in the division for completed dribbles and chances created. He also had more shots and more touches in the boxes than any other player in the Championship. Not bad for a kid from League Two.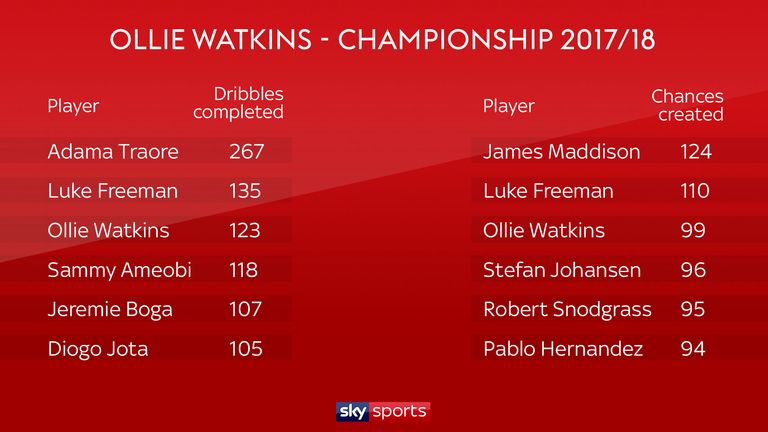 The 2018/19 season has been even better for Watkins with him scoring in each of Brentford's first three games of the season. His equaliser against Stoke was just the latest hint that he can perform up against players with much bigger reputations. With Crystal Palace and Bournemouth following his progress in the summer, the future looks bright.
SO WHAT NEXT?
Of course, after making such a strong start to the season, Smith and Brentford are entitled to be aiming for the Premier League themselves. But with so many clubs having bigger budgets, talk of Watkins' future will not go away. "I think Brentford did well to keep hold of him in the window," says Morrison. "He is a big talent and there are clubs queueing up.
"I would have loved him to go to Palace. I think he would have been a star there. Imagine him and Wilfried Zaha in the same team? It would have been frightening. I should probably have gone in there and had a word with my old strike-partner Dougie Freedman to sort it out. But it was probably the right thing to do. I fancy Brentford to have a good season."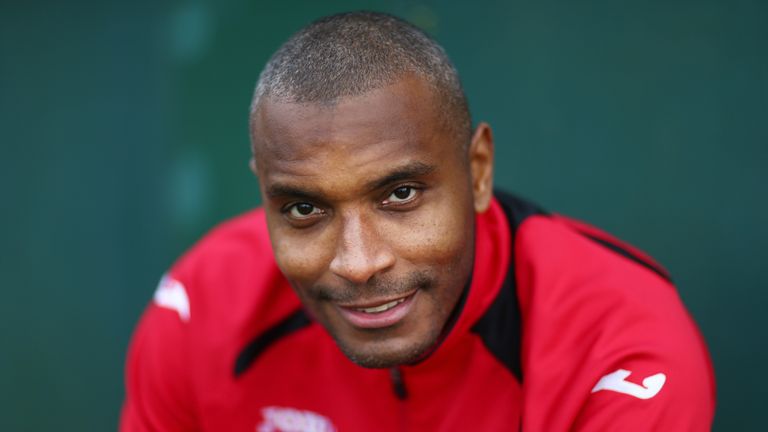 Without a shadow of a doubt, he will play in the Premier League. I even think it will get to the point where he gets England recognition. He is that good.
If promotion is beyond Brentford and interest in Watkins intensifies, the man who gave him his first taste of senior football just hopes the next opportunity is the right one. "I hope if there is another move for him, he goes into an environment that's right for him because when he is supported in the right way he is a fantastic player," says Northmore.
As for his old youth-team coach, he too thinks the journey has just begun. "I am just delighted to see how he has progressed," adds Nicholson. "He is getting everything that he deserves at the moment. There was no doubt he had the attitude and he had the ability. I am certain that he can play at the very highest levels of the game if his attitude is right."
Morrison, the man who partnered him through those fledgling weeks and months at Exeter, agrees. In fact, he is willing to go that little bit further. "Without a shadow of a doubt, he will play in the Premier League," he concludes. "I even think it will get to the point where he gets England recognition. He is that good. He has got the world at his feet."
If you're reading on skysports.com, comment below to get involved in the debate, but please adhere to our House Rules. If you wish to report any comment, simply click on the down arrow next to the offending comment and click 'Report'.