Pep Clotet returns to Swansea on Tuesday evening in his role as Birmingham's assistant manager. Adam Bate caught up with him to discuss his memories of the Swanselona era at the Liberty Stadium and why he's now loving life in the land of Ozzy Osbourne.
There are not many people as well travelled as Pep Clotet. He has toured Europe, been to Japan nine times and coached in both Sweden and Norway. But when the Catalan gets some time for a holiday, he and his partner Vanessa usually head to the same place.
"We always come to Swansea," Clotet tells Sky Sports. "We were so happy here. It's a very special place, one where you feel at home. It's strange to be back here for business."
Clotet is speaking on the eve of Birmingham's game against Swansea in the Championship. Now Birmingham's assistant manager alongside Garry Monk, it was at the Liberty Stadium that his adventure in English football began. It was, he admits, a rude awakening.
"I was in Malaga when the club came in for me and it was very different to everything that I had experienced before," he recalls.
"It was a shocking first few months."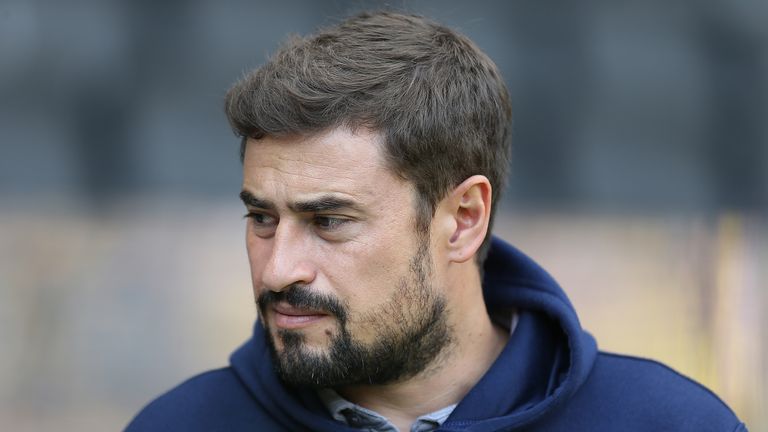 The Liberty Stadium atmosphere shocked me. It was the passion that the fans transmitted to the team.
What was so surprising? "From the football point of view, even though I had seen it on television, I was shocked by the atmosphere," adds Clotet. "The Liberty Stadium atmosphere shocked me. It was the passion that the fans transmitted to the team.
"I learned so much about the intensity of the game. That was the most significant change. Before that, I was very much into the tactics of it and saw it all very rationally. But I mixed that with the football I saw here where pressing is much more important.
"I had to adapt my mentality. I still try to still see the game rationally from a tactical point of view but you have to mix that with the intensity needed in these leagues. Sometimes when I watch Spanish games now I find they lack that intensity. I miss it. So it has shaped me."
In some respects, Swansea was the easiest British club to be joining at that time. Under a succession of different coaches, the team had become famed for their very particular style of play, attempting more passes than any other Premier League side in the 2011/12 season.
"It was easier for me to mix into this British culture in that sense because even in Spain the club was known as Swanselona," says Clotet. "There was a clear way of playing based on how to keep possession and play with patience. That filtered through into recruitment too.
"That then filtered through into the whole academy. We had players who understood how to play tactically when in possession and realised that sometimes the best way to goal is not the direct way. Swansea had that in their DNA so that made it easier.
"Roberto Martinez did a great job with that because it must have been hard to change that philosophy with the players and fans. They came to see that as the Swansea way and now it is the football that the fans are demanding but in the beginning it must have been hard."
Clotet was brought to Swansea by Michael Laudrup but it was when Monk was appointed that he was promoted to the role of assistant manager and the pair formed quite the team. In the 2014/15 season, they helped the Swans to their best ever Premier League finish.
"We finished eighth," he says. "It was proof that the Swansea way was working. I remember the big games most. The first game of the season was at Manchester United and we were very nervous but we managed to win. We also won at Arsenal. That had a big impact on me.
"But it was more than that. It was the day-to-day relations you build up. I was a foreigner in a foreign culture so I wanted to adapt and Swansea gave me that chance. People opened their arms to me on and off the pitch. I really came to understand British culture.
"I will always remember Christmas time. It was one of my first away from home and a friend of mine called Leigh David invited me to his place for dinner. The crackers thing and everything was so different for me but I just felt completely at home."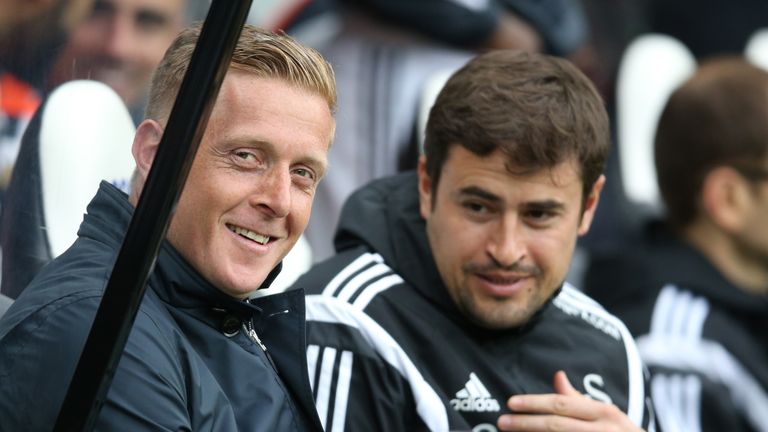 Three years on from his Swansea departure, after a spell as assistant manager at Leeds and going it alone at Oxford, Clotet is reunited with Monk at Birmingham and thriving again. Despite enduring a transfer embargo, the pair are exceeding expectations in mid-table.
"We are better coaches now because of the difficulties we have faced," says Clotet. "Garry has given me a lot of insight about British football and that has helped when dealing with players. I guess I have made him a bit more Spanish too. We have made each other better.
"It is not easy at Birmingham. Obviously, we had a bit of a shock in the summer with the transfer embargo and the restrictions in the market. But we are enjoying it here because all the players have bought into it and are giving it their best on the pitch.


"Birmingham has become used to staying up on the last day so we knew we had to make some changes to the team in terms of bringing players in and moving others out. When we realised we could not do that we thought it was going to be tough.
"It is very difficult to get a team that's been struggling in the league and try to have a comfortable season despite not bringing anyone in.
"We are trying to win every game but we are very aware of how are situation was in the summer. So if we can stay in the league comfortably then you would have to see that as a success. We would take that and actually the fans understand that too. That is why they support us."
Just as in Swansea, Clotet is building that connection to the city.
"We are so lucky because we have a group of players who are amazing people and they understand the social responsibility that we have to the community," he explains. "We are doing a lot of work helping the homeless in the city and working with hospitals and schools. It's important because we are the club of the city so you feel more connected to it.
"Birmingham is fantastic. I love music and it is the home of heavy metal. It was always a dream of mine to visit and now I get to live here. I am going to watch Ozzy Osbourne and Judas Priest when they come to Birmingham soon so that's a dream come true for me."
But first there is the small matter of Clotet's emotional return to Swansea. Just one point separates the two teams in the Championship table so Birmingham can leapfrog their hosts with a win. Clotet is just happy to see his old team getting back to what they do best.
"I can see what Swansea are trying to do again now with their attacking football when they are on the ball," he adds.
"This is the Swansea that comes to my mind."
Swansea host Birmingham on Tuesday evening and the game is available to watch on Sky Sports Football from 7.40pm via the red button