Blackburn pair Tony Mowbray and Adam Armstrong win Sky Bet Championship January awards
Scunthorpe manager Stuart McCall and Luton striker Danny Collins win League One awards, while Bury pair Ryan Lowe and Jay O'Shea win in League Two.
Last Updated: 07/02/19 6:49pm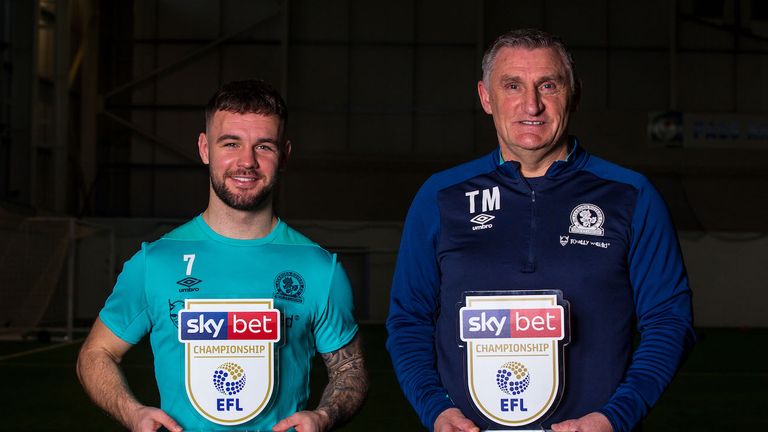 Blackburn manager Tony Mowbray has been named the Sky Bet Championship Manager of the Month for January.
A perfect start to 2019 for his team saw them climb to within three points of the play-off places with a maximum 12 points from four games. They attacked with verve, while Mowbray's decision to move Jack Rodwell into central defence looks inspired.
Mowbray said: "Individual awards are nice, but it's a reflection of the team and the fact that we've managed to win games and accumulate points and making sure we are stabilising in the league and at times punching above our weight.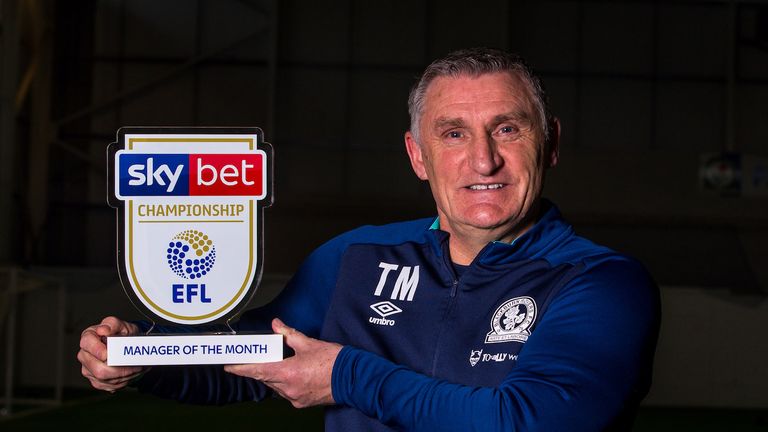 "We have to make this club feel as if there's an expectation. In this moment, in our minds, we are happy to compete in the games and bloody a few noses along the way of bigger teams.
"Some time in the near future, we feel we should be getting out of this division. We've got 16 games to make the play-offs this year and you never know.
Blackburn striker Adam Armstrong has been named the Sky Bet Championship Player of the Month for January.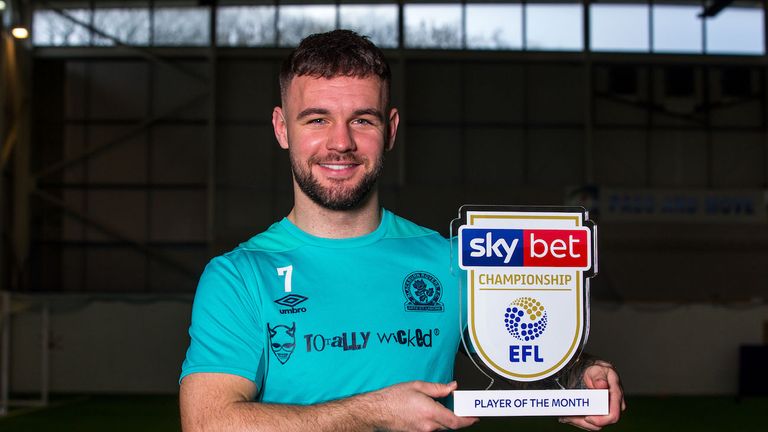 Two goals, four assists and a penalty won made it quite a month for Armstrong for whom a wide role seems a perfect fit. Able to use his pace at will, his vision to pick out a pass has been equally impressive.
Armstrong said: "I'm buzzing to win it for the first time playing in the Championship, so hopefully it's the first of many.
"I don't normally look back, but when you do look back it's been a great month for us and for me personally. Hopefully we can keep this form up. I'm a bit of a winger now, so the goals mean just as much as the assists.
"The gaffer has given me the freedom to stay out wide and do what I'm good at. It's working at the moment, so let's keep it going. The award will go on the mantelpiece. It'll be in my living room tonight. In any walk of life, if you get an accolade you want to show it off."
Sky Bet League One
Manager: Stuart McCall, Scunthorpe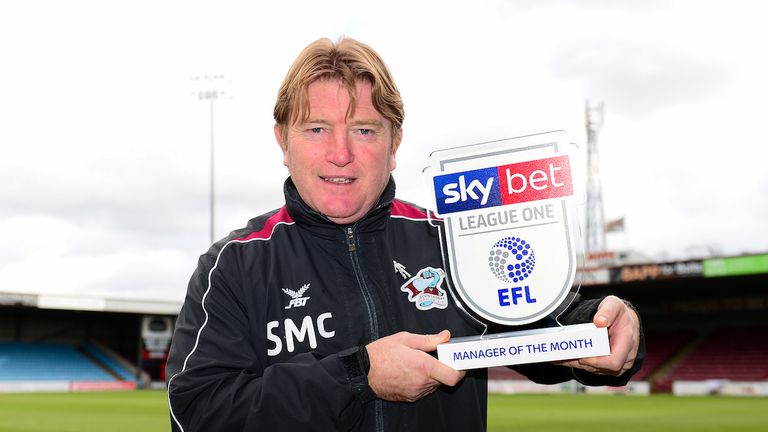 Scunthorpe manager Stuart McCall has been named the Sky Bet League One Manager of the Month for January.
When his side lost six straight games up to December 29th, scoring just a single goal in the process, others might have panicked. Not McCall, whose trust in his methods and belief in his players were rewarded with 13 points from a possible 15.
McCall said: "Obviously it's a nice accolade, not for me personally, but for the club, for the players and for the staff. It'll go next to the one I won in December for the worst manager of the month! When you look at the run we were on and for the players to turn it around in January like we did, it's full credit to them.
"We've cut out the individual errors, worked extremely hard and showed good togetherness and teamwork, but we want to continue that now."
Player: James Collins, Luton Town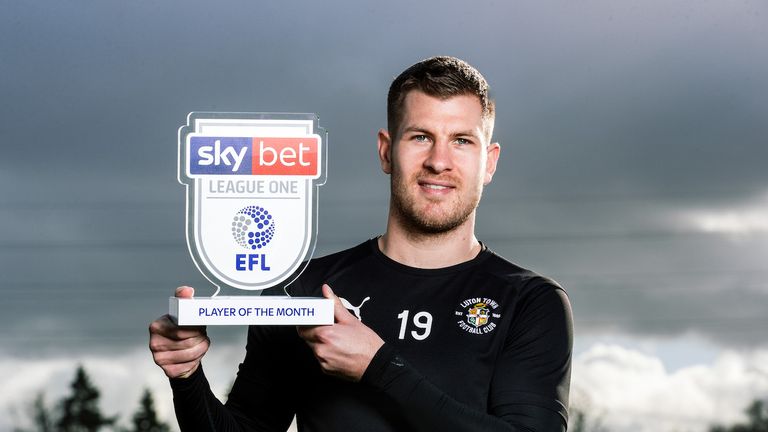 Luton striker James Collins has been named the Sky Bet League One Player of the Month for January.
Unlucky not to have been nominated previously this season, Collins left nothing to chance last month, leading the line superbly in Danny Hylton's absence and scoring six goals in five games as his side assumed leadership of the division.
Collins said: "This is the first time I've won an award like this. I've been nominated a few times, so I'm delighted to finally get my name on one.
"That said, I wouldn't have been able to do it without the rest of the boys. Kazenga LuaLua, Jack Stacey and Luke Berry have been brilliant in setting up all my goals in January, but the rest of the team have been phenomenal.
"We've had a great month, remaining unbeaten, and that always helps when you're going into games because you're full of confidence. The other lads get as much credit as I do for this award, and Mick Harford, who fully deserved his nomination for manager of the month."
Sky Bet League Two
Manager: Ryan Lowe, Bury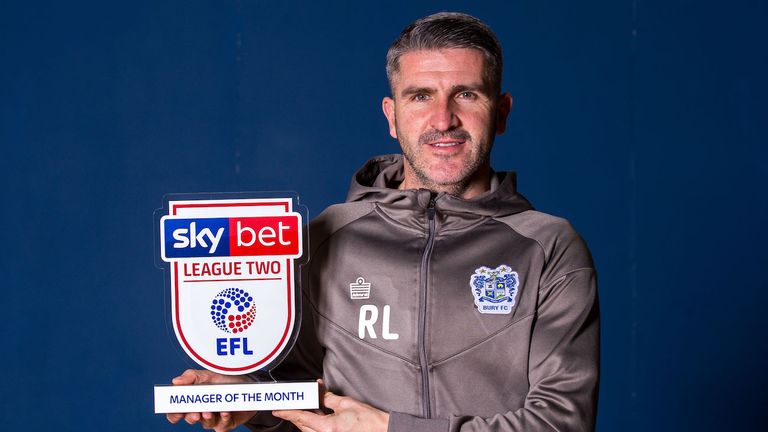 Bury manager Ryan Lowe has been named the Sky Bet League Two Manager of the Month for January.
The entertainment at Gigg Lane this season stems from Lowe, who refused to grind out results at home to promotion rivals MK Dons and Lincoln. Instead, the games ended 4-3 and 3-3, respectively, as Bury collected 13 points from five games.
Lowe said: "It's nice to be recognised for the work we're doing. A lot of credit has to go to my staff and my players because without them it wouldn't be possible.
"It shows that the work we're doing, the style of football we're playing is getting recognised for the right reasons. We're scoring goals and doing ever so well, so long may that continue.
"The hard work gets harder now, the games are coming thick and fast and we're nearly seeing the light at the end of the tunnel because there's only 14 games after Saturday left, but we're relishing it."
Player: Jay O'Shea, Bury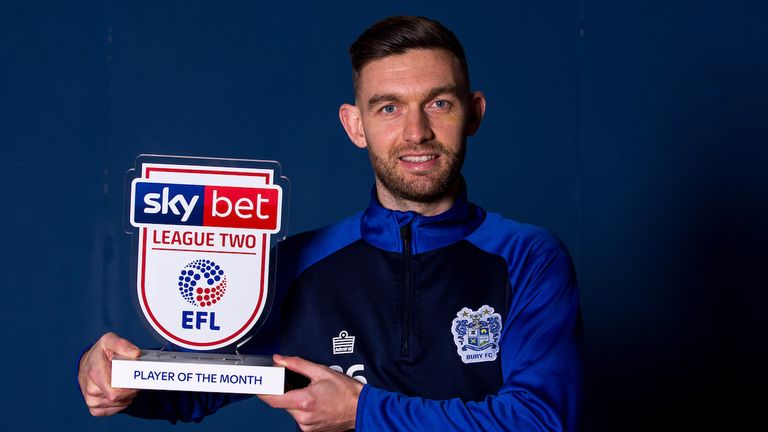 Bury winger Jay O'Shea has been named the Sky Bet League Two Player of the Month for January.
O'Shea is having the goalscoring season of his life. Five more came in January and all but one either equalised or gave Bury the lead. He pulled off all kinds of finishes too, from a lovely driving run and shot at Forest Green to a low fizzer against Lincoln.
O'Shea said: "It's brilliant, these awards are nice, but what we set out at the start of the season was to get promoted, so these will mean nothing if we don't go up. The team have been excellent, I think everyone at the club has been from the staff all the way down and the supporters have been great this season so it definitely helps when everyone is chipping in together.
"I'm really enjoying my role this season, it was a little bit different for me at the start so it took a few games to get used to it, with a lot of coaching from the staff as well. I've only ever won one of these before this season, so to win two in three months is excellent."