Steve Cotterill interview: Harry Redknapp, Birmingham fans and facing Neil Warnock's Cardiff
By Simeon Gholam
Last Updated: 13/10/17 10:22am
Steve Cotterill insists his decision to take charge of Birmingham was purely to do with wanting to be a manager again and "nothing personal" towards Harry Redknapp.
Cotterill was assistant to Redknapp for the final few games of last season as the pair kept the club in the Sky Bet Championship, before turning down the chance to stay on as his No 2 in the summer.
But Redknapp was sacked last month and Cotterill has now taken charge ahead of their clash with Cardiff on Friday night, live on Sky Sports Football from 7pm.
"I've been a manager for many years now and I wanted to be that again in my own right," Cotterill told Sky Sports. "It was 100 per cent nothing personal with Harry or anything like that.
"The fact it's happened here, I wouldn't have known what the odds would have been on that, but it's a pleasant surprise. I'm saddened it didn't work out for Harry for sure, and I never thought I'd be coming back here [as manager]. It's been a freak situation how it's happened.
"But I'm delighted to be back, it's a fantastic club that is supportive and friendly, and we're looking to get some wins on the board and put some smiles on a few faces."
Cotterill has taken over a squad largely signed by his predecessor, with Redknapp bringing in 14 new players before his dismissal.
"I feel the squad is a fair bit stronger than last year and there's more competition for places," said Cotterill. "It's probably a bit too big if anything, because the numbers are awkward for training sessions, but I think that's probably the first time I've ever had that to complain about!
"The [players] have been in high spirits which is good, and it's important that we try and keep that and get their confidence high. But will be a good gauge for me to see them in the arena on Friday night."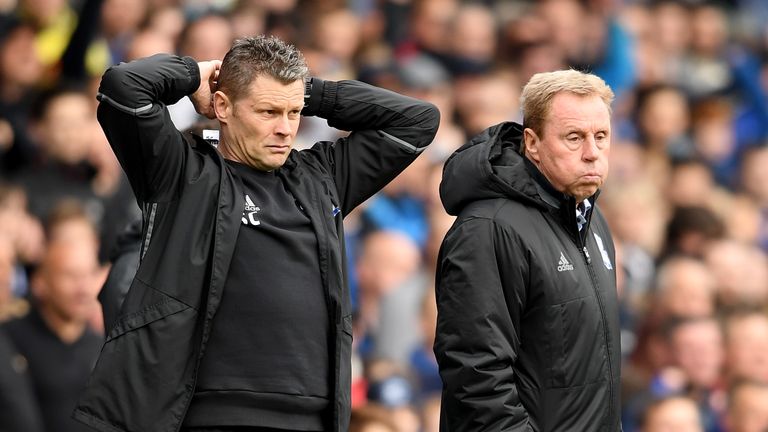 The reaction among Birmingham fans has been relatively positive following the appointment of Cotterill, and the former Bristol City boss wants to repay their faith.
"Some of the reaction there's been with the local papers and voting polls that have been out there, and the way they've got behind me before I was even named as manager, I was really humbled by that and I'm very, very thankful to them," he said.
"If they can give me the support now that they gave me before I even got the job, and more importantly to the players, I think we'll have a special relationship, and if the team and myself can be as committed to the cause as they are to the team, I think we can be successful here."
Birmingham now face table-topping Cardiff in the Championship at St Andrew's, but Cotterill sees no reason why they can't claim all three points, despite the 21 places between them.
In fact, the 53-year-old is optimistic that they can take inspiration from Cardiff, who were in a similar situation when Neil Warnock took over last season.
"It's a great game to have, you probably couldn't pick too many better," said Cotterill. "Neil has done a great job there, I've watched Cardiff a few times [since he took over] and he's added more goal threats to the solidity of the team he was building last season.
"All credit to him and their players for their great start to the season, but that doesn't mean we can't go and win the game if we apply ourselves in the right manner.
"They went on a bit of a run last season [from a similar position to what we're in now] and for a while they threatened that top six before dropping off again. It's about getting on a run and sustaining it."
The last time a Cotterill side faced a Warnock team 10 goals were served up as Nottingham Forest won 7-3 at Leeds back in 2012. It was the first, and so far only, time that United had conceded that many at home.
Needless to say that Cotterill would take a similar victory for his side on Friday night.
"It was a fantastic game," he said. "We went 1-0 down as well to a penalty! But we recovered well and I don't think anyone else has ever scored seven at Elland Road.
"I think the following season Gianfranco Zola took his [Watford] side there and scored six, but I remember thinking that's good because my team kept the record of scoring seven there. I was quite pleased with that."
Don't miss the Sky Bet Championship clash between Birmingham and Cardiff on Friday night, live on Sky Sports Football and Sky Sports Main Event from 7pm