It is four weeks since Simon Grayson was sacked as Sunderland manager following a 3-3 home draw against Bolton. Adam Bate caught up with him to find out why it went so badly wrong for him at the Stadium of Light and what he hopes to do next…
Simon Grayson looks smart and upbeat as he walks into Sky Studios. He is fresh from taking in a Liam Gallagher gig and there has been a trip to see the Killers too. Grayson is making the most of what he hopes will be a brief spell out of football. "I have only been out of work for eight weeks in 32 years so it is in the blood for my sins," he tells Sky Sports.
He is in the building for an appearance on EFL Matters alongside David Prutton, whom he managed at Leeds, and is reminiscing about the 26 miles he covered in the summer when he got involved in Jeff Stelling's charity walk for Prostate Cancer UK. "It was the hardest thing I have ever done," says Grayson. But surely managing Sunderland comes a close second?
"It was a great opportunity to move to the next step in my career," he says. "I have no regrets. I did not want to look back six months down the line and wish I hadn't taken the job. Like many managers before me, and I see Chris [Coleman] has already said the same, I thought that I would be the one to turn Sunderland's fortunes around.
"When you look at the list of managers who have gone there - Steve Bruce, Martin O'Neill, Roy Keane, Dick Advocaat, Gus Poyet and many more who I have probably forgotten - nobody has really turned it around completely and made the club successful. There is an underlying current of something but what it is nobody has found out yet."
Poyet once suggested that there was something at the "very core" of Sunderland that was holding the club back, but none of Grayson's predecessors encountered quite the mess that he inherited. Relegated with only 24 points after a decade clinging on in the Premier League, the squad desperately needed an overhaul and the mood was miserable.
Grayson had proved himself a capable performer in the Championship but he could not make an impact. Indeed, Sunderland are still waiting for a first league win at the Stadium of Light in 2017 and after only one win anywhere in his first 15 league games in charge he was sacked with the club languishing in the relegation zone.
The 47-year-old Yorkshireman has experience of turning clubs around - he did just that in his previous job at Preston North End. But this was different. "There were comparisons but this was just on a different scale really," he admits. "When I went to Preston I could galvanise it a lot quicker because there was not so much baggage with the players.
"We tried to do what we have always tried to do - turn the training ground into a vibrant place where players would enjoy coming to work. We did that but there was this hangover that had been there for so many years at the Stadium of Light. After the first pass goes astray there is an anxiety that creeps in. It goes back a long way.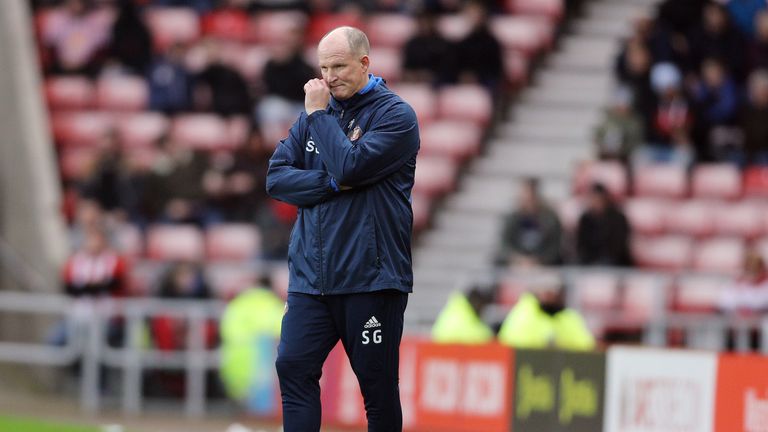 "I think we had a good squad, it was more of a mental issue with some of the players. One of the problems at Sunderland is that there are seven or eight of them who are still suffering the consequences of what has happened over the past two or three years. They need to overcome that hurdle in order to turn the negativity into positivity.
"The new players were fine because they were not having to carry that baggage with them. But as the results continued, they got dragged into that negativity that was around the place. Eradicating that mental hangover for an individual is difficult. If you are trying to do that with seven or eight players it is a really tough task."
Some of the new signings made an impression. Lewis Grabban has already scored 10 goals on loan from Bournemouth and Grayson remains an admirer of Aiden McGeady's talents. Despite selling well over £40m worth of talent and spending only £1.2m on their replacements, he is insistent that he has left a decent squad for his successor.
But he also knows mistakes were made too. His struggle to settle upon his best team did not help the cause. "We were not able to get a consistency of team selection," he says. "The goalkeepers, for example, we kept chopping and changing them. In an ideal world you want your back five to be the same week in and week out and we were not able to do that.
"We had a lot of injuries and Chris has already suffered the same [with Duncan Watmore facing a long spell out following a cruciate knee ligament injury]. That was a factor in our results, but basic mistakes were costing us as well and affecting our confidence. Ultimately you are judged on your results and they were not good enough."
That is the blunt reality and one wonders where Grayson's next opportunity will come. He has already turned down one job offer with a view to returning at Championship level. He hopes that the achievement of winning promotion with Blackpool, Leeds, Huddersfield and Preston will not be erased from the memory because of his brief struggle at Sunderland.
"Some managers look for a quick impact but I try to build football clubs," he says. "That is my style and that is how I work. I am not a firefighter. I had three years at Blackpool, three at Leeds, and four and a half at Preston. Every one of those clubs I have left in a better state and that comes from having a long-term approach going right the way through the clubs.
"So in an ideal world, I would like to get back in at Championship level. That is where I have shown I am capable of managing. Unfortunately, I am going to have to see somebody lose their job but we all know as managers that they are the circumstances. I am back watching games and I am itching to get back in. We will just have to see what develops."