Kevin Ball steps into breach as Sunderland wait to name new boss
Sunderland's temporary manager Kevin Ball will be at the helm for at least the next two games, Sky sources understand.
Last Updated: 23/09/13 9:59pm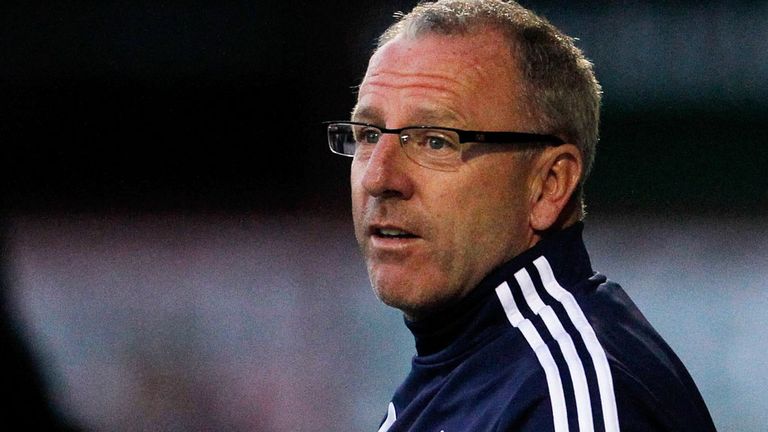 Ball was placed in charge on Sunday night following the abrupt dismissal of Paolo Di Canio which, according to Sky sources, came after senior players at the club complained to the board about his regime following a training-ground meeting.
And Sunderland are unlikely to appoint a full-time successor until after this weekend's game against Liverpool.
That leaves academy coach Ball - a player on Wearside for almost all of the 1990s - to reprise a role he previously held for 10 games following Mick McCarthy's 2006 departure.
He said: "The situation last time was slightly different to this time, but it did give you an experience, whether it be for one or 10 games.
"I enjoyed it last time and I hope I feel the same way about this one as well. It allows you to say, 'Well, I have done it before, it's not something that's unexpected'.
"I have coached for 10 years, so within that, you do so many things that a manager would do anyhow, it's not a fantastically, unbelievable step."
The decision to sack Di Canio was taken following Saturday's 3-0 defeat at West Brom, which left the club without a league win this season.
Roberto Di Matteo, a Champions League winner during his days managing Chelsea, is the bookmakers' best idea of who will replace Di Canio, while Gus Poyet and Tony Pulis are others prominent in the betting.
In the meantime Ball will pick the side for Tuesday's Capital One Cup game against Peterborough.
He said: "You want to go out and enjoy the game. However, to enjoy the game you have to work really hard in and out of possession and do the right things.
"We need to make sure we do all of that first to give the result a chance to take care of itself."
Sunderland's next Premier League game against Liverpool is live from 3.30pm on Sky Sports 1 this Sunday.
Brave
Former Sunderland chairman Niall Quinn believes Di Canio's feisty management style may have cost him his job.
Quinn has described the decision as "brave" and told Sky Sports News: "It's a quick decision - some will say too quick.
"They're making a quick decision on this again and looking back, the support Paolo Di Canio got in the summer with the players he brought in, I honestly thought he was going to get longer, no matter the start.
"If we start to peel the layers off in the coming days and find out what life was like under him from various players, you'll probably see a story that says this was a guy who did things in a totally unique way and by the looks of things, the players weren't buying into it.
"They've made a very brave decision to appoint him, they got what they wanted out of him, and now they've made a brave decision (for him) to go.
"It wouldn't have been my style. I think I would probably have tried to give people as much time as possible.
"Something tells me there's a little more to it as well.
"It was perhaps they felt that the players were finding it hard to conform to his unique style. I think that might have played a part in it as well.
"They've made such a brave decision now. Will it pay off for them?"
West Ham United manager Sam Allardyce has questioned the dismissal of Di Canio and is especially surprised that it has happened so quickly after a busy summer of transfer activity.
"From the point of view of Sunderland, it looks like they've been pretty quick at pulling the trigger recently," said Allardyce.
"I find it quite difficult to see where the logic lies in it, particularly when there has been a full clear-out.
"To go through that process again is going to be a huge task for whoever is the next man in charge."
The club confirmed on Sunday evening that they had "parted company" with Di Canio but it is understood that Saturday's 3-0 loss, which saw the Italian face up to angry fans at the whistle, and a subsequent meeting forced Stadium of Light chiefs to act.
A statement on the club's official website read: "Sunderland AFC confirms that it has parted company with head coach Paolo Di Canio this evening.
"Kevin Ball will take charge of the squad ahead of Tuesday night's Capital One Cup game against Peterborough United and an announcement will be made in due course regarding a permanent successor.
"The club would like to place on record its thanks to Paolo and his staff and wishes them well for the future."