Steve McClaren has discussed his return to manage Derby County on the EFL Weekly Podcast and reflected on his first spell at the iPro Stadium.
The former Newcastle manager made a shock return to the Rams last week, just 17 months after being dismissed by the Sky Bet Championship club, replacing Nigel Pearson who had been appointed in the summer.
Pearson left with Derby just above the relegation places and only one league win to their name but McClaren had no hesitation in returning to the club.
"[On hesitation to come back] No not really. The club has always been close to my heart," he told Jonathan Oakes on the EFL Weekly Podcast. 
"I've been a player, an assistant and managed here two years ago. It ended abruptly, but to get the opportunity to return, I am very grateful. It gives me an opportunity and a huge challenge to sort out some unfinished business.
"It has been very hectic and things have happened so quickly. It's really just been a case of meeting Mel Morris and Sam Rush on Wednesday evening and on Thursday morning, completing the deal and getting on with training.
"We were concentrating on Leeds, then Brentford and now concentrating on Huddersfield so it's a case of straight in, head down, three games and no time to think.
"Coming back in, it was a little bit like coming in the first time. I think the team was more established, the platform was there and there was a lot to build on.
"Now I think we have to build completely from the beginning and that is harder. You have to build the social cohesion, the pass cohesion and we have to build in terms of style and system.
"With that, you're building confidence and belief all the time and that's what we must do. The first two results were important, we didn't get beaten and we need to continue that."
McClaren took Derby to the brink of the Premier League during his previous tenure, losing a play-off final to QPR in his first season - where he had left a coaching role to replace Nigel Clough in September 2013. They missed out on a play-off spot in the 2014/15 campaign after sitting top at Christmas.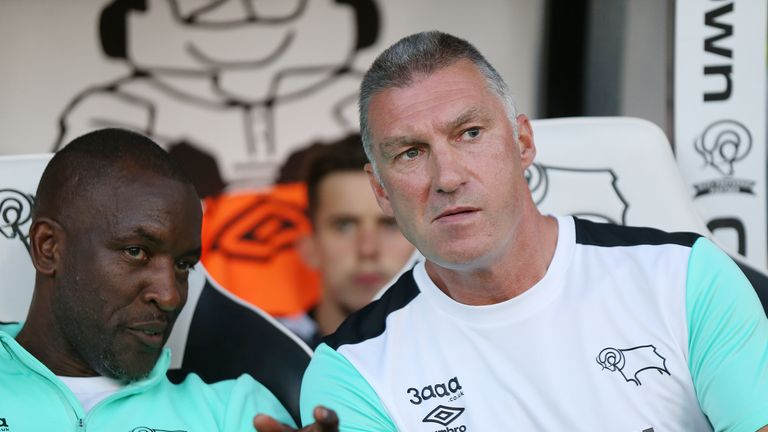 He was eventually dismissed in May 2015 after the dramatic loss in form and continued links to the then-vacant Newcastle position, but the Rams were lauded for their playing style under his leadership which McClaren is keen to replicate. 
"The supporters have been fantastic. Obviously, you have some supporting you and some not and there's always an opinion but we enjoyed two great years," the former England boss added.
"We built a great team, played good football and unfortunately towards the end, through injuries and circumstances, we failed to capitalise being top of the Championship at Christmas and missed the play-offs.
"The potential was there and we've come back in to a completely different team with different players who have been playing a different style and it's going to take time to get back to what we were doing before.
"We went with a purpose in the Championship with Derby. I went there with the purpose of using all the experience and helping the football club and the players to realise their potential, that's what you do as a manager.
"We wanted to play in a certain style and do something a little bit different and the lessons I'd learnt from my four years in Holland and a year in Germany could be trying a Dutch way and trying to bring Dutch football into the Championship.
"We introduced it and the players adapted very well and in the two seasons, there were some memorable games and some great football. As much as there is success with it, it was the enjoyment of actually watching that team play that we are trying to recapture now."
Next up for McClaren and Derby is Huddersfield, who themselves are experiencing a dip in form after losing their last two Championship games and have dropped down to fourth.
McClaren said: "I expect a tough game. I've watched them against QPR and they are a very good team. They know what they are doing, the cohesion is good and you always get a blip in the Championship so it's how your recover. We've just got to make sure we give them a tough game.
"At the moment, we are fourth of fifth bottom for a reason and we have to find out what that reason is and turn it around quickly. There's no talk of really going any further higher than getting some results and getting away from the bottom of the league."
You can watch Chelsea v Man Utd, plus England's tour of Bangladesh and the US Grand Prix on Sky Sports. Upgrade now and enjoy six months at half price!