Frank Lampard delighted for 'machine' Ashley Cole after FA Cup goal for Derby against Brighton
Former Arsenal, Chelsea and England defender Cole scores first goal in English football since 2012
Last Updated: 17/02/19 8:20pm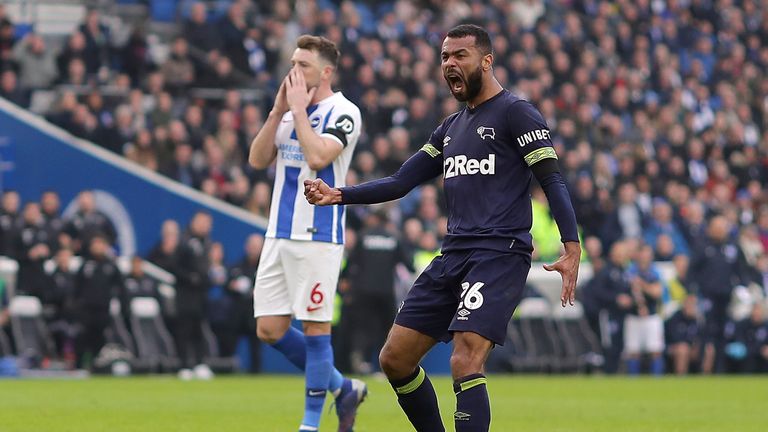 Frank Lampard described Ashley Cole as a "machine" after he scored in Derby's 2-1 FA Cup defeat to Brighton, and said they will need the defender for their Championship promotion push.
The 38-year-old played the second half of the match against Brighton, making only his second appearance since joining in January.
His first FA Cup goal, scored in the 81st minute, gave Derby hope of a comeback, but Brighton held on to reach the quarter-finals.
Asked about Cole's display, his former team-mate Lampard said: "I am delighted for him. At 38 he could comfortably kick back already, but he has a real desire and humility and work ethic and I thought his performance was good and it will get better because of fitness. To be that high up the pitch and score with his head was a big surprise.
"He has been working hard. He wasn't quite ready for 90 minutes today but that's a great exercise he has given 45 minutes. I thought he was calm and assured on the ball. He has all the experience from his career and got his goal. It's really good for us and we will need him."
1847 - Ashley Cole - who played in a record eight different post-war FA Cup finals - is making his first #FACup appearance in 1847 days, since playing alongside Frank Lampard for Chelsea against Stoke in January 2014. Gap. #BHADER pic.twitter.com/5ErXF6KRda

— OptaJoe (@OptaJoe) February 16, 2019
Cole signed for Derby on a deal until the end of the season but Lampard did not rule out the defender playing in the FA Cup again.
"He's been a machine all of his career in terms of fitness and looking after himself. He is as lean as anybody and as long as he has the desire then that's his call.
"Ashley had officially been off so it was like when you come back for pre-season. You can't go straight into games so it was crucial we didn't risk injury for that, but 45 minutes was great for him and now we have a player who is ready to start games."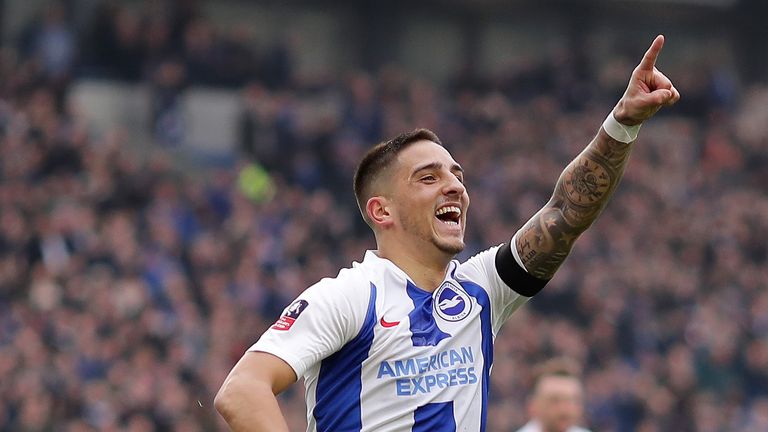 Cole's display was a positive on an otherwise largely disappointing day for Derby, who were 2-0 down at half-time after being outplayed by Brighton.
"In the first half we were slow, with a lack of urgency," said Lampard, whose side are outside the Championship play-off places on goal difference.
"To come to a Premier League team and give them time on the ball is the cardinal sin, you are waiting for them to score. After the first 15 minutes we weren't at the races. Whether it's fear or too much respect, whatever it is, it's not enough to come here and get a result.
"It's the best lesson for the players, this game today, in terms of what we have now. We have 15 games in the league, all of them so important, and if we perform like we did in the second half we have a real opportunity this year, but if we perform like we did in the first half then we don't have that opportunity."