Diogo Jota and Ruben Neves: Taking the Championship by storm
By Simeon Gholam
Last Updated: 03/11/17 7:47pm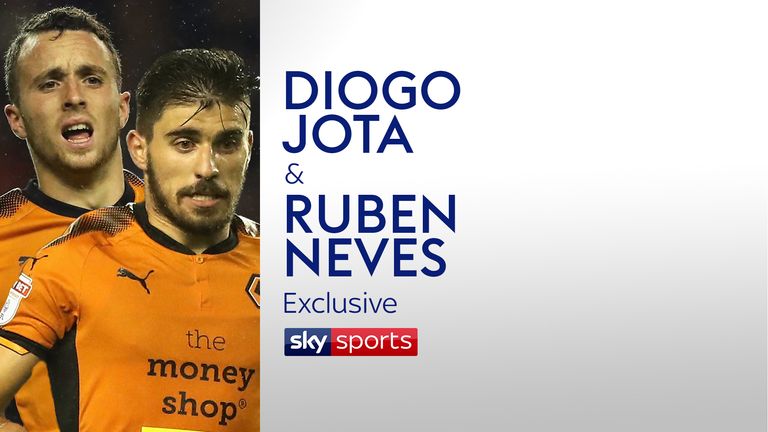 They may both be only 20 years of age, but Diogo Jota and Ruben Neves have been taking the Sky Bet Championship by storm.
One arrived in the summer on loan from Atletico Madrid, the other came in as the most expensive player in the history of the English second tier from Porto.
Together they've helped to steer Wolves to the top of the table ahead of their home game against Fulham on Friday night, which is live on Sky Sports Football from 7pm.
The Championship is not always the easiest division for foreign players to adapt to, with so many games and a different style of football, but there are a host of Portuguese players in the Wolves squad. They are led by Portuguese boss Nuno Espirito Santo, and Jota and Neves are already starting to feel at home at Molineux.
But for all of the Portuguese influence, Jota, in an exclusive interview with Sky Sports, insists there is no division in the dressing room.
"Sometimes the Portuguese guys here are a small family and of course we spend time in each other's houses," he said. "But we're a team and you cannot split your own team into two or three parts, so we have to be together and try and make our relationship very good."
There can, however, sometimes be a problem understanding some of the local lads, particularly St Helens-born Conor Coady. "He speaks very quickly!" said Neves. "It's not easy [to understand him] but when he speaks for us he's more careful so we can understand."
Two other young Portuguese talents, Ivan Cavaleiro and Helder Costa, arrived at Molineux a year before Jota and Neves, and they, along with Nuno, played a big role in helping them settle in.
"When I arrived here I already knew some of the Portuguese guys," said Jota. "Costa and Cavaleiro were here last year and know how things are.
"Also when you go to a different country and you don't know the manager it's always worse because you don't know what to expect. It's always better to know the manager's ideas."
Neves added: "It's exactly the same for me. Before I arrived I sent a message to Helder and Ivan just to know about things here and it's been a very good help for us. I know them from the national team and they've helped me a lot.
"And it's really good for us to work with [Nuno] because we knew him and worked with him in the last year, which makes it easier when you come to another country."
Neves also admitted he didn't know too much about Wolves, despite arriving at the club as their biggest signing. "I didn't know very much about them but when I came I saw it was a big club with a lot of history in England, and we're going to try and put Wolves on top again," he said.
"I don't think about [the transfer] too much. I have to do my best every day in training and the games so it doesn't matter for me."
The contrast in weather between Portugal and Wolverhampton was also a big talking point, given the somewhat differing climes.
"Portugal has sunshine and it's very, very different here it has to be mentioned!" said Jota, before Neves added: "But I don't think it will be a problem."
One thing that could be a problem for Neves, though, is being away for so long from his young family. His wife and daughter, just three months old, live back in Portugal.
"It's the best thing that happened in my life," said the midfielder. "But I think I can adapt well here so I don't have too many problems. My wife and daughter are good so I don't think there's a big problem."
Jota's future is a little less clear. He's on a one-year loan from Atletico Madrid and his form has turned heads. Wolves are naturally keen to tie him down, but the forward was unwilling to discuss his future too much.
"I'm on loan but I'm part of this team for at least one year so I'm focusing on doing my best to help the team reach their goals, and in the future will see what happens," he said.
"I'm here at the moment but in the future [I don't know]. We cannot speak in football in the long-term because everything can happen and a lot of players have gotten in trouble because they speak too early and I don't want to make that mistake.
"But, in the present, I want to do my best for the club and that's all."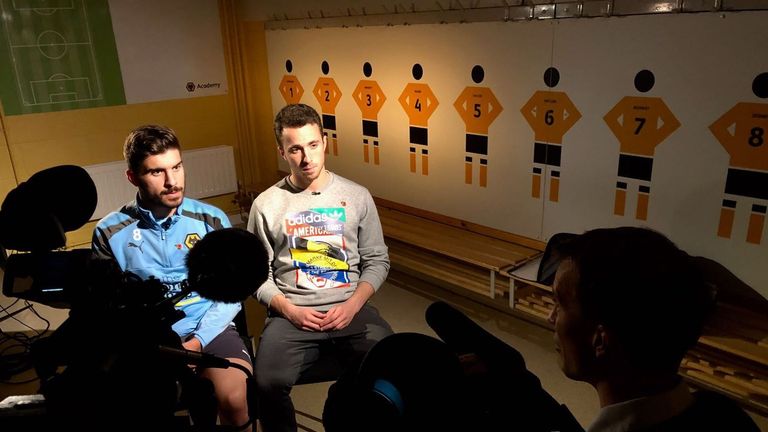 Right now, Jota is just enjoying playing regularly in the Championship and scoring goals. He's netted seven so far in 15 games and admitted to being a little surprised at how quickly he's adjusted to the style in the second tier.
"I didn't expect to score so many goals in the beginning because of the time it takes to adapt, but I'm happy to score and the team has helped me," he said.
"The biggest difference is the kind of game. Here it's more physical and in Portugal it's more tactical. It's good for us because we're young and it will help us grow as players. But some games are even tougher than we expected."
Coming up now is the game against Fulham on Friday night, a big night game in front of the Sky cameras, but one that's unlikely to phase a youngster who captained his beloved Porto at the age of 18 in the Champions League.
"It's another game and we'll play like we do in all of our games," said Neves, before Jota added: "We'll win and try to stay top because it's important to go into the international break top of the league."
Don't miss the Sky Bet Championship clash between Wolves and Fulham on Friday night, live on Sky Sports Football and Sky Sports Main Event from 7pm