The fall and rise of Wolves: Charting the club's ups and downs as they seal Premier League return
Last Updated: 15/04/18 8:02am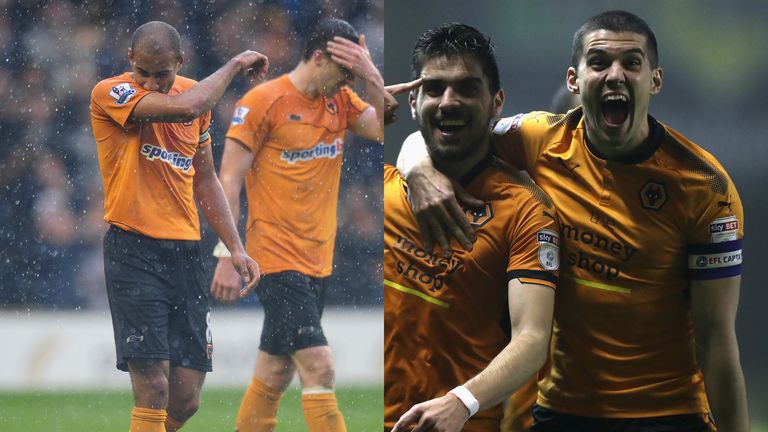 Wolverhampton Wanderers' return to the Premier League is being eagerly anticipated by supporters who have flocked to Molineux to watch one of the most stylish sides the Sky Bet Championship has ever seen.
Nuno Espirito Santo's side host Birmingham in front of the Sky Sports cameras on Sunday - and a promotion party awaits after Fulham were held in dramatic circumstances on Saturday to send Wolves up in the process.
Bankrolled by Chinese conglomerate Fosun, with the benefit of a fruitful relationship with agent Jorge Mendes, the club has been able to bring in players who look set to thrive at a higher level.
Ruben Neves and the on-loan Diogo Jota have been the two stand-out performers from overseas. Seasoned observers have hailed Neves' goal in the 2-0 win over Derby on Wednesday evening as the greatest ever scored at Molineux.
The Wolves of 2018 is a very different club to that of the previous promotions to the Premier League. Under Sir Jack Hayward's ownership, manager Dave Jones led them to the top flight in 2003 and six years later, during Liverpool businessman Steve Morgan's time in the boardroom, Mick McCarthy masterminded another promotion.
On both occasions, insufficient investment during their time in the top flight meant the team was battling for survival from the moment the first ball was kicked.
Yet even those times bear no resemblance to the club that was bankrupted twice in the 1980s and kept afloat by a matter of minutes on more than one occasion. For anyone present during the most tumultuous decade of the club's existence, the Wolves of today represents an incredible success story.
Long-serving reporter David Instone, who covered Wolves for the city's paper, the Express and Star, from 1986 to 2002 before continuing to report on the club for the national papers up until the present day, has seen it all.
"It's been entertaining, winning football. What more can you ask for?" Instone says. "Diogo Jota is one that stands out who has really got them moving. The fact that he has been such a marked man and shown such guts with a few players going for him, he's just bounced back up and gone in for more. The supposed theory of foreigners not hacking an English winter in the Championship has been blown away. You have to doff your cap to this lot, they've been terrific."
Instone's new book, Between the Golden Lines, chronicles his three decades covering Wolves, including some of the darkest days when the club lapsed into receivership for the second time in the summer of 1986.
"No one was sure they would live to fight another season," Instone recalls. "In July that year, the Express & Star carried a paid-for 'club for sale' advert across two columns under an advert seeking to smoke out a buyer for Cheshire Trout Farm and Fishery.
"On offer were the Castlecroft training ground, the playing squad, the 12-acre Molineux site and the giant Sports and Social Club next door plus all the equipment. On July 30, 1986, reporting on Wolves' friendly at Southport, I turned up at Haig Avenue not knowing whether there would be a game at all. Wolves had appeared in front of three Appeal Court judges that day, facing yet another winding-up order. It was a familiar sign of the harrowing times. There were no mobiles for checking such matters then, no hourly sports desks on radio and no Sky Sports.
"In their squad was Philip Clarke, a local non-League keeper who had read an article in the first edition of that day's Express & Star about Wolves struggling for cover. He volunteered his services at the ground. You feared for the club's very existence."
Wolves did survive to fight another season and the 1986/87 campaign represented a Year Zero. It was the club's first time in the fourth division, after three successive relegations. Just six years earlier they had won the League Cup and went on to play PSV Eindhoven in Europe. A particularly troublesome moment came in the FA Cup first round. After two draws against Multipart League amateurs Chorley, Wolves lost a second replay 3-0.
"The press in general lapped it up," Instone remembers. "Our rivals at the Evening Mail spectacularly captured the mood the night after Chorley by producing a cartoon of a coffin with a wolf inside, the lid about to be nailed down. It was all accompanied by a large 'RIP Wolves' headline and hit the mark dramatically. Molineux did have an end-of-life feel about it. The club was seen as a bit of a figure of fun, they'd fallen so far so fast."
The seeds of recovery had been sown, though, with Graham Turner signing Steve Bull and Andy Thompson from neighbours West Brom for £65,000 that same week. Wolves eventually missed out on promotion that season, losing to Aldershot in the Division Four play-off final.
The 1987/88 season began with another low, an opening day trip to Scarborough, who had just won promotion to the Football League under manager Neil Warnock. The tiny club's professional debut was marred by Wolves supporters rioting in the August sunshine, with one fan infamously falling through the roof of the stand and further damage done in the town.
"The paper sent me up on the Friday night in case any trouble broke out as Wolves had a certain crowd control problem at that time with some of their supporters kicking off in seaside places like that. It was a horrible day. It should have been Scarborough's big day, but it was crazy that Wolves were sent there on the opening day."
After a banning order was placed on supporters from travelling to matches over the next few months, the season would eventually end in triumph with a double of Fourth Division title and a Sherpa Van Trophy victory at Wembley. Steve Bull scored an astonishing 52 goals, striking up a prolific partnership with Andy Mutch. Bull repeated the feat a year later as Wolves stormed to the Division Three title, before earning an England call-up whilst still a Third Division player, scoring on his debut against Scotland.
"It was just great fun watching him, especially after what had gone before. It was the elation of having a winning team again and to have a hero. It's not done is it - 52 and 50 goals in successive seasons - how do you describe it? There had been whispers he'd get a shout for England, but it was fabulous when it happened. And Wolves got all this national recognition because of Steve Bull."
Wolves stabilised in the Second Division for the entire 1990s, with Sir Jack Hayward's investment helping rebuild the ground. After several near misses, promotion to the top flight would have to wait until the turn of the century, but the dark days of the 1980s had been left behind. Now, three decades on, Wolves are part of a global business empire and supporters are in dreamland, inspired by the feats of Neves, Jota and co.
"It's not just a Wolves thing. You look at West Brom, Aston Villa and all the others in this country," Instone adds. "None of us could have foreseen the clubs falling into foreign ownership. I remember the breakthrough foreign signing at Wolves was John de Wolf in 1994, when manager Graham Taylor brought him in. He was an iconic Dutch centre half. It was a big story for us.
"We had a Dutch TV crew came over to every game for the remainder of that season. He was the first one of my time. That was the start of a trend then, but you could not envisage what has happened today."
Don't miss the Sky Bet Championship clash between promoted Wolves and Birmingham on Sunday, live on Sky Sports Football from 11.30am