Joao Moutinho's class has been evident for Wolves this season
Manchester City host Wolves on Monday Night Football
Last Updated: 14/01/19 7:28pm
Joao Moutinho's belated arrival in the Premier League is proving well worth the wait for Wolves, writes Adam Bate.
It is not just Manchester City that hold Bernardo Silva in high esteem. In the city of Portimao in Portugal's Algarve, there is a mural celebrating him. He is there symbolising the future alongside the great Cristiano Ronaldo. But flanking his right shoulder is another hero of the country's Euro 2016 triumph, Portimao's favourite son, Joao Moutinho.
He was apparently chosen to be honoured because he epitomises the hard work that helped Portugal lift the trophy in France. But it is Moutinho's quality that has stood out since signing for Wolves in the summer. The club have surpassed expectations on their Premier League return and so has the 32-year-old midfielder. He looks a snip at £5m.
Moutinho was an obvious coup for Wolves but there were still doubts. A move to England had long been mooted. According to the player himself, he had been "a few minutes away" from signing for Tottenham back in 2012. But after a quieter season at Monaco, there was some suggestion that the pace of the Premier League could be a problem.
After all, he was not joining Tottenham. He was signing for a newly-promoted team. One that even while impressing this season has still had only 45.7 per cent of possession. With Moutinho often being asked to play in a two-man midfield, it has been a demanding introduction. For the first time in his career, there has been no winter break either.
Nevertheless, he saved some of his best performances for the festive period. He was Wolves' best player at Fulham and was the architect of their comeback win away to Spurs, emerging from the bench at half-time to help turn a one-goal deficit into a three-goal victory. Moutinho delivered a masterclass in ball retention, distribution and delivery.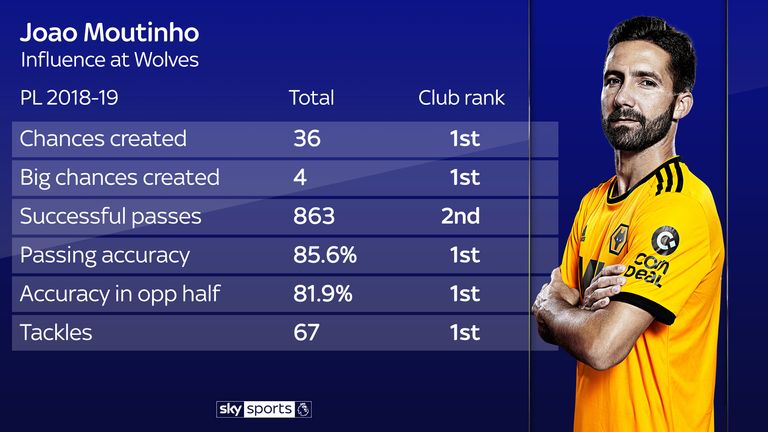 He has created far more chances than any other Wolves player this season and boasts the best passing accuracy too. As well as his efforts at Wembley, there was the stunning equaliser against Manchester United at Old Trafford and the way that he dispossessed Willian in the build-up to Diogo Jota's winner against Chelsea at Molineux in December.
That one moment summed up much of what Moutinho has brought to Wolves. The silky skills were expected but his combative approach has been a surprise. He has made 67 tackles this season. That is not just more than any other Wolves player. With the exception of Idrissa Gueye, 21 games in, it is more than every other midfielder in the Premier League.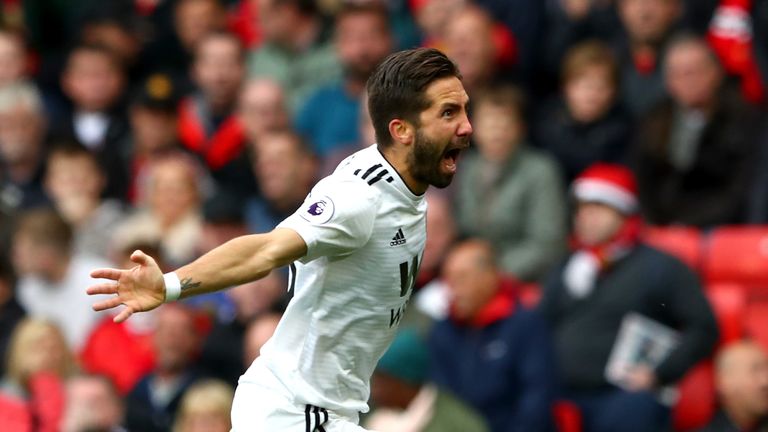 The difference with Moutinho is that he knows what to do next too. There was a moment after winning the ball from Willian when it appeared that he might fire off a long shot from distance. But it was a mere feint. Instead, he spread the play wide to his right, where Matt Doherty did not even have to break stride before crossing for Jota to tap in at the far post.
"He makes the right decision pretty much every time," says Doherty of the team-mate he happily refers to as world class. Jota calls him a legend and Conor Coady admits he would once have laughed his head off at the suggestion he would be getting to play alongside Moutinho at Wolves let alone lead him out as his captain.
If Coady is the vocal leader of the Wolves team, it is Moutinho who is Nuno Espirito Santo's on-field brain. "On the pitch we do almost 100 per cent what he wants," says Moutinho, but it is more conspicuous in his decision-making than anyone else's. He is the one who possesses that awareness of when to slow the game down and when to speed it up.
Ruben Neves played that role for Wolves last season but even the so-called 'wonder kid from Porto' has been content to defer to his experienced compatriot. Against Liverpool last week, it was Neves who drew the roars for his thundering winner. But it was Moutinho who got the gasps of admiration when he allowed a ball to run between his legs and into the path of a team-mate. He's wowing Molineux without even touching it now.
"He is a very intelligent player," says Neves of his midfield partner. "It is very easy to play with him." It is, one suspects, not so easy to play against him.
On Monday Night Football, Wolves have a daunting task of their own as they travel to take on Manchester City at the Etihad Stadium. Bernardo Silva is the man of the moment for Pep Guardiola's team and for Portugal too. But he will up against the old maestro, his fellow hero of the mural, Joao Moutinho. And that means Wolves will still have some hope.