Southampton boss Mauricio Pellegrino says derby with Bournemouth will be 'tough' game
By Beya Kabelu
Last Updated: 01/12/17 8:17pm
Southampton boss Mauricio Pellegrino says he expects a "tough game" against Bournemouth on Super Sunday.
The Saints, who have won two of their last four Premier League derby games against Bournemouth, will hope to get back to winning ways following a three-match losing run.
Ahead of the Sky Live clash, Pellegrino said: "I think this is the fifth one [derby game] in the Premier League.
"Obviously I know that Bournemouth is a side that wants to grow and wants to be little by little getting better every year.
"They try to keep the base of the team and most of the team grew together, and every year they try to be stronger even at home because in the last few games, they have been picking up points.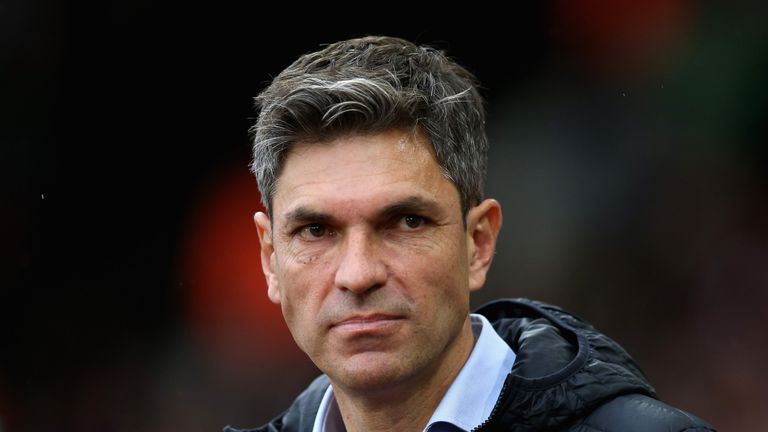 "I think it will be really tough. It will have the emotions of the fans. I don't know this pitch but I would like to be there to enjoy this game."
Pellegrino also expressed some admiration for Eddie Howe's accomplishments during his tenure at Bournemouth.
He said: "When you are a team that comes from the Championship, from relegation it is not easy to build a team that can compete like they did last season and as they are doing now.
"Obviously, I admire this type of job because you have to use your imagination to be creative and find different ways to compete and settle in the Premier League. For me, they are getting better and it's something that I admire."
The Southampton boss has also insisted he has not seen Pep Guardiola's confrontational post-match discussion with Saints forward Nathan Redmond.
When asked whether he found Guardiola's behaviour disrespectful, he said: "I didn't see anything, because after it finished I came to the dressing room, or know what happened. I don't have any comment."