Mark Hughes says Southampton job is about 'the here and now'
By Richard Cooke
Last Updated: 17/03/18 8:14am
Mark Hughes is relaxed about having a contract with Southampton until the end of the season, but has hinted that he would like to stay for the long-term.
Hughes, who made 60 appearances for the club, replaced Mauricio Pellegrino on Wednesday and has been tasked with keeping the club in the Premier League.
Speaking ahead of this weekend's FA Cup quarter-final at Wigan, the 54-year-old, who was dismissed by Stoke in January, said he was attracted by the club's potential.
"It was a decision that I felt I wanted to take in terms of being a positive one," he said. "This club clearly has changed beyond all recognition to when I was first here as a player.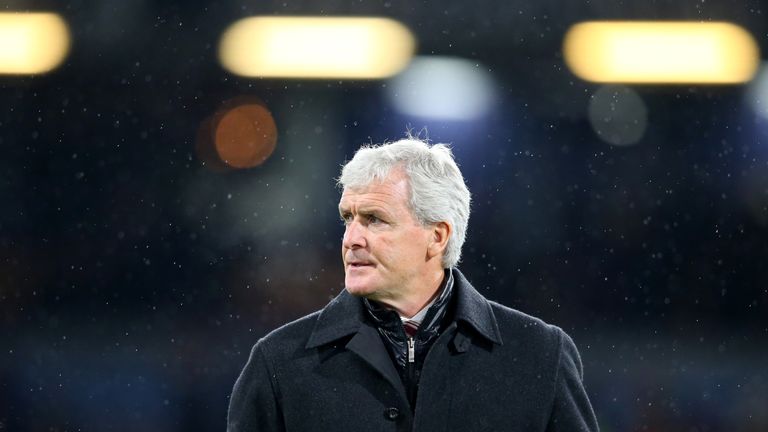 "From my point of view it was important that when I did come back in, it was at a club that I felt I could move forward.
"Obviously this is a little bit different from normal circumstances. It is a short contract and from everybody's point of view here, and for myself and my staff, it allows us to focus on the job in hand.
"We have just got to make sure we use every minute of every day that we're here to make sure that we get the right results that the team and the club need in these circumstances."
Hughes was also pressed on whether he would like to stay beyond the summer.
He said: "I'd like to think that if we do the job here and we fulfil our remit then maybe there would be discussions about that, but that's not any pressure I am trying to put on anyone else.
"I just think that will be a consequence of whether or not we're successful in this short period so I'm not concentrating on that.
"It's just about the here and now and getting on with the job in hand."
Southampton are just one point above the relegation zone with eight matches left, and Hughes says all the players are starting with a clean slate.
He added: "I think when players see a change in management then maybe any disappointment they've felt or any grievances they've had with previous incumbents of the job, maybe that lightens the load in terms of their frustrations.
"When a new manager comes in then clearly I'm sure players do react in a certain way and maybe they feel their options are better once the change has been made."