Southampton boss Mark Hughes says Chelsea's Marcos Alonso tried to hurt Shane Long in foul
Last Updated: 14/04/18 5:53pm
Mark Hughes felt Marcos Alonso should have been sent off after "trying to hurt" Shane Long during Chelsea's 3-2 win at Southampton on Saturday.
A clear foul from the Spaniard, whose late challenge studded Long in the back of the calf with the Saints 1-0 up at St Mary's, was missed by referee Mike Dean which baffled Southampton manager Hughes.
After watching his side give up a 2-0 lead to lose 3-2 and suffer another blow to their survival hopes, Hughes said Long was lucky he was able to play on after receiving the challenge in the final minutes of the first half.
"Shane's got a gash down the calf, having seen it again there's a clear red card," he said. "There's clear intent to hurt Shane, it was raked down the back of the calf.
"It's a dangerous tackle and could have broken his leg, in my view, and how the three officials who were near it all missed it was a mystery to me."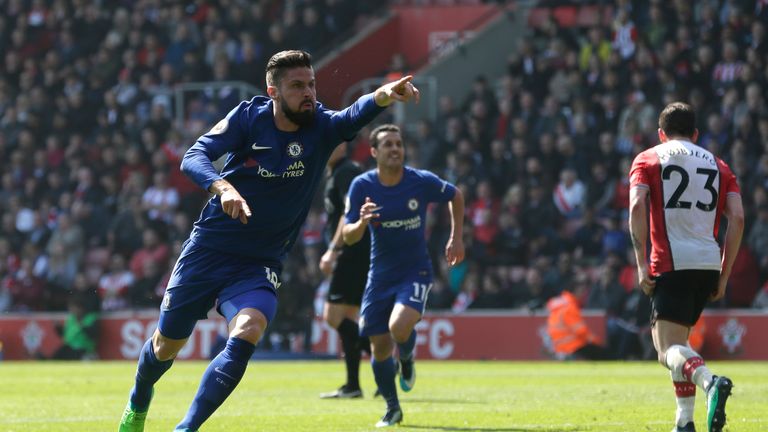 Chelsea boss Antonio Conte refused to give his view on the decision, and said he had not seen the call that had incensed Hughes.
"I must be honest and say I didn't see this," he said of Alonso's tackle. "In the past I have never complained for a negative situation for my team, and I have the same behaviours also in this.
"I didn't see it, and I can't comment on this situation."
A clearly dejected Hughes admitted time is running out for Southampton - who are three points adrift with five games to play - but was buoyed by the Saints' application for the second game in a row, having run Arsenal close at the Emirates last weekend too.
He said: "You've seen in the last two games, against Arsenal and Chelsea, I've seen encouraging things but other things that will damage us in the games we've got left unless we improve.
"But I've got a willing group, one that is fighting to turn this round, I'm pleased up to a point but we've not taken anything out of a game we should have won.
"For the most part I was pleased with what I was seeing, I saw a team that was committed to what we are trying to do.
"That was evident and we got ourselves into a great position, a winning position because we should have seen the game out, but we've got a soft underbelly which we've had all year apparently."