Southampton midfielder Pierre-Emile Hojbjerg fumes after late Brighton draw
Hojbjerg scored a sensational goal during the game at St Mary's
Last Updated: 18/09/18 8:51am
Pierre-Emile Hojbjerg was furious after Southampton were held to a late 2-2 draw by Brighton, calling the performance "not good enough".
The midfielder scored a sensational goal during the game, which was added to by a Danny Ings penalty in the 64th minute to put the Saints 2-0 up, but Brighton mounted a late comeback which was rounded off by Glenn Murray in the 91st minute after another spot kick.
Southampton were on course for their second Premier League win in a row and the eventual result was fiercely criticised by Hojbjerg, who says his side must see these games through if they are to compete.
Murray seals late Brighton draw
"It's not good enough. We were 2-0 up against an opponent we have to beat if we want to be serious this year," he told Sky Sports.
"We didn't do it, we had all the possibilities and somehow we didn't manage to take confidence in the game, control the game and do what we have to do and want to do. It's not good enough.
"We did good things for most of the game, but if you are 2-0 up and let them come back, it's not good enough. What did they have in the first 60 minutes? One long ball and a header?
"We let them come back and afterwards, I think the reaction was OK. We tried to play and do what we can do but again, if you want to be serious this year and be up there in the Premier League, you cannot let games like this go. We needed to take three points today."
However, Hojbjerg has generally been pleased with how Southampton have progressed after avoiding relegation last season and said there was a touch of luck to his wonderful strike.
He added: "It's nice to score a good goal but I want to win. That's all that matters. But we have to keep going forward, take positives out of the game and learn from the less positive things.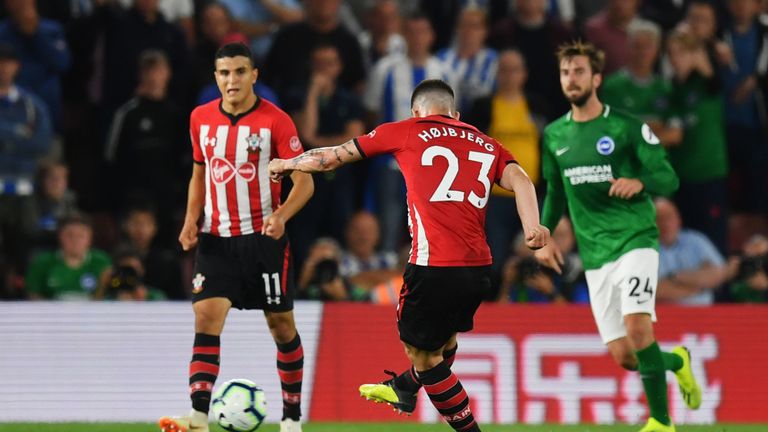 "Overall, I still think we are in a good way and there are a lot of good things in our games. I think it is just nerves. Maybe there is a hangover from last year, a bit of nervousness and maybe we need to get that out of the system.
"The last three or four games, we've been good, fighting for each other and helping each other. There has been progress and good football so we'll keep going.
"What can I say about a goal like this? I can say I wanted to shoot and hope for a goal and I was lucky."