Southampton deserved more after controlling their game at Wolves for long periods, Mark Hughes argued.
Wolves won the game 2-0, thanks to goals from Ivan Cavaleiro and Jonny in the final 11 minutes of the 90, but were put under pressure by their visitors for much of the second half prior to that.
"For long periods we were in control of the game, we had good possession and were asking questions of a good Wolves team, who've started their Premier League campaign at a good level and caused a lot of good teams problems," Hughes said.
"Whenever they had a bit of momentum in the game, I thought we nipped that in the bud and, for the most part, certainly from 50 minutes until their opening goal, we were the team looking most likely to score.
Live Renault Super Sunday


"Unfortunately, we were the ones who conceded, poorly in my view, we had a couple of occasions where we could have done better in one v one situations out wide when the opposition player didn't have a great deal of room to operate but still has been able to get away from our player and get a ball across the box.
"As a consequence, we've lost two goals. It's a difficult one to take because we had more possession, we've had more shots on goal, we haven't just come here and waited for Wolves to pick us off, we've played a huge part in a decent game but in the end they have the rewards for their efforts and we haven't."
Hughes acknowledged though, that his side have to be more clinical at both ends of the pitch if they are going to turn promising performances into points.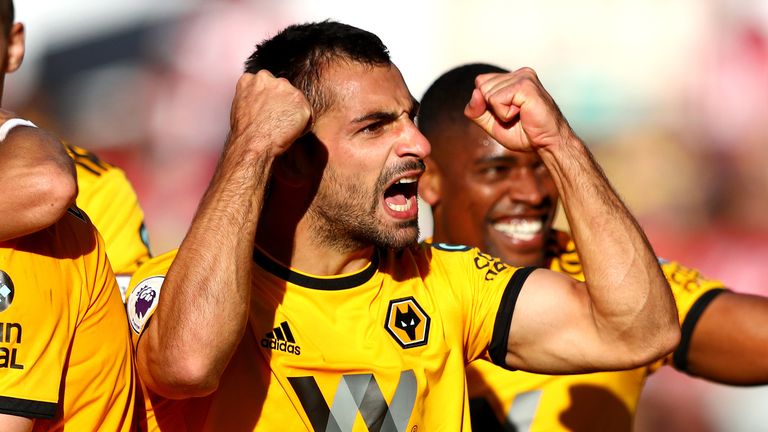 "We're honest enough to understand that we have to have a little bit more devilment, in both boxes," the Welshman said.
"When balls are bouncing in the opposition box, sometimes you've got to make your own luck and get on the end of things, be aggressive and throw yourself at things to try and make things happen. That applies in both boxes and unfortunately, at the moment, that little bit of luck isn't going our way, things aren't quite dropping for us.
"I felt sure that if we'd scored the opening goal, it would have been very difficult for Wolves and we might have been in the situation where we could pick them off and get a second one.
"As it was, 2-0 is quite unkind to us because I didn't think Wolves had done enough to have the margin of victory that they had but in the end, we haven't been able to capitalise when we were in the ascendancy."