Mark Hughes rues catastrophic Stoke errors in Chelsea defeat
By Jack Wilkinson
Last Updated: 23/09/17 7:32pm
Mark Hughes rued a number of "catastrophic errors" after Stoke's 4-0 defeat at home to Chelsea.
The Potters entered Saturday's game at the bet365 Stadium with only one recognised centre-back and were ruthlessly picked apart by the champions, who extended their winless run to five games.
Alvaro Morata broke the deadlock inside 80 seconds and completed his hat-trick in the second half after Pedro had doubled Chelsea's lead.
"We made catastrophic errors from the first minute," Hughes told Sky Sports.
"Morata had an excellent day in terms of his chance conversion. I think he had about four shots and scored three goals - that is the quality you're up against.
"That put us on the back foot but we were never disappointed, after that we kept going and played really well and asked questions of them.
"We had a number of chances flashing across their box in the first half and then, unfortunately, we made another mistake and it was 2-0.
"We kept going up until the point in which we lost another centre-back - that's our whole senior contingent of centre-backs missing through injuries now.
"We were very much in the game until that point, Chelsea were happy to see the game out at 2-0 but the last two goals put a little bit of gloss on it for Chelsea, I don't think it's a true reflection of how the game passed.
"I cannot be too disappointed given the circumstances, we had a good go at it but they had too much quality in the end to take it away from us."
Trailing by two goals early in the second half, two contentious calls went against Stoke as Marcos Alonso avoided a second yellow for two quick fouls, and referee Mike Dean chose not to penalised Gary Cahill's foul on Maxim Choupo-Moting.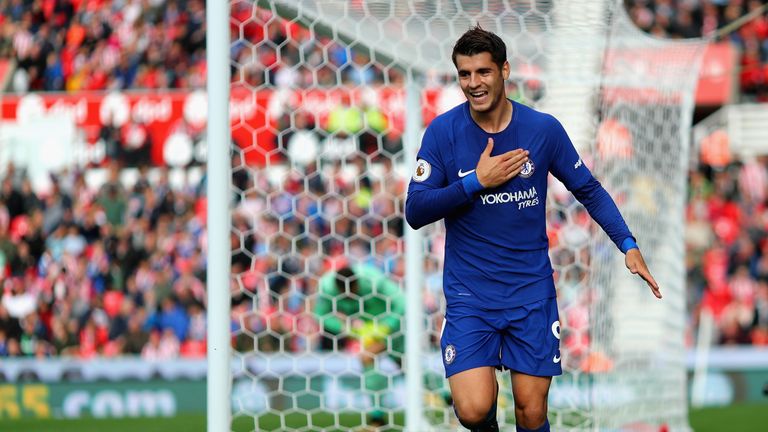 "Maybe Mike Dean has allowed Alonso the benefit of the doubt," Hughes added. "It's a tough call.
"He didn't get sent off but he was substituted within seconds of getting a fortuitous decision.
"If he'd have gone off and Chelsea went down to 10 men, that might have been a key moment, but it wasn't to be and in the end the game went away from us."
Asked for his thoughts on Choupo-Moting's penalty appeal, Hughes said: "Yes, it could well have been a penalty but the order of the day was that we weren't going to get those kind of decisions.
"Maybe we'll look back and rue that decision but, overall, our poor mistakes in defensive areas have cost us again."