Mark Hughes to take usual pre-match news conference despite Stoke fans calling for him to go
By Lyall Thomas
Last Updated: 01/01/18 8:03pm
Stoke have confirmed manager Mark Hughes will hold his usual pre-match news conference on Thursday despite sections of supporters calling for him to leave the club.
Hughes is scheduled to brief the media ahead of the Potters' FA Cup third-round tie against Coventry City after a second successive Premier League defeat at home to Newcastle plunged them into further relegation trouble.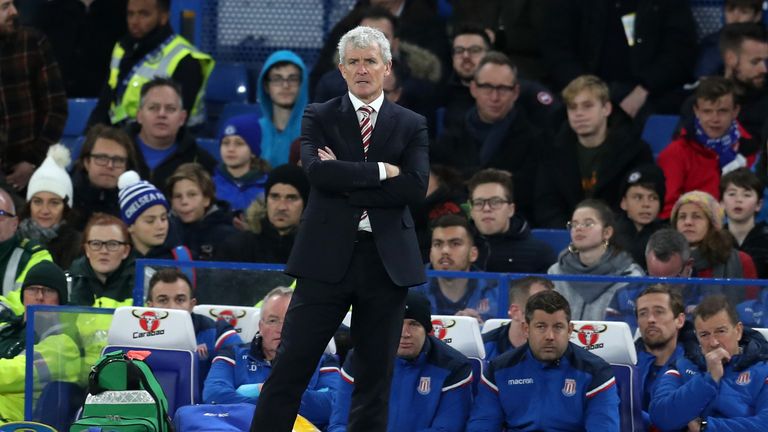 Following a 5-0 thrashing at Chelsea two days' earlier, fans chanted "Hughes out" and held up banners in the stands as Ayoze Perez's goal confirmed the loss.
Hughes stormed out of his post-match news conference after he was forced to defend his decision to rest a number of key players at Stamford Bridge.
But before he did, the Welshman addressed the unrest shown by supporters after a 12th Premier League defeat left them 16th and two points above the drop zone.
He said: "It's to be expected. It doesn't bother me. What bothers me is the team needs to be doing better. That noise will only go away if we win. We didn't so we get criticised. It's a simple formula.
"At the moment we are disappointing too many people, including ourselves, but I'll remind people that the reason they are disappointed is that the high standards we've set here, we're below them at the moment. But those were set by me and my staff, so we need to do something about it and that's what we'll endeavour to do.
"We're not a group of people that this situation sits comfortable with so we'll get on with addressing it and making sure we turn it around. That's my make-up as a person, manager and player. That doesn't change."