Mark Hughes under pressure as Stoke lose to Newcastle at home
Last Updated: 03/01/18 9:36am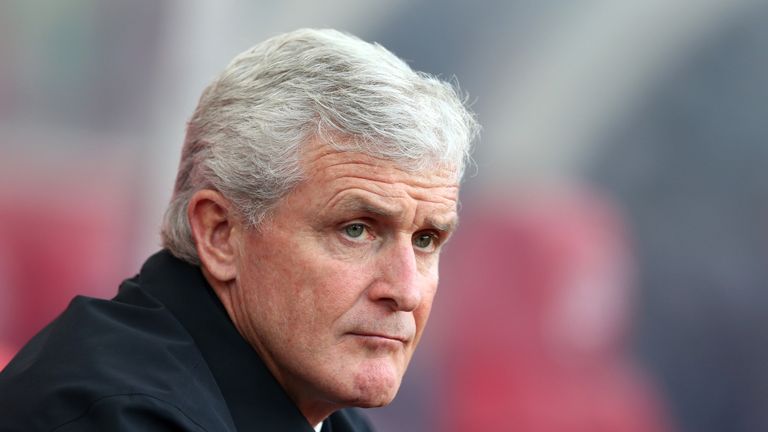 Pressure is mounting on Stoke manager Mark Hughes after he bets big on beating Newcastle and loses. Adam Bate looks at the problems facing the Welshman...
"I made decisions I feel will help us with the game we have on Monday," explained Mark Hughes in the aftermath of Stoke's 5-0 thrashing at Chelsea on Saturday. His team selections were being questioned but the home fixture against Newcastle was on his mind. "We rested players carrying knocks who will be fresh and ready to go," he added. It did not work.
Hughes may have rested some of his key players but Stoke supporters are entitled to wonder whether they were really ready to go. Xherdan Shaqiri sat on the bench at Stamford Bridge but, restored to the starting line-up, he barely made an impression - drawing the ire of the crowd for refusing to chase one ball shortly before being withdrawn after 57 minutes.
Ayoze Perez's goal soon after ensured Stoke were beaten 1-0 by a Newcastle side that had lost nine of their previous 12 games but has now leapfrogged them nevertheless. They deserved it too. Newcastle showed the greater purpose. Stoke were outrun by almost six kilometres. They were outshot by 11 to 13 and they were outscored by that solitary goal.
It was Hughes who cut the solitary figure upon the final whistle, drenched by the Potteries rain. Some of the 'Hughes Out' messages were too small to be accurately described as banners but the noise upon the final whistle made the point clearly enough. The manager's gamble might have been calculated but for Stoke supporters something does not add up.
This is a team that has now won only two of their last 12 and those were home games against the bottom two, Swansea and West Brom. Stoke need a third team to finish below them and the defeats to Crystal Palace, West Ham and now Newcastle suggest it will not be that straightforward. The football is bleak and the mood at the bet365 Stadium is worse.
Injuries in defence have been an issue, of course. Hughes is still without club captain Ryan Shawcross and £7m centre-back Bruno Martins Indi. Teenager Tom Edwards has had a tough introduction to life in the Premier League, deputising for the injured Glen Johnson at right-back, while Erik Pieters was only just returning from a hip problem at left-back.
That might explain some of the problems that have seen Stoke concede 47 goals this season - nine more than anyone else. Heads have dropped amid heavy beatings but fans feel it is a lack of coaching as well as a lack of application. Former player Marc Wilson infamously suggested last season that Stoke do not do any defensive training whatsoever.
All of which puts huge onus on the forward players but it was they who fell flat against Newcastle. Stoke only conceded one goal after all, but that was enough for Rafael Benitez's well-organised side to leave with the three points. Karl Darlow pulled off a couple of good saves but in terms of a clear pattern of attacking play, there was little sign of fluency.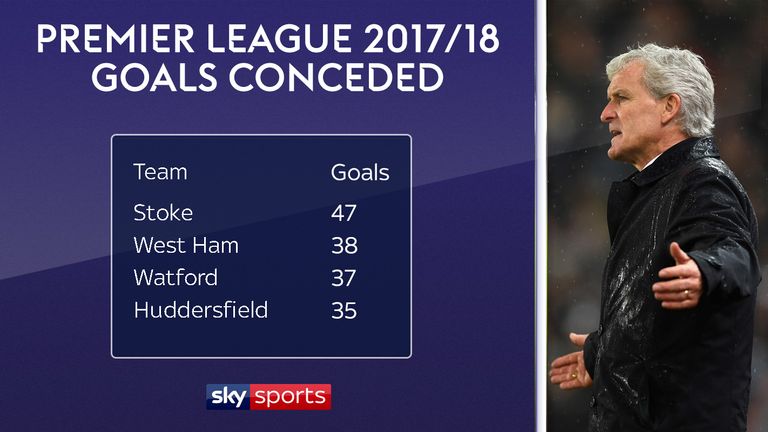 Jese Rodriguez, on loan from Paris Saint-Germain, is injured but the rest of Hughes' chief attacking options are available and they are not delivering. Against Newcastle, Shaqiri did not have a shot, complete a dribble or create a chance. The focus was on Peter Crouch, who turns 37 later this month, and it was tempting to think this played into the opposition's hands.
"We threw everything at it but couldn't score," Joe Allen told Sky Sports afterwards but that was not the whole story. Stoke had more shots in the final five minutes of the match than they'd had in the first 75 minutes. This was a desperate effort to conjure a goal from somewhere - anywhere - not the coherent work of a well-drilled team with a plan.
"It wasn't until the last 10 minutes when there was a little more urgency and they had a go," said Neil Mellor, watching for Sky Sports. "In the first half they were really poor, they were flat, they didn't create. It was only the last 10 minutes when they were launching the ball into the box looking for Crouch and little knock-downs. Stoke just couldn't open them up."
At least that late push for an equaliser hinted at an awareness that, as Allen noted afterwards, this was "a huge game" for the club. They will need more of that. "There could be individuals in our group who haven't experienced it before," admitted Hughes recently. "You either suck it up and do something about it or you go under."
Which will it be? That is something for chairman Peter Coates to weigh up in the fortnight before Stoke's next Premier League fixture away to Manchester United. Coates has a reputation for patience - he has not sacked a manager mid-season in 20 years - but he has already said he is "obviously concerned" about the situation.
"It is how you come back from these setbacks that is so important," he said after the 5-1 reverse at Tottenham just before Christmas. Hughes gambled on Stoke bouncing back from a similar defeat against Chelsea but it didn't happen. That his side lost so meekly in front of their increasingly disgruntled fans means it could now be Coates' turn to roll the dice.