Two years after sealing a dream move to the Premier League, Jack Hunt is yet to fulfil his ambition of playing in the top flight. The Crystal Palace defender saw his opportunity dashed by injury, but now hopes that a loan switch to Sheffield Wednesday will be his ticket back to the big time...
"I remember a cross coming in and I just stretched for the ball. My knee went over my ankle and I heard a very loud break. They were doing a session on two different pitches and it was so loud the players on the other pitch heard it as well," Hunt said.
The pain of a gruesome ankle break just days after signing for Crystal Palace certainly remains fresh in the mind for Hunt. As does the memory of an agonising journey in an ambulance from the club's Beckenham training ground to the Bupa Cromwell hospital in Chelsea.


"To get an injury so serious having just moved down a few days before, it hurt me" Hunt said. "It was about an hour to an hour and 15 minutes in the ambulance. Obviously there was a lot pain from the injury, but I can remember being in the hospital, where I stayed overnight, and just bursting into tears. I was thinking it's over or that it was over for now. I was away from my family and four and half hours away from everything that I knew, it was hard."
A £2m move from Huddersfield Town to Crystal Palace in September 2013 had promised to usher in a new period in his career. Then aged 22, Hunt leapt at the chance to join Ian Holloway's newly-promoted side and had designs on establishing himself as a Premier League player. However his hopes of doing so were shattered by an injury which would keep him on the sidelines for the best part of four months. 
"I never expected to go there and get injured. I went from such a high, in getting my move to the Premier League and being hugely enthusiastic for the future, to such a low in the space of 48 hours. It was very tough to take," he added.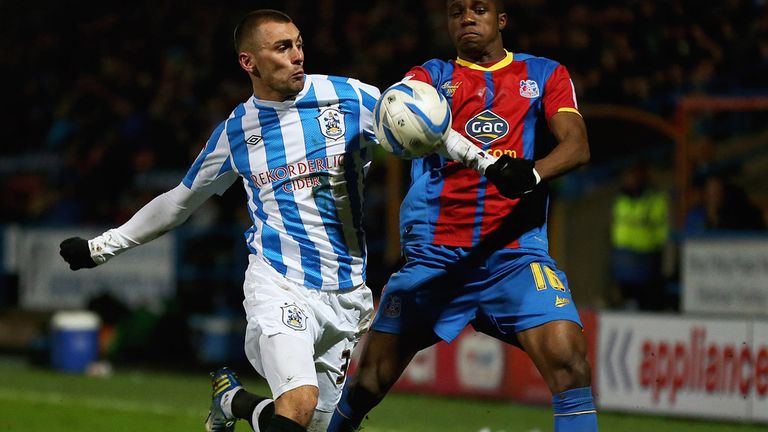 So quick was the time between signing a four year contract at Palace and sustaining the injury, Hunt had yet to move into permanent accommodation in London and was staying in a hotel. His experience of a distressing first week at the club ended with a trip back to his home city of Leeds, where he relied on the support of his family to help him through the most difficult period of his career to date.
 "The club was brilliant with me, they knew I wanted to be at home with my family and with people supporting me," Hunt said. "The first six weeks when I was in a protective boot was spent coming back and forth from London. I would go down for two days and then be at home for 10-12 days. I went down about three times in the six weeks and then my rehab was done with Crystal Palace in London."
Hunt, now 24, has still yet to make a single appearance for Palace since suffering the injury to his ankle. His two years with the club has also coincided with a period of managerial instability at Selhurst Park. Three managerial changes have not helped his cause for first team inclusion with Holloway, Tony Pulis and Neil Warnock all departing prior to the arrival of Alan Pardew in January. 
But Hunt, who has since spent time playing in the Championship on-loan at Barnsley, Nottingham Forest and Rotherham United following that spell on the sidelines, is remaining pragmatic over his unusual situation.
"That's football. It is quite rare, but there's nothing I can do about it really apart from working hard. And if I am told I am not good enough and I can leave then we'll see what happens in the future. I have massive respect for my parent club Crystal Palace and the way they have treated me has been very good," he said.
"It has been a little unlucky for me with all the managers changing. But the club have stood by me and they just want to see me out there playing football. I explained to them I am not one to be sat in the stands, collecting my money. I want to play, get as many matches on my CV and play at the highest standard that I can.
"My ultimate goal is to get back into the Premier League, whether that is to return to Crystal Palace and finally make my debut there or look to do it elsewhere. I am still highly ambitious and my dream is to play in the Premier League and I'll never stop trying to make that dream come alive."


Having been told by Pardew in the summer that he was unlikely to feature in his immediate first team plans at Palace for the forthcoming season, Hunt was offered the chance to drop back down to the Championship and join Sheffield Wednesday on a season-long loan.
As well as being a return to his native Yorkshire, the promise of regular first team football and the project set out by new Owls chairman Dejphon Chansiri was enough to convince Hunt to make the move to Hillsborough.
"When you go out on loan you don't really know what the club is going to be like until you speak to the owner and manager and get an understanding of their ambitions. As soon as I spoke to the chairman – I know he doesn't speak great English – but he's got a team with him and I spoke to them as well and obviously his ambition is to get the club back into the Premier League," Hunt said.
"They're understanding and know it can't be done all at once. This year could be the year, but the aim is to get Sheffield Wednesday back into the Premier League in the upcoming years. The short steps that have been taken so far are very ambitious and something to be hugely proud of."
Hunt was one of 13 new players brought in by new manager Carlos Carvalhal, who replaced Stuart Gray in June following previous spells in charge of Sporting Lisbon and Besiktas.
While he still remains contracted to Palace until the summer of 2017, Hunt is remaining open minded with regards to his future and hopes to finally test himself against the best of what the Premier League has to offer next season.
"My aim is to impress people, especially Crystal Palace, but if that helps me to progress as a player then we'll have to see what comes of it," Hunt said ahead of Wednesday's Yorkshire derby with Leeds United at Elland Road, live on Sky Sports 1 HD from 12.00 on Saturday.
"It is a massive season for myself. This year I want to play every game and do as well as I can. The aim is to be a Premier League player come the end of the season whether that is with Crystal Palace, Sheffield Wednesday or if anything else comes up."