Cardiff's one-year stay in the Premier League came to an end after Crystal Palace secured a 3-2 win on Saturday.
The Bluebirds needed to win in order to take their fight to the final day, but their faint hopes of survival were ended by an impressive Palace side.
The relegations of Huddersfield and Fulham had already been confirmed prior to Cardiff's return to the Championship.
Goals from Wilfried Zaha, Michy Batshuayi and Andros Townsend consigned Cardiff to an immediate return to the Sky Bet Championship with their second successive Premier League stint ended after a single season.
'Best year in management'
Manager Neil Warnock has called the 2018/19 season his "best year in management" despite Cardiff's relegation and believes the club are in a much better place than when he first arrived.
"Everybody is disappointed when you suffer a relegation. It would be wrong not to feel like that, if you're not hurt, but I can't really be much prouder. The lads put a lot of effort in but you can see the limitations there," he told his post-match press conference.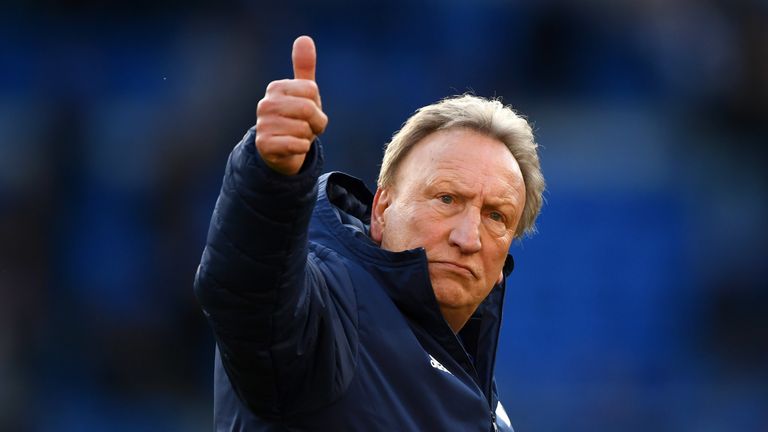 "Their front four were just too good for us really, but we created so many chances in the second half. That's the story of the Premier League and you've got to take chances like that and we haven't really had a goalscorer this year so it's been a disappointment.
"But I think when you look back to when I came to the club, I thought it was broken and really in a poor state. You saw the fans tonight, the club has almost been reborn and I'm so proud that the fans have been like they have been, I've never experienced anything like it in my career.
3 - Neil Warnock has suffered his third top-flight relegation, going down with three different teams in three different decades – Notts County in 1991-92, Sheffield United in 2006-07 and Cardiff City in 2018-19. Traverse.

— OptaJoe (@OptaJoe) May 4, 2019
"As daft as it sounds, this season has probably been the best year I've ever had in management, I'm quite proud of what we've achieved and we got relegated. It is a difficult thing to digest but that's how I feel.
"There were just so many things to overcome and to keep a group like this together with one thing after another. I went to the [FA] commission the other day and there were 14 major incidents that we didn't get so you need a bit of luck as well. It's not just about playing well and taking chances, you need a bit of luck with one or two decisions going your way.
"We have missed a goalscorer and someone had already asked me about Emiliano [Sala], but I think that also puts things into perspective. We've got relegated but the lad lost his life so we would have loved another striker and I think he would have helped us.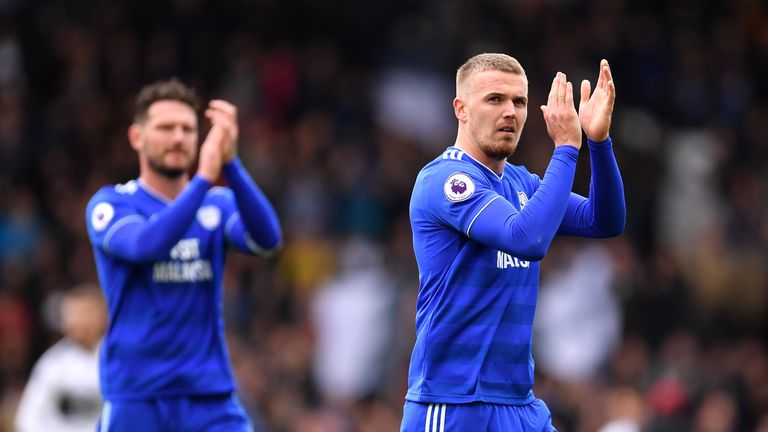 "But we've just got to go again, the club has got to go again. I think one or two lads have grown into the Premier League, there are quite a few who I didn't think would get to the 37th game, but they are a good group so I can't really fault the effort, it's just that if some of their lads had got some of our chances today, it might've been a different game.
"That's happened all season really, we've all made mistakes and the third goal typified the defending you can't do at this level."
Warnock also refused to be drawn on whether he would lead Cardiff in the Sky Bet Championship next season but did say he had another year of management in him.
"I think we've just got to relax for a few days and have a think about everything really. I've not spoken to anybody. I don't think you can make rash judgements at this stage of the season with one game to go," he added.
"I will be working next year somewhere, I'm looking forward to that challenge again. It's been a great experience for me and probably my best job ever to have done what we've done with the club.
"I'm so proud of the club. I've never heard anything like it [the fans] and I had a tear in my eye going round. I've never seen a relegated team get an ovation like that. I do feel a little bit tired tonight but I look well, so that's the main thing.
"If I didn't have the drive, I wouldn't do it and Sharon's quite happy for me to do another year but like I say, we've got to let things settle and then have a chat with Mehmet [Dalman] and Vincent [Tan] to see where we are."
Goodbye from Gunnarsson
Aron Gunnarsson was part of the Cardiff squad the last time they were relegated from the top flight five years ago, and he was playing his final home game for the club after eight years and over 280 games.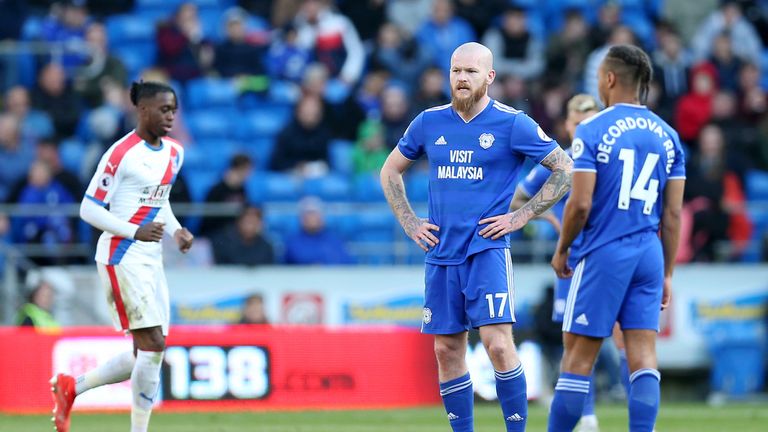 He told the club's official website: "We've had some setbacks during the season but we always did what we could to bounce back. Today was a tough defeat to take.
"We were still fighting to survive, but I have to admit I felt the better footballing team won on the day.
"That being said, decisions haven't gone our way at times this campaign for whatever reason.
"Overall, we're still proud of the boys, and the club. Last time we were in the Premier League it was a different story. It felt like a different Club; a different feeling.
"The togetherness this season was much better, and hopefully it is third time lucky for Cardiff City the next time we're promoted."
How Cardiff's season ended in relegation
Emiliano Sala

The £15million club record transfer of Emiliano Sala from Nantes during the January transfer window was supposed to bring the goals to help keep the Bluebirds in the top flight, but ended in tragedy.

The Argentinian striker had been returning to Wales from France when the plane he was aboard crashed in the English channel on January 21. The body of the pilot, David Ibbotson has not been found.

Victor Camarasa

The continued efforts of Cardiff boss Neil Warnock to get the best out of his squad were not helped by revelations the club were being guided over the fitness of Victor Camarasa by the midfielder's own medical staff.

Camarasa joined the club on loan from Real Betis but had been hampered by a calf problem during February.

Warnock said: "He obviously listens to his physios, his medical people and Tom, Dick and Harry from abroad. He's a very important player for us and it's been a really big disappointment.

"I've never come across the situation I've got at the moment. We're having physios and medical people from abroad telling us what we can do with him when he is our player."

Sol Bamba

The Bluebirds were deprived of dependable defender Sol Bamba for the relegation run-in after the Ivory Coast international ruptured his cruciate knee ligament in the 2-0 defeat at Wolves on March 2.

The 34-year-old had started all except one Premier League match and on the pitch was the driving force behind the team's efforts to beat the odds.

"It is a major blow to the squad," Warnock said, as the news was confirmed Bamba would be set for surgery and a lengthy spell of rehabilitation.

Pitch battles lost

Whatever off-field battles Cardiff had to endure, their fate was ultimately sealed by failing to deliver enough consistent performances on the pitch.

It took nine games for them to register a first league win, beating fellow promoted side Fulham at home.

Drubbings by Manchester City, Liverpool, Manchester United and Tottenham were always on the cards this season, but failing to make the most of opportunities against the top-flight's also rans - particularly at home - proved too costly.

Cardiff gave themselves hope with a hard-earned 2-0 win at Brighton to keep alive their survival dreams but it proved a false dawn.

A subsequent 1-0 loss at already-relegated Fulham swiftly all but ended realistic ambitions of another season among the elite.
Cardiff's relegation in numbers
Cardiff City have been relegated from the Premier League, becoming the only team to play in more than one Premier League season and be relegated in every single one (also relegated in 2013-14).
Cardiff City suffered 11 home league defeats this season, only losing more in two previous campaigns - 13 in 1984-85 and 12 in 1994-95.