Premier League: Malky Mackay won't have funds to spend in January transfer window
Cardiff boss Malky Mackay's hopes of having some transfer funds to spend in January have been well and truly dashed.
Last Updated: 17/12/13 10:00am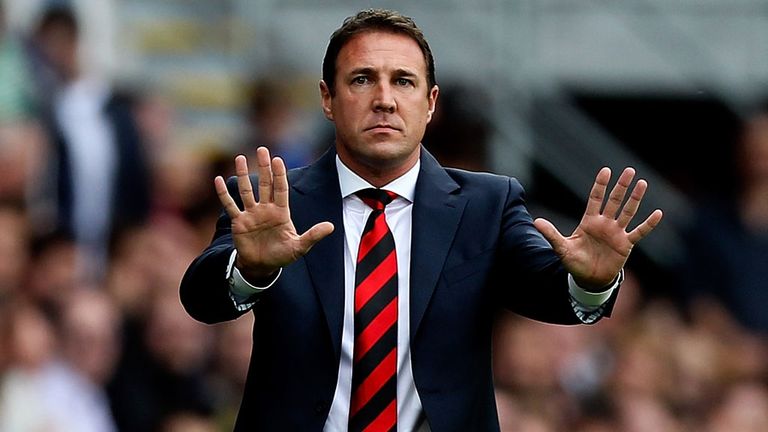 Mackay said after Saturday's 1-0 win over West Brom that he would love to bring in three more players next month and would be speaking to owner Vincent Tan about his plans.
But chief executive Simon Lim released a statement on Monday criticising Mackay for his comments over the weekend and bringing the tempestuous relationship between the manager and Tan back into the spotlight.
The Scotsman was upset earlier this season when head of recruitment Iain Moody - now with rivals Crystal Palace - was replaced by young Kazakh Alisher Apsalyamov, and he has now been told he will have 'not a single penny' allocated for transfers.
He has been accused of over-spending in the summer when sizeable fees went on Kevin Theophile-Catherine, Steven Caulker, Andreas Cornelius and Gary Medel.
"Tan Sri Vincent Tan was extremely upset to read quotes from the manager concerning the possibility of new recruits, before he had been informed whether funds would be made available," Lim said.
"He believes that doing so unfairly raises supporter expectations, placing unnecessary pressure on the club.
"His view is that due to the funds already committed, including the originally authorised summer transfer budget of £35m that rose to £50m in total, including add-ons, the manager has been fully supported.
"The overspending of £15m has upset Tan Sri greatly, resulting in the removal on Iain Moody as head of recruitment. As such, he has stated that not a single penny will be made available in January.
"Having been the highest-spending promoted club and the seventh-highest spender in the Premier League last summer, the owner believes that the manager has been given the best possible chance of retaining our Premier League status."
Quality additions
Mackay's team stand four points outside the relegation zone, and the Scot was hoping he would receive the board's financial backing midway through the campaign.
The fact Malaysian businessman Tan, through Lim, has indicated that will not be happening may be of some concern to the Scot, in his third season at the club.
Speaking at the weekend, Mackay said: "It would be great if we can bring in three quality additions to the squad.
"I would look to strengthen all three departments in terms of a defender, a midfielder and an attacking player.
"I will talk to my chairman (about January) who will then discuss it with his board of directors and our owner and I will take my lead from them.
"It's up to them then what financially they want to spend in January. I've got my lists of players, whether they be permanent targets or loans for various positions. We've got to try and strengthen again.
"We are a first-time club so to speak. Everyone barring two other clubs has got a massive head start on us in terms of quality.
"They might only need to bring in one or two over a season. We had to bring in a group of eight players which was going to give us the chance to survive.
"You have a choice, do you invest knowing you have a really good chance of staying up or do you invest knowing you might go down and then have to build again?"
Looking at the January market, Mackay added: "People are leaving clubs for different reasons and overall you have to be careful. It's about bringing in another layer of quality to add to what we've got. I need to bring in guys who are going to add to that."
Mackay joined Cardiff in June 2011, and after missing out on promotion in his first season at the club, when his team suffered a play-off semi-final defeat to West Ham, he led the Welsh side to the 2012/13 Championship title.