Crystal Palace manager Alan Pardew felt his side were not clinical enough in the final third during Monday's disappointing 1-0 loss at home to Sunderland.
Palace had a chance to go sixth in the Premier League table with a win but were frustrated by a defensively sound Sunderland team.
And the Eagles finished the night with nothing when Jermain Defoe scored a decisive goal 10 minutes from time, following a defensive misunderstanding between Scott Dann and goalkeeper Wayne Hennessey.
Pardew said: "We overdid it a little bit here and there, and in certain areas.
"We should have been a bit more clean and clinical in the final third, and we would have created more chances.
"We just could not find a way to unlock what was a deep defence with a deep midfield, which asked us questions. Questions we need to answer, if we are going to go forward and evolve into a different type of team.
"We struggled tonight. We did very well against West Brom [a 2-0 win], who had a similar set-up, but tonight it didn't happen.
"Sunderland set their stall out, there was no mystery to what they did. It was five at the back, three in front, they did not really move much."
Regarding the Sunderland goal, he added: "Jermain is always going to be a threat and that threat got them the win when Scotty Dann just miscalculated. Jermain checked his run and that is what a smart old striker can do.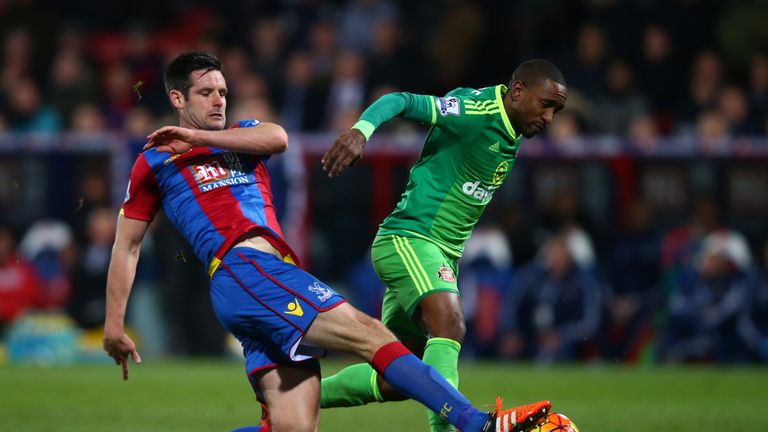 "Scott Dann's been fantastic for us, he just read that situation wrongly. He tried to ease Jermain away, got the wrong side of him, and then he was in trouble."
Palace winger Bakary Sako came off the bench at half-time but then suffered a hamstring strain and had to go off. He will be a doubt for Saturday's home Premier League clash with Newcastle.
Pardew said: "Sako created a great couple of moments but unfortunately pulled his hamstring and that was disappointing.
"It was one of those nights when nothing really went for us."