The statistics to worry Crystal Palace fans after losing their first five games of the Premier League season, following Saturday's 1-0 defeat to Southampton at Selhurst Park.
Crystal Palace are rooted bottom of the Premier League table as the only team without a point so far this season, and they have made history by becoming the first team in the English top-flight to not to score a single goal in losing their first five matches.
No team has ever failed to score in their first five games of a Premier League season and the run extends to six if the final game of the previous campaign, a 2-0 defeat to Manchester United, is included.
That sequence that has involved three different managers - Roy Hodgson, Frank de Boer and Sam Allardyce - in the dugout, and marks Palace's worst scoreless run at any stage of a season in over 22 years.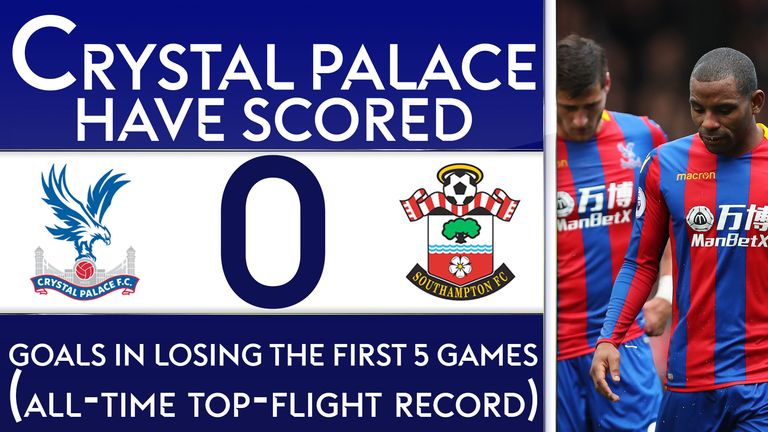 When De Boer was sacked after only four league games in charge, most felt it was far too soon to reach a verdict on the Dutchman's prospects of long-term success. However, just one game into Hodgson's reign and the emphasis is already beginning to shift. History looks to be against this Palace team.
Even before the home defeat to Southampton, there was the ominous statistic that three of the last four Premier League sides to have lost their first four matches had gone on to be relegated.
After adding another loss to the list, they find themselves in inglorious company. Only the Portsmouth side of 2009/10 have lost more and they were relegated having picked up only 28 points.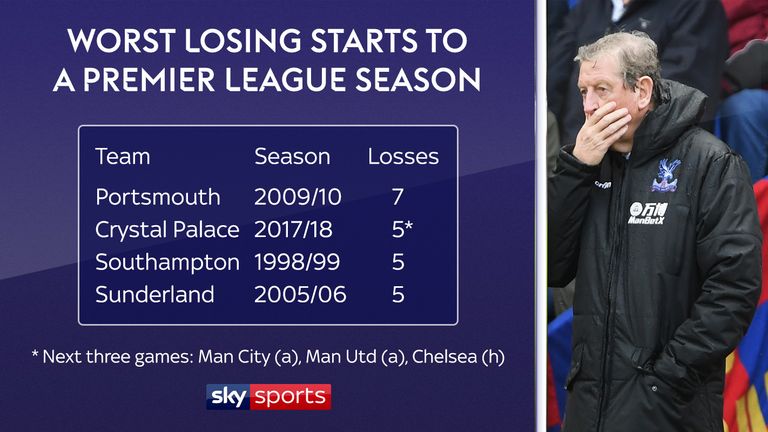 What makes it all the more alarming is that Palace's start to the season did not look particularly daunting.
They have now failed to take a point from three home games against Huddersfield, Swansea and Southampton. The forthcoming fixture list is not nearly so inviting for Hodgson and his players.
Back-to-back trips to Manchester to face both City and United are coming up. The next team to visit Selhurst Park in the Premier League will be champions Chelsea.
If these three matches, against some of the favourites for the title, are all lost then Palace will become the first team in the history of the Premier League to lose their first eight matches.
"Nothing I can say will change those results," Hodgson told Sky Sports after the Southampton defeat.
"Nothing I can say will score us a goal in those five games. Nothing I can say will get us any points from those five games. It is a question of what we do going forward. It is just a case of trying to improve as a football team."
At least Hodgson has form for salvaging situations rather more desperate than this. At Fulham in 2008, his team were six points from safety with only five games remaining but managed to win four of them to stay in the Premier League. There is far more time left for Palace. But history suggests it will take something similarly special to turn it around.