Roy Hodgson admitted Crystal Palace need to mould themselves into a better team following their 1-0 home defeat to Southampton.
After replacing Frank de Boer in midweek, the former England and Fulham manager was unable to inspire an instant change in fortunes for the Eagles, although he did praise some aspects of his players' performance at Selhurst Park as they lost out to an early goal from Steven Davis.
The Eagles have now become the first Premier League side to lose their opening five games without scoring, which was certainly not a statistic Hodgson was hoping for as he looks for a way to turn around their campaign.
"It was the worst possible start, conceding the goal so early, a team that's obviously a little bit nervous and anxious anyway becomes even more nervous and anxious. We didn't push up to the ball as much as we would've liked the players to do," Hodgson told Sky Sports.
"I thought in the first half we were very nervous, people didn't show any real confidence on the ball at all. I thought in the second half, we did get up to the ball better - nowhere near as well as I would like to see going forward - but we did do it better.
"The desire was there but unfortunately it was a frantic desire. It was a desire where you're chasing and hoping, not a desire where you're in control and moving the ball around well and causing the opponents lots of problems.
"I'm learning all the time, in training and also in games. I learn what I know really, in that there is a lot of heart out there, a lot of pain when it's not going well and people care. They want to do better but we have got to mould ourselves into a better football team.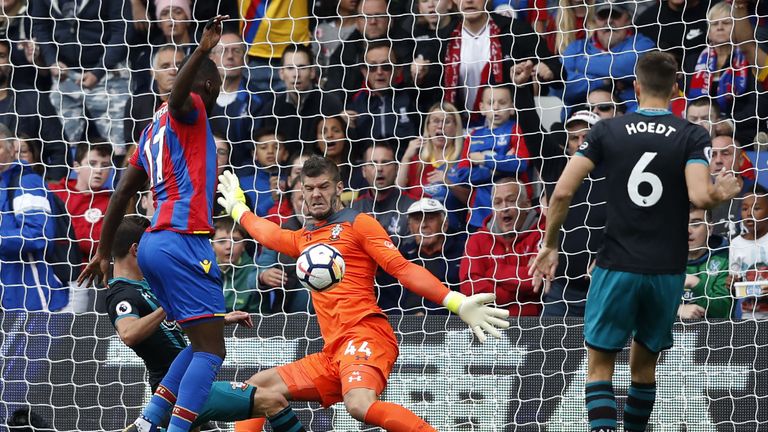 "We have to make certain that we are able to take on teams like Southampton and certainly be even at the end of the game in terms of the quality of play, which we were unable to do today."
Hodgson is now looking towards the upcoming fixtures - they have got games against Manchester City, Manchester United and Chelsea coming up - in the hope that Palace can start to build their confidence as a team and put Premier League points on the board.
"Confidence is an issue in every football team, but the confidence only comes when you start playing well, seeing the work that you're trying to do pay off, in particular in terms of results. The guys this year have not had this chance, this is a further blow," he added.
"We've already had four defeats, now it's five. But nothing I can say will change those five results, nothing I can say will score a goal in those five games or give us any points from those five games. It's a question what you do going forward.
"You talk up the benefits and bonuses of a good start but unfortunately talk doesn't get you that. The only thing that will get you a good start is a performance where you score more goals against the opposition and we certainly didn't do that today."