Crystal Palace manager Roy Hodgson hails Huddersfield win as 'an important victory'
Last Updated: 17/03/18 7:35pm
Roy Hodgson has hailed Crystal Palace's 2-0 win against Huddersfield as "an important victory" after they climbed lifted out of the bottom three.
The Eagles cruised to a vital three points at the John Smith's Stadium after James Tomkins and Luka Milivojevic found the back of the net in either half.
"It was [a great performance] and in difficult conditions really, not just with the weather but with the pitch here," he told Sky Sports.
"The ball doesn't travel quite as fast as it does on other pitches. It makes passing more difficult, and it is the same for both teams of course.
"The determination and attitude of the players was everything one could hope for and luckily, we got the goals this time. It is an important victory because we are playing teams around us at the bottom of the table and every time you get points, you improve your score and of course, take away from theirs.
"I thought James Tomkins and young Aaron Wan-Bissaka were very good today. We've got to keep these performances up and we're going to need seven more of them if we want to stay in the league.
"But it was very encouraging today at least to come to a place like Huddersfield where everyone knows how hard it is to win and go away with the three points. I hope that is going to give us some type of boost and confidence for the future."
Injuries were again on the mind of Hodgson after the game as Jeffery Schlupp was taken off in the first half and Wilfried Zaha substituted late on after some medical attention, adding to the injury to Alexander Sorloth on Friday.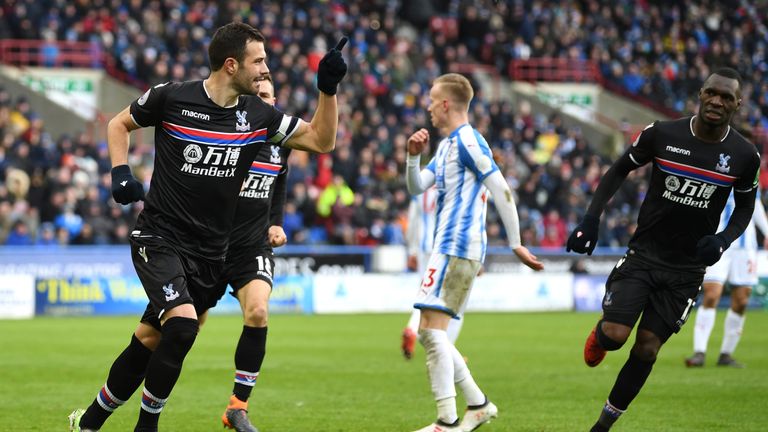 "Sorloth we don't know, but it's a hamstring strain. I don't think it is a serious tear at the moment but of course, we only have two weeks to get him fit before the next game which will take a bit of doing," the manager added.
"With Jeff, we really don't know yet, we will have to wait and see. He's rolled his ankle over quite badly. He'll have a scan and I can only hope it is just a twisted ankle and no serious ligament damage.
"I think he [Zaha] was tired and he got fouled quite a lot in the second half. He did well for us there because he hooked the ball up the field and drew fouls. I think it was just a question of fatigue and having taken two or three quite heavy knocks."