Roy Hodgson proud of his players after Crystal Palace's big win against Leicester
By Oliver Yew
Last Updated: 28/04/18 7:38pm
Crystal Palace manager Roy Hodgson was proud of the efforts of his players as they hammered Leicester City 5-0 to boost their Premier League survival bid.
Palace had looked like a team destined for relegation after losing their opening seven Premier League fixtures without scoring a goal but they've now climbed to 11th and six points clear of the bottom three, where only Southampton are capable of catching them.
The in-form Wilfried Zaha again excelled and scored their opening goal, after which further finishes from James McArthur, Ruben Loftus-Cheek and Patrick van Aanholt, and Christian Benteke's penalty, secured the three points which has seen them take a giant step towards safety.
"I'm so proud of the players," Hodgson told Sky Sports. "I said to them in the dressing room I'm really happy for them as well because we haven't had an easy time.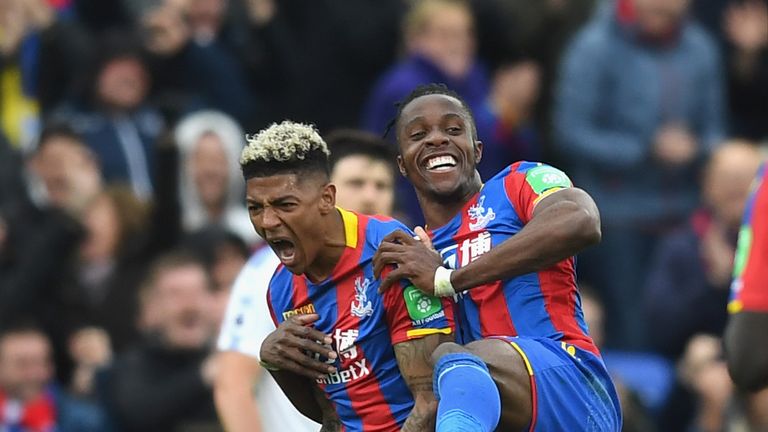 "We were obviously shooting ourselves in the foot with no wins and no points after seven games, and a very bad goal difference. They battled through all of that and I'm so proud of them because it's not just a testament to their playing ability, which they have, but a testament to their character.
"They've never looked like turning it in and they've gone out and given us performances every week. Today the score line flatters us of course as 5-0 score lines normally do, but we needed it and the boys deserved it."
Palace now face two final games with the first away at Stoke, which is live on Sky Sports next Saturday, and then a home game against West Brom on the final day of the season, and only a remarkable turnaround elsewhere would put them at risk of relegation.
When asked if he thinks his side are safe, Hodgson said: "Yes, basically. You can obviously talk about mathematics but we are talking about teams that haven't won three games in a row all season and teams that haven't won that many games in 36.
"I know it's possible to win three games in a row but it's very, very tough. There are also games with teams that are below us playing against each other. For example, Southampton have to play Swansea and they can't both get three points from that game.
"If Southampton were to win again it might make Swansea's position a little bit worse. We've got to be accepting of the fact that we've really done the hard work now and not to keep hiding behind the mathematical formula, and further more I don't expect us to lose the last two games.
"We did say five games back let's make it our goal to go through the rest of the season unbeaten so that goal still remains. If we do that then there's no doubt because we'll be over 40 points."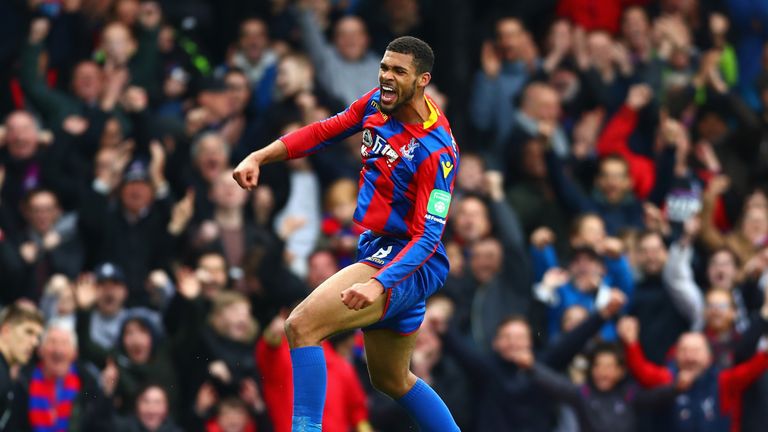 Hodgson was also full of praise for Zaha, who scored his fourth goal in as many Premier League matches.
The 25-year-old also provided the assist for McArthur's strike before producing the run which saw Marc Albrighton drag him down to receive a straight red card, and Hodgson described the Ivory Coast international's performance as one of the best he's seen during his time at the club.
He said: "He's had many, many good performances for us but I thought today might just have been one of the very best in the time I've been at the club simply because he balanced up running with the ball, passing people in for chances and chasing things down.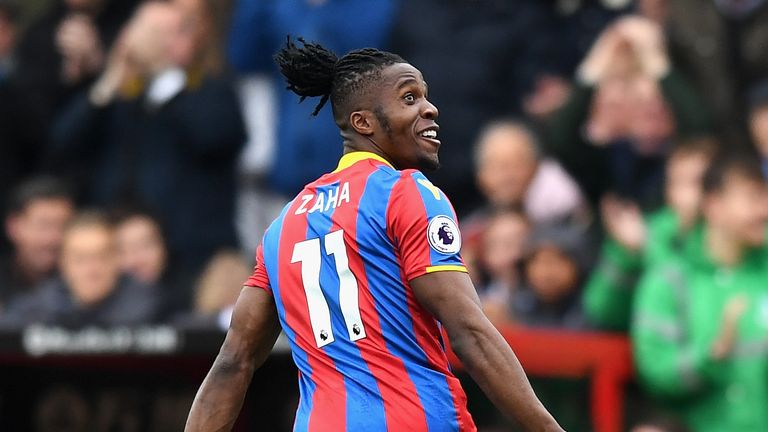 "To be fair, at 2-0 he really had been responsible for everything. He scored the first, made the second and had the player sent off by outrunning him.
"If he can continue to improve on that side of his game then there's no stopping him, there's no barrier for how high he could reach in the game of football."