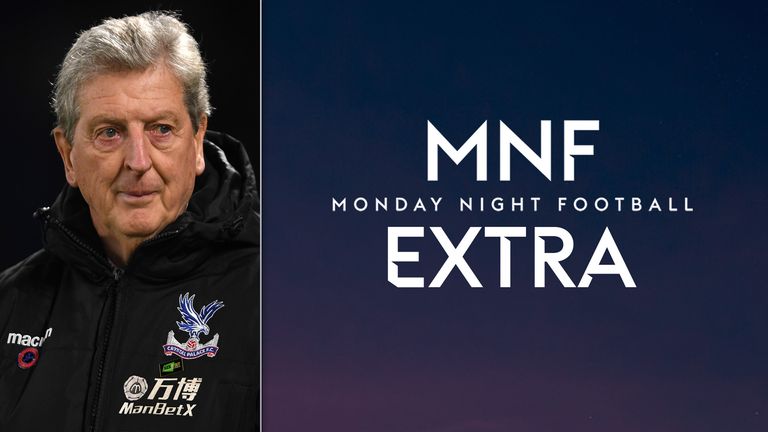 Crystal Palace had lost their first four games without scoring when Roy Hodgson was appointed as Frank de Boer's replacement at Selhurst Park. When he subsequently lost his next three games by a combined scoreline of 10-0 the Eagles looked doomed.
But since beating Stoke 2-1 in November, Palace have picked more points than all but seven Premier League teams and they go into the return game against the Potters on Saturday six points clear of the drop zone, with an eight-point lead over their opponents. Hodgson's men are all-but safe.
Gary Neville worked with Hodgson for four years as his assistant with the England national team and is not surprised by the fact that he has transformed the team's fortunes. "I think he's done an excellent job," Neville told Monday Night Football.
"It was a mess. In the first seven games they had got no points on the board and it did look worrying. But when you asked myself and Jamie Carragher whether we thought Hodgson would get Crystal Palace out of the real mess they were in, we both said absolutely he will.
"I don't think any of us that have worked with him - Jamie has worked with him in a playing capacity and I've worked with Roy in a coaching capacity - had any doubts whatsoever.
"He has been lumped in at times this season, by many, with what you could argue are the journeymen managers of the Premier League. That is an absolute insult to Roy Hodgson, that is, in terms of his abilities as a coach and his career as a coach."
He has been lumped in at times this season, by many, with what you could argue are the journeymen managers of the Premier League. That is an absolute insult to Roy Hodgson.
Gary Neville
So how has Hodgson turned it around?
"He won't have gone in on the first day and lit any fireworks or gone for the quick fix," said Neville. "He would've just started a body of work that would've taken time to implement, a body of work that players will take time to understand and the repetition of patterns.
"I remember an interview that Ruben Loftus-Cheek and Wilfried Zaha did a couple of months ago when they said the majority of the work that Roy does is attacking patterns - and that's absolutely right. There's an impression that he works a lot on organisation, and the rigidity of a team, when actually a lot of it is attacking patterns.
"I looked at the movements from their goals on Saturday and I can see the movements on the training pitch. What we have is a 4-4-2 shape, but not a traditional 4-4-2. There is a midfield four which is very narrow with Loftus-Cheek and James McArthur tucked in.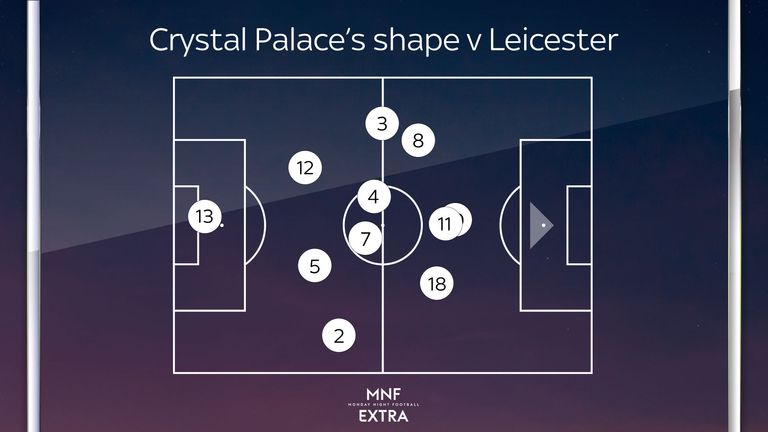 "Up top are Andros Townsend and Zaha. They are two jokers really in terms of what they are going to do. Roy probably will not know what they are going to do next. They are unpredictable to their own team-mates but also unpredictable to the opposition.
"They have got a strong base behind them to work from. But there is some methodology now to support the mayhem these two bring and you can see that in some of the patterns.
"What Roy will do every single day in training with Ray [Lewington] will revolve around patterns and support play, making sure you are in close proximity with each other.
"He hates big long switches where players become detached from one another. He likes it where players play in combinations in small areas."
The creativity of Crystal Palace's forwards has not been stifled by Hodgson. In fact, no team in the country has attempted as many dribbles as Palace this season. What the 70-year-old coach has focused on is ensuring this ability is channelled in the right way.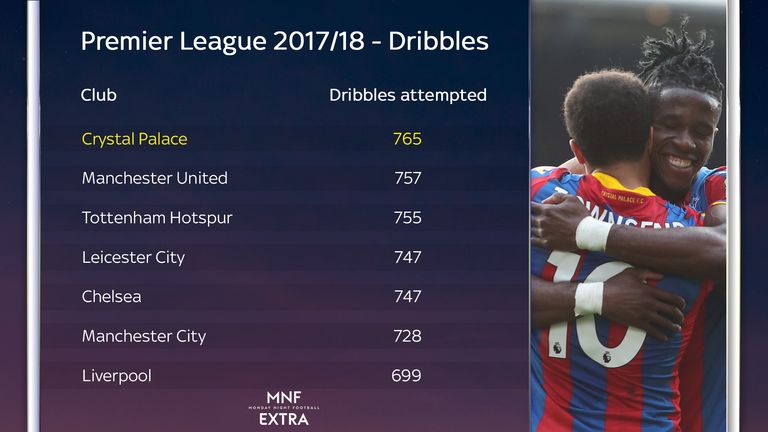 "I look at Loftus-Cheek, Zaha and Townsend," added Neville. "These are players you can't pin down. Players who, to be fair, have been erratic. Roy Hodgson is the coach they absolutely need in their careers, to bring some structure whilst still promoting their individuality.
"They need drilling every single day because there are some boundaries you can't step over. These are movements that through repetition and daily routine, players start to do as their default. What you're seeing now is a body of work starting to show fruition."
Hodgson might be the oldest manager in the Premier League but he has still succeeded in teaching these Crystal Palace players some new tricks. In fact, Neville believes it is the former England manager's vast experience that has helped him
"There have been some peaks and troughs this season, some ups and downs, and I imagine in the early weeks him and Ray were wondering if they were ever going to pick it up," he added. "Were they ever going to get through to them? To be honest with you, younger coaches would probably have said they needed to change what they were doing.
"But Roy has stuck to what he was doing, believed in his programme and in his work on the training pitch. Now Crystal Palace are where they will always want to be, which is 11th in the table and safe from the troubles that they have experienced, from what was a really desperate position."