Roy Hodgson says Crystal Palace will not 'apologise' for win at Fulham
Crystal Palace beat Fulham 2-0 on Saturday
Last Updated: 11/08/18 6:46pm
Roy Hodgson says Crystal Palace will not "apologise" for beating Fulham at Craven Cottage in their opening Premier League game of the season.
Goals from Jeffrey Schlupp and Wilfried Zaha sealed a 2-0 win for the travelling Eagles on Saturday as the club put to bed worries of a similar start to last season, when they failed to win or score in their opening seven league games.
Hodgson was pleased with how his side performed, particularly in the second half, and believes they deserved the victory in west London.
"Fulham started the game very brightly. We were mentally prepared for that and we'd spoken about it, I don't think it was a surprise to anybody, but we didn't do as well as we could have done in dealing with it," he told Sky Sports.
"I thought they moved the ball very quickly and they were sharp and aggressive to the tackle. They didn't give us any time or space on the ball and they had the better of the first half.
"Luckily, we scored a great goal which helps and another disallowed for offside, rightly so, but that is something that would have put our minds at rest a bit earlier but I thought in the second half, we played much better.
"We certainly have no reason to apologise for coming here today and winning because in the second half, we had quite a lot of control over the game and we created some good chances."
Two players, in particular, came in for praise from the manager, with Wayne Hennessey making a number of good saves - mostly in the first half - while Aaron Wan-Bissaka continued to impress at right-back.
"When we went after Vicente [Guaita], Wayne and Julian [Speroni] weren't at their very best and we thought we should improve the competition so we got a very good goalkeeper in Vicente but since that time, both have done very well, Hennessey in particular," Hodgson added.
"I thought towards the end of last season, he was top class and luckily, he has hit the ground running. You wouldn't have noticed any difference between last season's performances and the start of this season. We owe him a debt today because without him, we may not have won the game.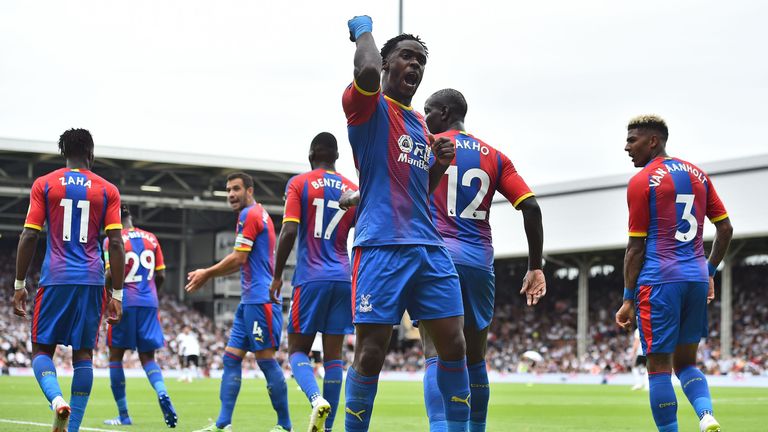 "I thought Wan-Bissaka was excellent today in every respect, both defensively and going forward. Towards the end, he was really causing them some severe problems.
"It was an excellent pass as well [for Wilfried Zaha's goal]. He could have gone down because he was fouled, but the referee played the advantage, he got after the ball and beat another opponent and then he had the composure to calm himself and select the pass.
"It looked like an easy pass, but it's so easy to under or over hit them. The weight was perfect, it sucked the goalkeeper out of the goal and then Wilf took it very well."