Roy Hodgson says Etienne Capoue's challenge affected Wilfried Zaha
Roy Hodgson: "It definitely affected Wilf. We didn't see anything like the best of him until late in the game."
Last Updated: 27/08/18 8:52am
Crystal Palace manager Roy Hodgson insists Wilfried Zaha's performance in his side's 2-1 defeat to Watford suffered as a consequence of Etienne Capoue's cynical early foul.
The Watford midfielder was given an early booking after appearing to rake his studs down the back of Zaha's Achilles, with referee Anthony Taylor deciding the tackle was not worthy of a red.
Hodgson believes the normally-influential Zaha suffered as a consequence until he scored their 78th-minute goal, shortly after Jose Holebas had doubled the hosts' lead.
"It definitely affected Wilf," he said. "We didn't see anything like the best of him until late in the game. One can understand that type of challenge affecting him.
"We have to get used to that. Players of his match-winning ability do get targeted. He was targeted by that foul but he got over that and his ending to the game was quite good."
While agreeing Capoue should have been dismissed, Hodgson also said he understood why the referee only cautioned the player.
"I have only seen it now," he told Sky Sports after the game. "Of course, I saw the foul, but you do not see the way he stamped down the back of his calf.
"We were not happy about the foul anyway, but seeing it with the benefit of TV and the clear angles, I would have to say that we were unlucky he was not sent off there.
"But I do not blame the referee for it because sometimes referees see those more as fouls. And I am sure that when he sees it now with the TV, then he would probably agree with us as well."
As for the match itself, Hodgson laid the blame at the visitors' defeat in their failure to convert two presentable first-half chances, before Watford took a 2-0 lead.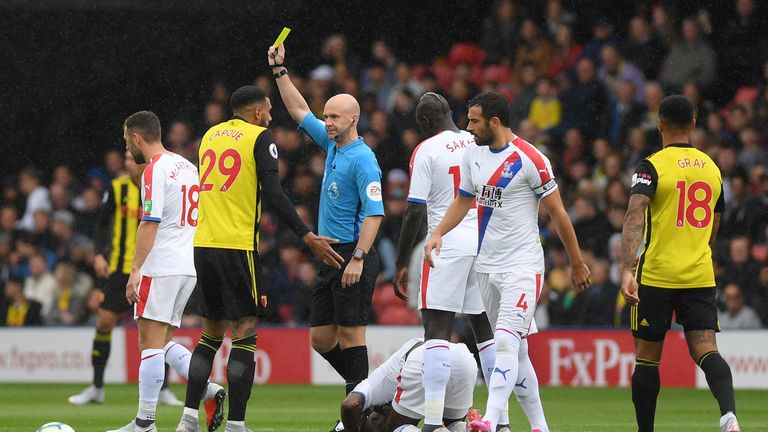 "I thought we played very well in the first half, we did not start the second half very well and went a goal down," he said.
"But I thought were a bit unlucky with the second goal because whether it drifted over the goalkeeper's head or not because of the wind, I do not think it was really meant as a strike at goal.
"Then of course at 2-0 down you are facing a mountain to climb, but I thought we came back into the game quite well.
"And if the game had gone on for another five or 10 minutes, then I think we might even have got the equaliser because we created that great opportunity at the end from the corner kick in the last minutes of the game.
"I do not think a draw would have been an unfair result in the game, but Watford are a good side, they are working very hard and they cause you problems.
"And we just have to accept that unfortunately in the first half the two very good chances we created produced fantastic saves from Ben Foster."