Crystal Palace boss Roy Hodgson has admitted Chelsea's Ruben Loftus-Cheek is a potential transfer target for the club if he becomes available.
Loftus-Cheek spent last season at Selhurst Park on loan from Chelsea and impressed across 24 Premier League games - earning himself a spot in Gareth Southgate's World Cup squad.
The 22-year-old England midfielder, however, has faced limited opportunities since returning to his parent club under Maurizio Sarri, appearing for a combined total of 33 top-flight minutes with games against Bournemouth and Huddersfield.
That has led to his omission from Southgate's latest Three Lions squad, with former England boss Hodgson admitting Palace would "stick their nose" into a potential permanent deal if the player became available.
"It's a hypothesis that Chelsea are not happy with him, that Chelsea are not considering him to be a very important member of their first-team squad, and I don't like to discuss players in that respect.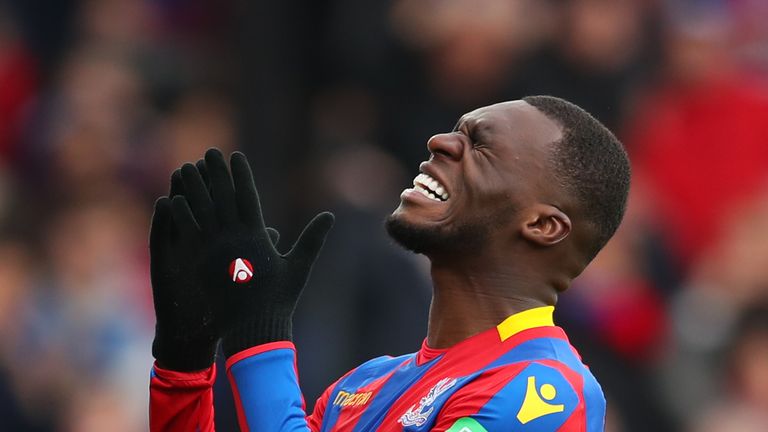 "What I am prepared to say, of course, and I've said it on many occasions, is that Ruben Loftus-Cheek did an outstanding job for us when he came here, he really, for us, answered all the questions that we hoped he would answer.
"Luckily for us, and even more so him, it got him recognised by the national team and he found himself in Russia representing England, which was a perfect end to the season that he had had with us.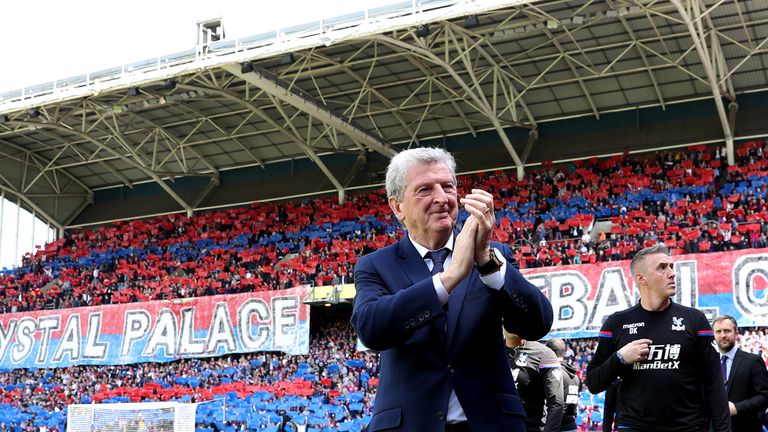 We admire him, we like him very much and wish him well and of course, like a lot of other clubs I'm sure, when the day comes when he becomes available for transfer we will be sticking our nose into that.
"So, we admire him, we like him very much and wish him well and of course, like a lot of other clubs I'm sure, when the day comes when he becomes available for transfer we will be sticking our nose into that.
"But, whether we will get him again, that's another matter. Who knows, we'll see."
Following their 2-1 defeat at Bournemouth on Monday, Palace return to Selhurst Park on Saturday looking for their first win, first point and first goal at home in the Premier League this season as they host Wolves.
The Eagles have played three home matches, losing 2-0 to Liverpool and Southampton respectively, before a 0-0 draw with Newcastle.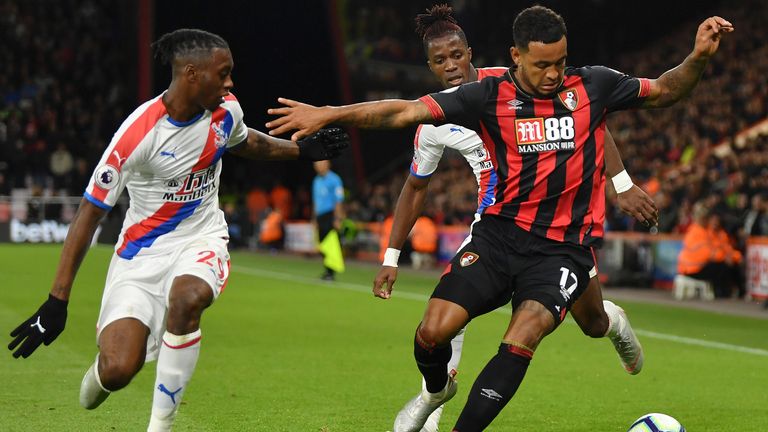 Hodgson admits it is a record everyone is thinking about, but hopes his players will not dwell too much on past mistakes.
"Everyone thinks about it," he said. "I can't deny that, but it's not something which occupies our every waking minute.
"You hope the game will go your way. The chances you create will be taken. The mistakes you make won't be punished. That's the case right through the season.
"Of course the more you don't win at home, the more the pressure will build up. We're aware of that. But we can do nothing more than we do to relive that pressure.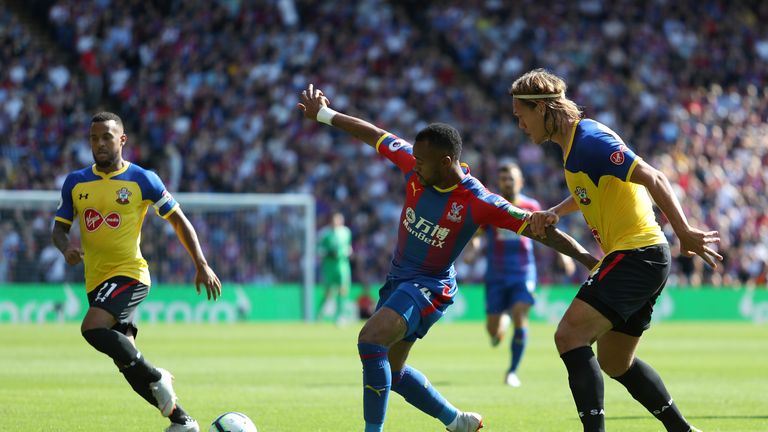 "I suppose Liverpool was a tough one to play at home. Against Southampton and Newcastle, I thought we had our chances.
"I thought on both occasions it wouldn't have been totally wrong, especially in the Newcastle game, if we had won it, but we didn't.
"The chances didn't go in, and you have to make sure you don't allow it to weigh on your mind.
"Even more importantly perhaps, you don't stop going into areas and doing the things that have been good in your general play which have created chances in the first place."
Despite Palace's poor home record this season, the Eagles have impressed on the road, registering wins at Fulham and Huddersfield.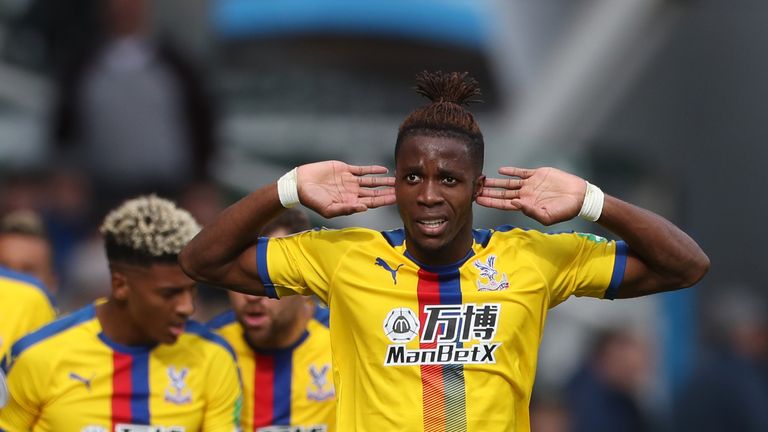 It is an improvement on their start to the last campaign when they lost their first seven matches without registering a goal.
"There's not too many stats that will really bother us after last season," Hodgson said.
"I spent the first three games of my time at the club discussing every week how we were going to get away from our first four games - no goals, no points, no draws.
"It came to five, six and seven and then I was told this has been the worst start a Premier League team has ever made. No team had ever survived after no points in seven games.
"We were strong enough to get over that, so I have no doubt over the players' mental strength. I certainly haven't felt over the training sessions this week that anyone needs extra counselling.
"They know what happened, they know what was good about Monday night [against Bournemouth] and what could have been avoided."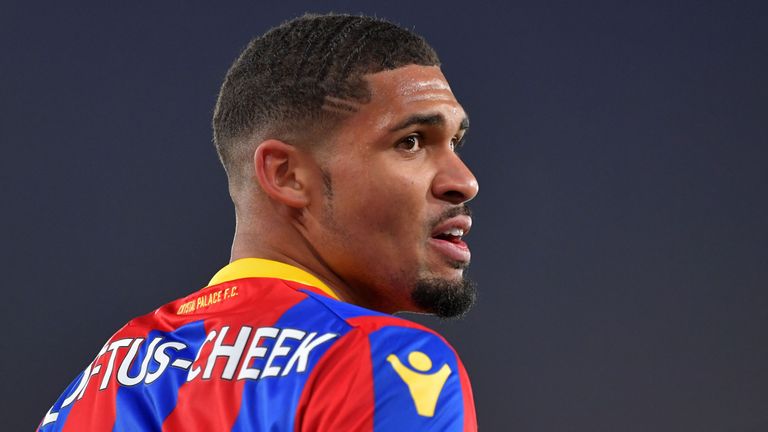 Hodgson will be without striker Christian Benteke for Saturday's game, but will be boosted by Connor Wickham and Scott Dann's recovery, with the pair back in training this week.
"Christian Benteke is the one, we've been expecting that. He needs a bit more time, so we know that, but he is making good progress.
"He is really the one out apart from the other two long term injuries of Scott Dann and Connor Wickham who are both back in training so we have a good squad of players at the moment."