Crystal Palace boss Roy Hodgson says there is no 'magical solution' for scoring issues
Last Updated: 06/10/18 6:51pm
Roy Hodgson acknowledged there is no "magical solution" to Crystal Palace's scoring struggles after their 1-0 home defeat to Wolves.
Palace, who are without injured striker Christian Benteke, failed to score for the fourth game in a row at Selhurst Park as they slumped to their fifth defeat in eight Premier League matches.
Wilfried Zaha is Palace's top scorer with three goals this season but he was largely kept quiet by Wolves.
Crystal Palace 0-1 Wolves
As it happened
Asked about Palace's scoring issues, Hodgson told Sky Sports: "There's no magical solution. We do have options tactically and can change our system during the game, as we did today to try and get that elusive goal.
"But it all boils down to the fact that if the ball bounces your way in the penalty area can you put it in the back of the net or will their defender make a block or the goalkeeper make a save or will you miss-hit your shot.
"We had lots of corners and free-kicks, we had the ball in their half a lot more than they had it in ours, but they won the game because they scored and we didn't."
Hodgson also said it is difficult to forget about past problems when Palace go into games.
"We can't pretend we have scored lots of goals in the games leading up to this and we are flying towards the top of the table, because we aren't," he said.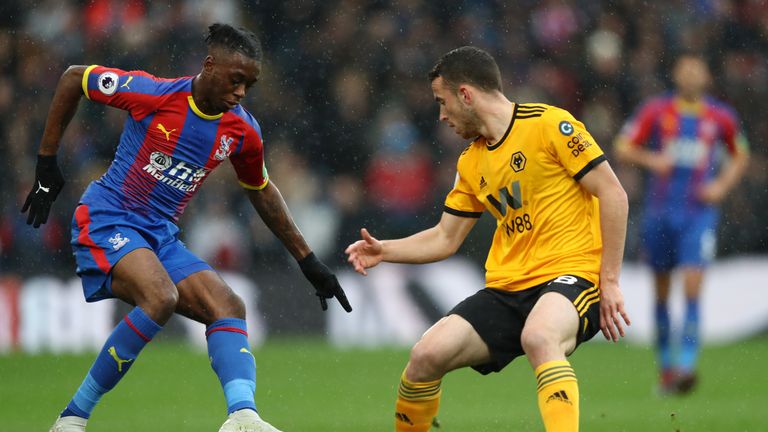 "But I still believe that the quality of the football belies the lack of points and lack of goals, but until we score those goals, win those games and get those points, every press conference and interview I do will be really geared to the same thing - you're not scoring enough goals and how do you win games if you don't.
"I thought there were two or three good opportunities in the second half but we weren't able to take them and as a result we lost the game."
Palace face a tricky run of fixtures after the international break as they play Everton, Arsenal, Chelsea, Tottenham and Manchester United.
But Hodgson thinks the two-week break might help his players if they can impress with their countries.
"Maybe going away to the national teams, breathing some different air, hopefully getting a few good results to boost their confidence, might do us a favour," he said.
"I don't think the answer lies on the training field because I don't think the players can do more on the training field."