Crystal Palace manager Roy Hodgson focused on 'journey' after surpassing Sir Bobby Robson
Palace boss takes encouragement from 92-year-old documentary maker Sir David Attenborough: "He was good when he started doing it and he's still good today"
By James Dale
Last Updated: 22/02/19 1:57pm
Roy Hodgson insists he stopped counting at 60, as the Crystal Palace manager prepares to overtake Sir Bobby Robson as the oldest man to manage a Premier League game.
The former England manager will be 71 years and 198 days old when Palace take on Leicester City on Saturday, but Hodgson says he has not given his advancing years much thought.
"My views regarding age haven't changed," he said. "You're as old as you feel. It's a milestone, a historic mark, which I guess I can be pleased about because it's nice to have such a good career, but otherwise I don't pay much attention to it."
Hodgson's managerial career spans 43 years, but it was not until 1997, when he was 50, that he got his first job in the Premier League, in charge of Blackburn Rovers.
Spells in charge of Fulham, Liverpool and West Brom followed, with his role at Crystal Palace making it 16 teams in eight different countries.
He admits "the game changes, and for the better" - but does not believe it is escaping him.
"Age is definitely just a number," he said. "There are people much older than me who show no signs.
"I don't know what age Sir David Attenborough is now, but you watch him working and see his documentaries, you'd have to be a very strange person to start saying 'I don't think it's very good because he's old'.
"Most of us think it's very, very good whatever age he happens to be. He was good when he started doing it and he's still good today.
"That gives me the encouragement that in football - why should it be any different to documentary making?"
Hodgson will be without Palace's latest hot prospect, Aaron Wan-Bissaka for the game against Leicester this weekend due to a hamstring injury.
The 21-year-old has been a standout performer since being given his first-team opportunity by Hodgson, who says he does not have a problem with maintaining player-manager relationships with younger members of his squad.
"You're not obliged to keep up with the music they listen to or the films they watch because that's not part of your daily conversation," he said.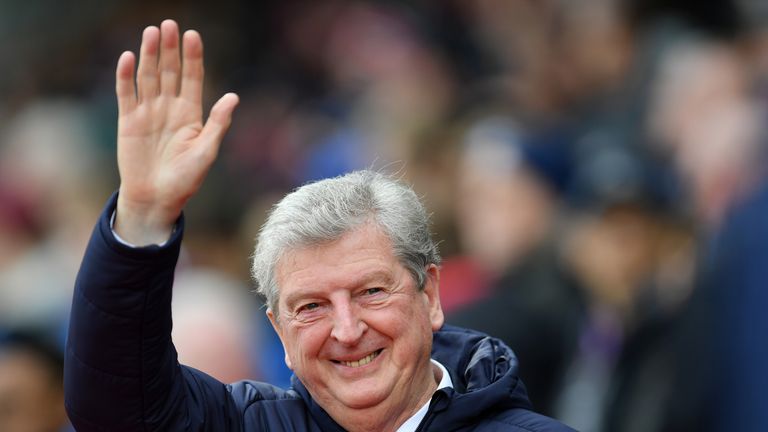 Luckily age doesn't come into my thoughts because I made a conscious decision to stop at 60.
Roy Hodgson
Palace are just three points clear of the relegation zone, but Hodgson believes a top-10 finish is still possible.
Reflecting on his own career will have to wait.
"When you're in the middle of an important job, fighting every week for Premier League points and to make sure the team you work for does well and survives in the Premier League - I don't often think there's much time to reflect on where you are, it's really the journey you're on at the time which occupies all my thoughts," he said.
"Luckily age doesn't come into my thoughts because I made a conscious decision to stop at 60... That's enough and all the time I'm feeling OK I'll stay at 60 and it doesn't matter what it says on my birth certificate."